Sunnyside Summer Jazz Festival Keeps Evolving

Bix Beiderbecke Memorial Jazz Concert Attracts Some of Queens Top Jazz Talent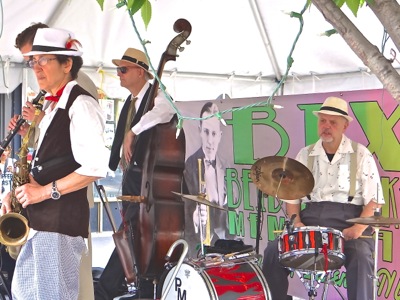 August 10, 2015 / Sunnyside Neighborhood / Music Scene in Queens / Queens Buzz.
It was a warm, dry, August afternoon as I made my way to the newly christened Luke Adams Way just off Queens Blvd at 46th Street. I was looking to take in a bit of summertime jazz at the 14th annual Bix Beiderbecke Jazz Festival.
I had met Paul Maringelli - a graphic artist by day and musician at night - many years ago, when I first heard of the concert. He had been living in Sunnyside for quite some time before he one day stumbled upon the fact that Bix had once lived within a stone's throw of his own home.
For those who know Paul, he's the inquisitive type, and has a penchant not just for music, but also for history, so he did a bit of digging to learn moreabout Bix Beiderbecke and about the time Bix spent living in Sunnyside. That's Paul playing the drums behind Saxaphonist Carol Sudhalter and Bassist Dave Hofstra in the photo above.
Paul started talking to musicians about doing something in honor of Bix and about 14 years ago, they held a memorial on the anniversary of Bix's death outside the apartment building where Bix had once lived - and as fate would have it - also died.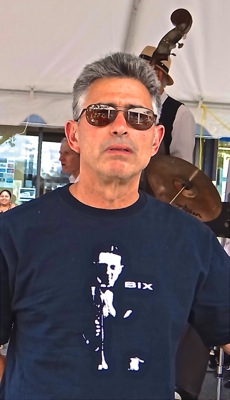 There were a few musicians in the audience at the time and they played a short tribute to Bix. That was the beginning of what has now grown to become the annual Bix Beiderbecke Jazz Concert / Festival. Following that first commemoration, Paul contacted local organizations in search of sponsorship for the event and the Sunnyside Shines Business Improvement District stepped in to help fund it.
On this warm August afternoon, I was looking forward to listening to some of the finest jazz musicians in Queens and New York City. Paul Maringelli had sent me an email giving me a heads up. Here's an excerpt where he describes his fellow band members.
"I'm playing with some top-of-the-line musicians (look 'em up online). It amazes me that musicians with these credentials are playing with me [Editor's Note: Paul is a very modest man].  Jordan Sanke: Trumpet (he's on a Ringo Album), Carol Sudhalter: Sax, (Astoria Big-Band leader – and her late brother, Richard, wrote Bix's bio), Herb Gardner: Trombone (played with guys who played with Bix, like Gene Krupa). Also, for the first time this year, Tom Abbott: Clarinet and John Halsey: Piano; and making a return appearance (he was here 3 years ago) Dave Hofstra: Stand-up Bass (he's on the hit record by The Waitresses "Christmas Wrapping"). All are jazz players … and … Bix fans."
Click here to read the rest of the story including a 3 minute Bix Beiderbecke Sunnyside Jazz Festival music video of an old jazz tune. In the photo above, a longtime Bix fan wearing one of the T-shirts that were part of one of the early concerts.
---
Sunnyside Summer Jazz Festival Keeps Evolving

Bix Beiderbecke Memorial Jazz Concert Attracts Some of Queens Top Jazz Talent
August 10, 2015 / Sunnyside Neighborhood / Music Scene in Queens / Queens Buzz. Continued.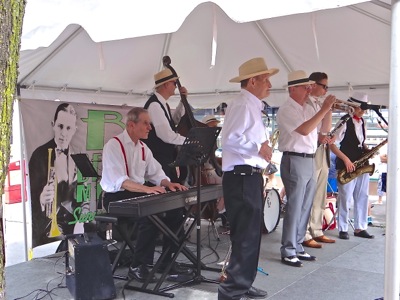 When I arrived around 4 pm, there was a fairly good sized crowd in attendance, even though the event had started a couple of hours earlier. The Sunnyside Wolverines, which drummer Paul Maringelli had described above, were just taking the stage.
Jazz Age Tunes With A Bit Of Bix Beiderbecke History
After a bit of musical instrument adjustments, Jordan Sandke began what would become a sort of intermittent rambling narrative about the life, times and music of Bix Beiderbecke. He began by telling us that Bix was born and raised in Davenport, Iowa.
Davenport was situated on the Mississippi River, about 175 miles due west of Chicago. Bix came of age in the 1920's when jazz was looked upon as something of a decadent rage. I suppose one could make a comparison to modern day musical genres like Rap or Hip Hop, both of which first started with a sort of stigmatic negative label until they grew to become mainstream.
In the 1920's New Orleans was the center of the jazz world. Davenport, Iowa - Bix's hometown - was about 950 miles upriver from this jazzy mecca. But jazz made its way north via the Mississippi riverboats that were one of the primary means of transit of the time. And jazz and blues were no stranger to Chicago, the windy city, which had a large and growing African American population.
Performance By Talented Jazz Musicians In Queens NYC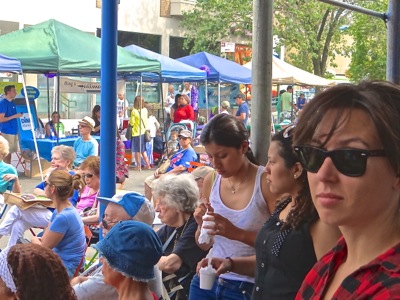 So the Sunnyside Wolverines played a little number called "Way Down Yonder in New Orleans". It was a jazzy, spirited number, as much fun today as it likely was nearly a century ago. It opens with the trumpet and clarinet tossing the melody back and forth, while the saxophone, trombone, piano, bass and drums accompany both, followed by piano and bass solos, with the trumpet and clarinet returning to lead the dance, before the melody rolls on down ... just like the Mississippi River. This jazzy number was followed by another tune called Old Man River, which was in the hit play of the time: Showboat.
Bix was a bit of a renegade, so his parents decided to send him to a boarding school, outside of Chicago, so he could be disciplined. Well, even the best plans sometimes go awry. Bix used his time in boarding school to travel into Chicago to hear the great jazz musicians and … well the rest is history.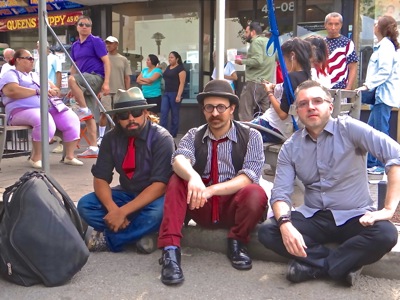 The next number was Royal Garden Blues, which has all the hints and hues of what one thinks of 1920's jazz. Great Gatsby-like. There are solos showcasing the talents of each member of the band, easy handovers and rolling melodies.
The Sunnyside Wolverines Jazz Band
The Sunnyside Wolverines was named after Bix's Band, the Wolverines. Each of the players dressed in jazz age era ensemble including many of the players wearing two-tone shoes, straw hats, white shirts, suspenders and vests.
The players names were mentioned above, but just for old time sake, here they are again. They are all local musicians and you can find them on the internet if you're interested in hiring them. They are Jordan Sandke: Trumpet, Carol Sudhalter: Sax, Herb Gardner: Trombone, John Halsey: Piano, Tom Abbott: Clarinet, Dave Hofstra: Bass and Paul Maringelli: Drums. The video recording below was from Showboat: Old Man River.
You Might Have To Refresh This Page To Access / View The Video
There was a wooden dance floor set out in front of the band which the kids used, accompanied by a couple of adults. We captured a bit of this in the video near the end of the piece.
The Sunnyside Social Club
All in all it was an enjoyable afternoon that continued until 7 pm with other acts, including The Sunnyside Social Club which includes Smidge Malone, Matt Dallow and Anton Vital - see photo above video.
And again it's worth mentioning and thanking the Sunnyside Shines Business Improvement District for sponsoring the event.
---
Queens Buzz Voluntary Subscriptions
We do our best to provide independent coverage of news, dining, events, arts & culture.

You can help us provide you with first source, balanced, contextual and independent coverage of Queens by making a purchase for as little as $5 [less than the price of one copy of a print magazine].
Click the button for details on how to keep these posts coming.
---
$element(adman,groupad,NhoodSSWS)$
Sunnyside Neighborhood Links
Click on these advertisements for promotions, discounts and coupons by retailers and restaurateurs in Astoria and nearby Queens.
Click this link to go to the:
Sunnyside & Woodside Neighborhood
Sunnyside Business Directory or Woodside Business Directory
Sunnyside & Woodside Real Estate or Events & Things To Do In Sunnyside & Woodside
Restaurants In Sunnyside & Woodside or Sunnyside & Woodside Shops & Shopping
---
LIC Neighborhood - Long Island City Links
$element(adman,groupad,NhoodLIC)$
Click on these advertisements for promotions, discounts and coupons by retailers and restaurateurs in Long Island City LIC and nearby Queens. Click here for a related story about the hotels & restaurants in Dutch Kills section of Queens.
Click this link to go to the:
Long Island City Neighborhood or LIC Business Directory
Long Island City Real Estate or Events & Things To Do In LIC
Restaurants In Long Island City or LIC Shops & Shopping
---
$element(adman,groupad,Catgry Realestate)$
Site Search Tips. 1) For best results, when typing in more than one word, use quotation marks - eg "Astoria Park". 2) Also try either singular or plural words when searching for a specific item such as "gym" or "gyms".
$element(bwcore,insert_search,N)$
Click this link to search for something in our Queens Business Directory. Also check out Taste of Sunnyside.
---
Click the log in link below to create an ID and post an opinion.
Or send this story to a friend by filling in the appropriate box below.
$element(adman,groupads,Sectional2 Ad)$
---