Viva La Comida
Jackson Heights Hosts Culinary & Cultural Celebration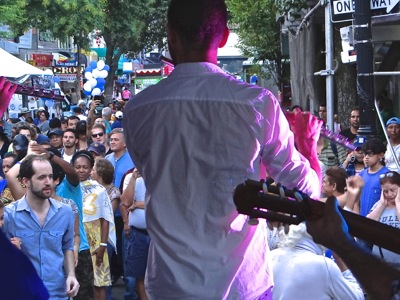 September 25, 2017 / Jackson Heights Neighborhood / Food & Wine in Jackson Heights Queens / Queens Buzz NYC.
A weekend ago [9/16], I had an opportunity to attend the annual Viva La Comida Festival in Jackson Heights. The festival originated in 2011 or 2012 as a sort of mini Vendy Awards festival for local food trucks and vendors who mostly served the Jackson Heights and nearby neighborhoods in Queens. They were accompanied by a whole host of local entertainers who were featured on the stage at Dunningham Triangle.
Delicious Ethnic Food Trucks & Latin Jazz
Today, six or seven years later, the basic tenets of the festival have held fast, but it has evolved into a more holistic celebration of Jackson Heights culture, including the food ... but with fewer trucks. This year there were two trucks, which was down from about six trucks back during the program inception. Although I hasten to add, that several food carts were added offsetting some of the decline of the food trucks.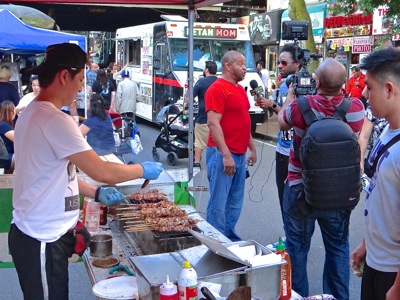 On the entertainment side, the event has blossomed, featuring numerous local musicians, dancers and theatrical performances. One of the most enjoyable aspects I experienced this year at Viva La Comida was an incredible Latin jazz band called Los Macheros. I'm not sure, but the name - which appears to have been invented - could be mixing the meanings of macho [male] and hacheros [axes] to mean something very loosely translated as the 'male axes' or a take off on the word mecheros which means [cigarette] lighter.
Los Macheros are a seven member Latin jazz band that includes a talented vocalist, two guitarists, two percussionists, and while I was there I enjoyed a very talented duel between the flautist and the violinist which you can see below on the video when I post it. The music moved people to dance and numerous couples were swinging to the jazzy tunes the entire time I was there.
---
Viva La Comida
Jackson Heights Hosts Culinary & Cultural Celebration
September 25, 2017 / Jackson Heights Neighborhood / Food & Wine in Jackson Heights Queens / Queens Buzz NYC. Continued.
Jackson Heights Cinema has been Demolished
One of the great disappointments I encountered while attending the event was seeing that the beautiful building that once housed the Jackson Heights Cinema on 82nd Street just south of Roosevelt had been demolished. There's a less impressive, but still significant old world theater at Diversity Plaza, which I imagine might eventually meet the same fate.
While campaigning for Queens Borough President four years ago, QBP Melinda Katz had promised that she would put in place a process designed to help preserve some of Queens great historical relics. As far as I know, to date, that is an unfulfilled campaign promise, as nothing has come of it in the intervening four years.
This is the second big historical / cultural loss in the borough in the past four years. The first being the Steinway Mansion which was sold to a real estate developer. But the outside of the Steinway Mansion was landmarked, so it cannot lawfully be destroyed. Others might insist there are more buildings of some historical / architectural / cultural significance that have been destroyed in Queens in recent years, but I digress.
82nd Street Partnership Promotes Jackson Heights
I ran into Leslie Ramos, the Executive Director of the 82nd Street Partnership which organized the event. She was surrounded by folks enjoying themselves, which naturally brought a big wide smile to her face. She provided some of the information reported above and talked about how Jackson Heights continued to evolve as a multi-cultural destination with significant representation of Latins, Asians and Caucasians. She said that this festival was designed to promote the neighborhood by bringing everyone together.
I walked around a bit, taking photos of some of the food offerings, which I will add to the end of the video. I didn't get a chance to sample any food this year, but if you click the link below, you'll get a sense of what was offered, as a number of the vendors I featured in the early years of the event have been returning annually to participate in the program.
Click here to view a report about the Viva La Comida in Jackson Heights during its early years.
---
---
Jackson Heights / Elmhurst Related Info
$element(adman,groupad,Catgry Realestate)$
Click this link for promotions, discounts and coupons in Jackson Heights, Corona and Queens.
Click this link to go to the Jackson Heights & Elmhurst Neighborhood News / Jackson Heights Restaurants / Jackson Heights & Elmhurst Shopping.
---
$element(adman,groupad,NHoodJHTS)$
Site Search Tips. 1) For best results, when typing in more than one word, use quotation marks - eg "Astoria Park". 2) Also try either singular or plural words when searching for a specific item such as "gym" or "gyms".
$element(bwcore,insert_search,N)$
Click this link to search for something in our Queens Business Directory.
---
$element(adman,groupads,Sectional Ad)$
---
Click the log in link below to create an ID and post an opinion.
Or send this story to a friend by filling in the appropriate box below.
---