SummerStage - Queens & LIC
This section contains our coverage of dance, theater, music and performing arts events at SummerStage in Long Island City & Queens.
---
SummerStage Queensbridge Park w/ G. Clinton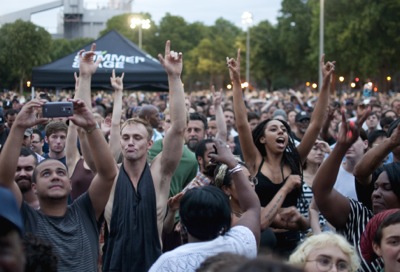 July 21, 2015 / Long Island City Neighborhood / Queens Fashion Film & Music / Queens Buzz.
I just received a few photos I had requested to post from some of the folks I met at SummerStage. I had attended the event Saturday evening, as I wasn't able to make it on Wednesday when George Clinton made an appearance as part of SummerStage at Queensbridge Park last Wednesday.
George Clinton is generally a big attraction whereever he plays in NYC, and it was no different here in Queens as you can see by the photo at right shot by Eliana Rowe.
Clinton & his band performed to the audience's delight on a hot summer night.
---
SummerStage in Queensbridge Park
Refreshing, Rhythmic & Moving The Audience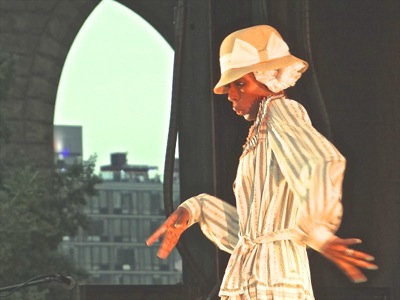 July 20, 2015 / Long Island City Neighborhood / Queens Fashion Film & Music / Queens Buzz.
On Saturday evening, after a bit of rain during the day, I made my way through the hot and humid streets of Queens, down to the East River waterfront in Queensbridge Park.
At 7 pm there was to be a performance by a Jamel Gaines Creative Outlet, a professional dance company; and at 8 pm a dance performance by the Rashida Bumbray Dance Diaspora Collective.
I arrived in between the two sets, and enjoyed the setting of the sun, along with the other hundred plus members of the audience. As the sun set and the air began to cool, three of the Rashida Bumbray dancers took to the stage, dancing to a slow, bluesy Jimi Hendrix tune [see photo at right]. The crowd loved it. The tune was Red House which was recorded in December 1966 and was one of the earliest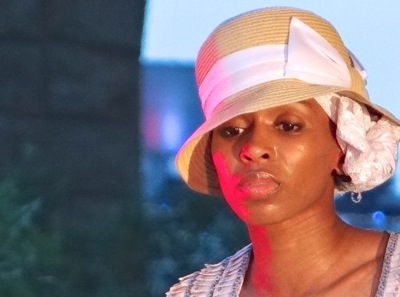 'Experience' pieces created by Hendrix before he died three short years later in 1970.
What followed was a series of performances by the Rashida Bumbray Dance Diaspora Collective. The Rashida Collective hails from Oberlin College in Ohio, lead by Adenika Sharpley. They choreograph dance movements to the music of the African diaspora from around the globe. Cultural references are embedded into the dance pieces, and set to the musical rhythms created by African descendants.
"The bluesy notes from Jimi's guitar, slowly began vibrating through the electro-magnetic fields of our corporeal bodies.

As the acoustical resonance started journeying through the neurological pathways lying dormant within our humanoid forms.

And the musical rhythms began seeping in, initiating movement,

... relaxing ... engaging ... swaying ... dance ...

giving us the feeling of being one unified, individuated, planetary people."
Aahh yeh, today's pop culture is the grown seedling of the counter-cultural revolution of the 1960's and 1970's. The performances at Woodstock some 45 years ago, which frightened the Nixonian establishment, are now the classical blues and rock music of today. And so much has changed ... with some for the better and some not.
It looks like we're heading into the hot part of the summer, in the city, when life must slow down ... so
... relax and pamper yourself ... and let the rhythms ... of the seasons ... of life ... in.
SummerStage organizes cultural events like this to help bring us together. We'll post more next year when they return to Queens. In the meantime there are a number of other, locally-organized cultural events that are also of good interest. Click into the Things To Do section along the top tool bar, or click into the music, film and theater sections on this site to find out more about free and paid cultural performances in Queens.
---
Wynton Marsalis @ Queensbridge Park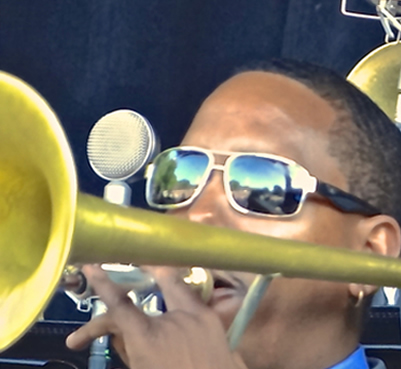 July 20, 2014 / Long Island City Neighborhood / Live Music in Queens / Queens Buzz. It was a perfect summer day with the highs in the 80's, fairly dry and sunny as I made my way to attend the SummerStage Family Day in Queensbridge Park.
When I arrived a crowd of many hundreds had already found comfortable seating, lawn space and standing room in the park. Michael Mossman and Copland Jazz of Queens College were on stage playing jazz tunes to an appreciative and relaxed crowd.
I listened to them play as I took photos of them and the crowd. Wynton Marsalis and the Lincoln Center Jazz Orchestra were due to perform at 5 pm. The crowd was totally mixed, with young and old alike, and a mixture of people with a diversity of genetic backgrounds, representing the borough and the world.
There was a short break between the two gigs and I watched the Lincoln Center Jazz Orchestra warm up in the VIP section just off the stage. They started with a tune and dedication to Duke Ellington and Louis Armstrong, both local NYC musicians of a bygone era.
We'll post more, including a photo slide show a bit later. The photo above shows one of the jazz musicians at SummerStage in Queensbridge Park.
---
Summer Stage In Queens This Week
QueensBridge Park In LIC Hosts Concerts Now Thru Weekend*
July 14, 2014 / Long Island City Neighborhood / Music In Queens / Things To Do Queens / Queens Buzz. There are so many things to do in Queens this summer that it's challenging to keep up with them. But this week, almost all week, Summer Stage comes to Queens at QueensBridge Park in Long Island City.
Last weekend there was a free Summer Stage concerts in Manhattan given by Cibo Matto. They performed to a near capacity crowd in Central Park likely because of the location, their popularity and fairly good weather [see photo at right].
This week, beginning Tuesday, July 15 Ismael Miranda, Rebel Tumbao & Joe Clausell will be on stage at QueensBridge Park beginning at 7 pm. On Wednesday, J Holiday & Jon B perform beginning at 7 pm.
On Thursday, Mobb Deep & Lyricist Lounge will begin performance at 7 pm. Friday Harambee Dance Company will be there beginning at 7 pm. And on Sunday beginning at 4 pm it's Queens Family Day with Jazz at Lincoln Center and the Kupferberg Center for the Arts at Queens College. All are free and the public is welcome to attend.
*Except Saturday.
---
LIC Neighborhood Related Info
$element(adman,groupad,NhoodLIC)$
Click here to go to the LIC real estate section of this site.
Click these links for promotions by advertisers in Queens.
Click this link to go to the LIC Neighborhood.
---
$element(adman,groupad,Catgry Realestate)$
Site Search Tips. 1) For best results, when typing in more than one word, use quotation marks - eg "Astoria Park". 2) Also try either singular or plural words when searching for a specific item such as "gym" or "gyms".
$element(bwcore,insert_search,N)$
Click this link to search for something in our Queens Business Directory.
---
$element(adman,groupads,Sectional Ad)$
---
Click the log in link below to create an ID and post an opinion.
Or send this story to a friend by filling in the appropriate box below.
---