Whistle Stop Tour: Asian, European, Latin & American Cuisines
Taste of Sunnyside: An Enticing Blend of Modern & Exotic Culinary Delights & Beverages
May 16, 2017 / Sunnyside Neighborhood & Woodside Neighborhood / Sunnyside Restaurants in Queens / Queens Buzz NYC.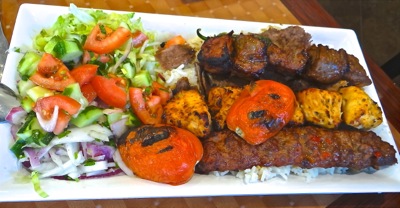 Late yesterday afternoon I joined writers from - the Queens Chronicle, the Sunnyside Post and Queens Eats - to sample some of the exotic cuisines and familiar foods that lie ahead …
On what might be called a whistle stop tour that we took through a few of the participating restaurants and beverage providers, who will be serving attendees at the Taste of Sunnyside 2017 next Tuesday, May 23rd.
As we all know, Sunnyside has been changing at a fairly rapid rate, and the neighborhood restaurants now represent of an even more eclectic mix of modern and ethnic cuisines, that is serving a steadily changing residential population as well. In the photo at right is a platter of lamb, beef and chicken kebobs served by Mangal Kebab on Queens Blvd near 47th Street.
Our Taste of Sunnyside Preview Includes Asian, Latin & American Fare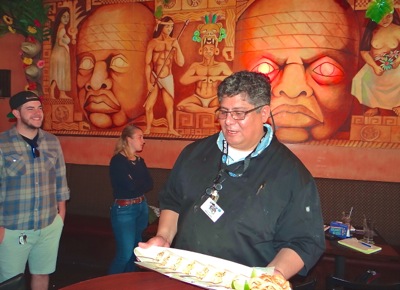 The Sunnyside Shines Business Improvement District [aka BID] is hosting its 8th annual Taste of Sunnyside to give longstanding and new residents an opportunity to sample the fare of some twenty of the new and well established restaurants participating in it, for the price of what it would cost to sample just one [$40 general admission & $70 for VIP]. The event also features seven beverage purveyors including some of the local micro-breweries, a vintner, a cider maker and the historic Lowerys Wine & Liquor store. And there will be live entertainment as well.
So All Aboard, as I take you along on an abbreviated preview tour to give you a sampling of some of what you might expect to encounter - should you climb aboard the culinary choo choo train next week. Sunnyside Shines BID Director, Jaime-Faye Bean was our hospitable hostess and conductor. In the photo at right is Luis Munoz serving a platter of fresh esquites at Arriba Arriba on Queens Blvd near 40th Street.
Our first stop was Old Mexico, the land of the Aztecs & Mayans, at the Arriba Arriba restaurant on Queens Blvd near the 40th Street / Lowerys subway stop. Click here for a sample preview of some of the tastes that will be served at Taste of Sunnyside 2017.
---
Whistle Stop Tour: Asian, European, Latin & American Cuisines
Taste of Sunnyside & its Enticing Blend of Modern & Exotic Culinary Delights & Beverages
May 16, 2017 / Sunnyside Neighborhood & Woodside Neighborhood / Sunnyside Restaurants in Queens / Queens Buzz NYC. Continued.
Heading South to Old Mexico
Land of Aztecs & Mayans at Arriba Arriba on Queens Blvd at 40th St Stop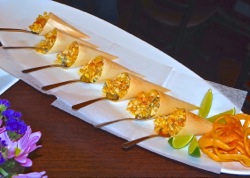 ESQUITES. Luis Munoz was the host and food curator at Arriba Arriba. He is the very involved owner of the restaurant and he has guided this Sunnyside mainstay through nearly a decade of neighborhood changes. Luis opened with a serving of Esquites, which are mixtures of toasted corn, a mild serving of chili and jalapeno peppers, chicken stock and held together with a light dabbing of mayonnaise served in a paper cone.
These turned out to be a big hit with the reviewers and will likely make the menu at the Taste of Sunnyside because they are also easy to handle while eating.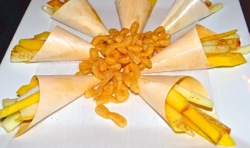 MANGO & CUCUMBERS. Long slices of Mango & Cucumbers were also served with a bit more spicy flavoring of chili pepper, sea salt and lime juice accompanied by fried dough chips. This simple sweet and hot spicy appetizer was both healthy and delicious and would likely be perfect for a hot, humid day.
Luis told us that he originally came from central Mexico, from a town a couple of hours south of Mexico City. The area he's from was the home to the Aztecs and before them the Mayans, and the local cuisine that evolved over time, came to include some European influence. Today all of those influences and flavors are available at Arriba Arriba.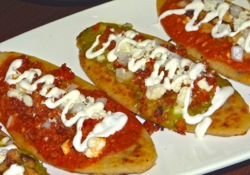 TLACOYOS. The next dish, Tlacoyos, is a modernized name for Tloxcales which is the Aztecan name for tortillas. These ancient recipe tortillas were served with a variety of choices, including chorizo, chicken and steak. The dish included queso con fresco, which is similar to curds of cheese, melted into the mix. The chef added a green salsa, tomatillo, and a red chili, chili de Argo, to provide a tasty ensemble … that quickly disappeared.
Luis hinted that these might also be included on the Taste of Sunnyside menu too, as they were also easy to handle on one's feet.
HALIBUT & TUNA - SUSHI STYLE. Next came the fresh seafood tray, featuring raw halibut and tuna, treated and served sushi style with a Mexican influence. Leche tigre, lime juice, ginger, red onion, celery and an Aja Maria red pepper accompanied the raw fish. The tender fish meat, supplemented by a panoply of flavors, also went quickly. In fact a fight nearly broke out before the last piece disappeared from the serving plate [I might be exaggerating a bit].
This dish seemed to be very popular, and Luis told us that he only serves it when he finds the high quality seafood required to make this dish work right.
SOFT SHELL CRABS. And then came the coup de grace, the soft shell crabs. Luis had the soft shell crabs deep fried after covering with a light layer of beer batter. He added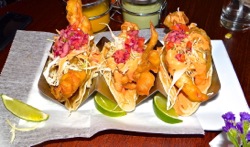 chipotle aoli, and red onions. The slightly sweet, batter-covered soft crab disappeared in a flash.
This dish may or may not make it to the Taste of Sunnyside because they were a bit difficult to handle standing up, but you should be able to find them on a regular basis at the Arriba Arriba Mexican restaurant in Sunnyside.
Heading East to Asia
Mangal Kebab Turkish Restaurant on Queens Blvd near the 46th Street Stop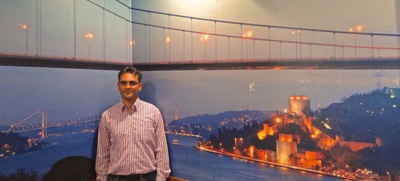 We set off up Queens Boulevard to the Mangal Kebab Turkish restaurant, just east of 46th Street, past the Key Food supermarket on Queens Blvd. Engin Yasmon warmly greeted us with a feast-like display of Turkish and Middle Eastern cuisine.
Engin was born in Turkey but grew up in Thailand before coming to America. About six months ago he, along with some partners, bought the Mangal Kebab from the prior owner. At right Engin Yasmon, our hospitable host, stands in front of a mural depicting the Bosphorus Strait separating the European side from the Asian side of Istanbul, the capital and cultural center of Turkey.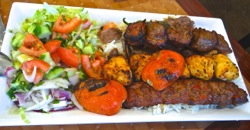 LAMB, CHICKEN & BEEF KEBABS. Lying in front of us where several plates, including two mixed grill kebab platters, a feta salad, two plates of mixed appetizers and Turkish home breads. One of the writers nearly gasped as they laid their eyes on some of their favorite dishes.
I started in on the mixed platter, which included marinated grilled slices of lamb, chicken and beef. I started with the lamb which was a tender, flavorful nosh. I then tasted some of the chicken which was a moist, tender cut, also flavorfully marinated. The beef was last, but didn't disappoint. I cleared my palate with some of the accompanying vegetables.
The Mangal Kebab restaurant was originally founded about 17 years ago, and Engin told us that upon taking possession of the restaurant, he was careful not to change the menu as the food is very popular with their steady clientele, many of whom eat there often, and ordering the same items they've been enjoying for years.
TURKISH APPETIZERS - HUMMUS, TABBOULEH, BABAGHANOUSH, EGGPLANT, BEAN & CUCUMBER & WHITE BEAN.
I then followed one of the reviewers into the plate of mixed appetizers which included hummus, tabbouleh, eggplant, cucumber / tomato, white bean salad and babaghanoush. I took a scoop of each Turkish appetizer and started dabbing it on the Turkish home bread. The home bread had a taste similar to a fresh made croissant, and the muted and foreign flavors from the Turkish repertoire of spices danced upon my edible sensory glands.
Although I generally don't aspire to have a larger stomach than I already have, tonight I did.
It's worth mentioning that the Turkish cuisine is one of the more sophisticated in the world, having evolved over millenia. Istanbul was and still is one of the great cultural centers of the world - having served as the crossroads between East [Middle East / Asia] and West [Europe] since long Before Christ [B.C.].
And for those readers who enjoy their history, Istanbul was one of the reigning empires of the world beginning only centuries after Christ's death as the Byzantine Empire [330 - 1453], and ending in the early 20th century as the Ottoman Empire [1299 - 1922/3] in the wake of World War I - because many Eastern European nations came into their own.
At right are the mixed Turkish appetizers which are eaten with their home bread shown below.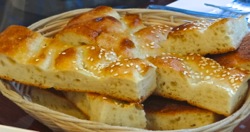 TURKISH HOME BREAD. Engin told us that he is trying to add new entrees to the menu to see if there's an appetite for them, but that he is mainly focusing on getting the word out about the Mangal Kebab through improved marketing and increasing the outsource delivery of an already great menu.
Engin gave us what we couldn't finish to take home with us, so today I enjoyed a second repast. Sunnyside Shines Director, Jaime-Faye Bean, was conducting the whistle-stop tour and when she blew the whistle, we knew that it was time to depart.
Heading Home through Ireland
American Fare with a touch of California at Lowery Bar & Kitchen on the corner of 43rd Ave & 43rd Street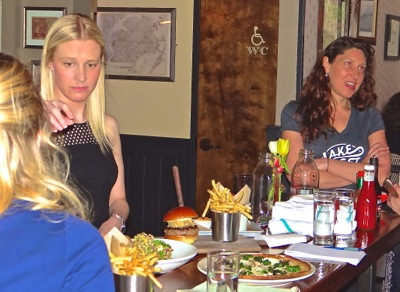 We all fell into a slack line, as we headed back over to Lowery Bar & Kitchen, at the corner of 43rd Street near the 40th Street, ony blocks away from the 40th Street / Lowery subway stop. The Lowery Bar & Kitchen is one of the culinary newcomers in Sunnyside.
In the photo at right is Anne Muldoon [blonde] who is the owner of the Lowery Bar & Kitchen, and standing at right is Tavia Kowalchuk of the Bliss Street Creamery. Both are newcomers to the Taste of Sunnyside event this year.
Anne Muldoon greeted us as we arrived and soon came out with a series of taste platters. Ms. Muldoon opened Lowery Bar & Kitchen last July [2016] with some measure of trepidation, as any new business owner is wont to do. But the Lowery Bar & Kitchen restaurant became an instant neighborhood bar & dining hangout and success.
Anne told us a story about either the day they opened the restaurant - or shortly thereafter - when a couple patronized the restaurant on their first date. Anne went on to tell us that they have been coming back ever since. She noted that her intent was to cater to a regular clientele, rather than seeking the approval of the fleeting avant-garde aficionados.
VEGGIE BURGER. Anne served up a large 8 oz Veggie Burger, along with an 8 oz Short Rib & Brisket Blend Burger and a Gluten-free flatbread. These were accompanied by a White Quinoa Salad, Lowery's famous Fried Curds and Chicken Bang Bang nuggets.
I started in on the Veggie Burger because, for whatever reason, my fellow reviewers had moved through most of that item pretty quickly, so I wanted to be sure to get a taste. The black bean and sweet potato burger tasted pretty good for someone who prefers good old-fashioned beef. Anne told us it is vegetarian, but not Vegan because it does include some egg and dairy. The Veggie Burger is shown in the photo at right, where you can see the complexity of the inner ingredients that make it a fairly delectable option, even for those of us who prefer beef.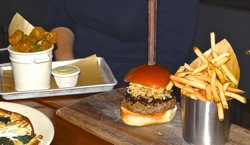 SHORT RIB & BRISKET BEEF BURGER & FRIED CURDS. I then sampled the 8 oz Short Rib and Brisket Burger which had the taste of a juicy, wholesome, high quality beef burger. As I was savoring the meaty burger, I sampled one of the fried curds. The fried curds turned out to be simply delightful, offering a complexity of a pretzel influenced batter covering over cheese curds made of a mozzarella and cheddar blend. You have to try them to really appreciate them.

The photo at right shows the short rib and brisket beef burger, with traditional French fries on the right and the fried curds on the left, at Lowery's Bar & Kitchen in Sunnyside.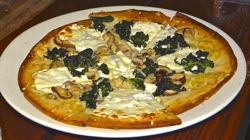 GLUTEN-FREE FLATBREAD. Meanwhile, back at the ranch, the Gluten Free Flatbread was patiently waiting its turn. It was topped with shitake mushrooms, some greens, and a light covering of mozzarella and garlic.
To clear my palate I sampled the White Quinoa Salad which was made with curry, cauliflower, scallions, blue cheese, chickpea, pepper, cilantro and lime. It had a casserole-style texture and tasted even more delicious than it sounds.
The photo at right shows the gluten-free flatbread served at Lowery's Bar & Kitchen in Sunnyside.
CHICKEN BANG BANG. Anne told me that she had also served Chicken Bang Bang, which are moist cubes of chicken covered in a batter made with Sriracha aioli. Like the fried curds, these also hit the spot.
You would think I was done, but I wasn't. There was dessert.
Last Stop: Bliss Street Creamery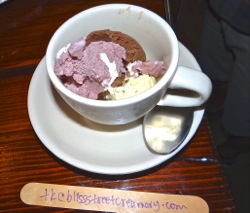 Tavia Kowalchuk was at the Lowery Bar & Kitchen with dessert. Tavia has just launched her dessert company, called the Bliss Street Creamery. She makes the ice cream and related products at a government-inspected kitchen in Brooklyn, where she was able to find the government-certified, specialty equipment required to make ice cream and related products.
The photo at right shows the triple chocolate threat served by Bliss Street Creamery.
TRIPLE CHOCOLATE THREAT. Tonight we sampled Tavia's Triple Chocolate Threat. Being the venture-some guy that I am, I decided to shirk the danger and take Tavia up on the threat.
Tavia had combined three chocolates – Dutch Cacao and Milk and Dark Chocolates – with a marsh mellow swirl, vanilla made with whole beans, and a purple sweet potato (ube). It was as threatening as it sounds, but that didn't deter me from diving into Tavia's creation.
I sat at Lowery's for a bit, sated and relaxed, as I digested three hours of intermittent dining. I decided to amble home ... just for the exercise.
I'm looking forward to doing it again while attending the Taste of Sunnyside next Tuesday, May 23rd. Perhaps I'll see you there.
Taste of Sunnyside Thanks & Event Data Download
Many thanks to Sunnyside Shines Director, Jaime-Faye Bean for organizing the preview taste, and to the Luis Munoz of Arriba Arriba, Engin Yusmon of Mangal Kebob, Anne Muldoon of Lowery Bar & Kitchen and Tavia Kowalchuk of The Bliss Street Creamery.
To the right is a photo of the Quinoa Salad at Lowery's Bar & Kitchen on 43rd Avenue at 43rd Street in Sunnyside.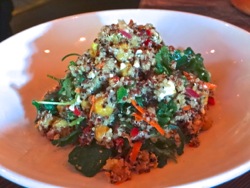 And to all of the other Sunnyside Shines Taste of Sunnyside participants who will be there next week, including:

Restaurants. Restaurants include Bar 43 Grill (Irish American Pub), Arriba Arriba (Mexican), Big aLICe Brewing, Bliss 46 Bistro (French), Bliss Street Creamery (Small batch ice cream), Boon by Moldova (Moldovan/Romanian), Coffee Tossy (café bites), Dayboat (Ceviche/Peruvian), Dazies Restaurant (Italian), De Mole (Mexican), Green Valley Marketplace of Sunnyside, I Love Paraguay (Paraguayan), Ida's Nearabout (American), Isa's Cake (Bakery goods), Jack's Fire Department (Pub), Los Verdes (Colombian), Lowery Wines and Liquors, Lowery Bar and Kitchen (New American), Mangal Kebob (Turkish), Manhattan Beer Distributors, Orchard Hill Cider Mill, Palm Bay International, Queens Brewery, Sidetracks (Irish American Pub), Soleluna (Italian), Tibetan Dumpling Cafe (Tibetan), Tito Rad's Grill (Filipino) and Voss Water.
Beverages. Participating breweries include Big aLICe Brewing, Manhattan Beer Distributors, and Queens Brewery. Local wine purveyors Lowery Wines and Liquors are pouring a variety of international wines alongside Palm Bay International, and Orchard Hill Cider Mill will be bringing cider to the festival. Non-alcoholic beverages will be available for attendees of all ages courtesy of Green Valley Market of Sunnyside and Voss Water.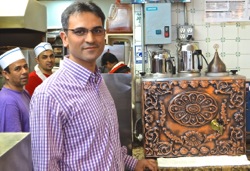 Entertainment. Live entertainment will be given by Underground Horns and the Afro-Latineers.
At right stands Engin Yasmon alongside a real Turkish tea making machine at the Mangal Kebab on Queens Blvd in Sunnyside.
Prizes. Attendees will also have the opportunity to participate in an event raffle, competing for prizes from JetBlue, the Long Island City YMCA, Z Hotel, Thalia Spanish Theatre, the Chocolate Factory Theater, the Taste of LIC Festival, Museum of the Moving Image, and more.

Media / Other Dining Previewers. And you can also find out more from my dining partners Christopher Barca of the Queens Chronicle, Christian Murray of the Sunnyside Post and Ashley & Brian of Queens Eats on Instagram.
Tickets. General admission is $40 and VIP $70 [an hour early]. Click here to buy tickets, while they last, at the Sunnyside Shines website - scroll down for Taste of Sunnyside ticket link at Brown Paper Tickets.
---
Queens Buzz Subscriptions
We work very hard to help keep you informed by providing you with independent news coverage, as well as information about events in the arts, culture and business in the borough.

You can help us continue to provide you with independent, first-person, fact-based, contextural reporting by purchasing an annual voluntary subscription, which we've priced to accommodate all budgets.
Thanks for your encouragement and support.
---
$element(adman,groupad,NhoodSSWS)$
Sunnyside Neighborhood Links
Click on these advertisements for promotions, discounts and coupons by retailers and restaurateurs in Astoria and nearby Queens.
Click this link to go to the:
Sunnyside & Woodside Neighborhood
Sunnyside Business Directory or Woodside Business Directory
Sunnyside & Woodside Real Estate or Events & Things To Do In Sunnyside & Woodside
Restaurants In Sunnyside & Woodside or Sunnyside & Woodside Shops & Shopping
---
LIC Neighborhood - Long Island City Links
$element(adman,groupad,Catgry Foodwine)$
Click on these advertisements for promotions, discounts and coupons by retailers and restaurateurs in Long Island City LIC and nearby Queens. Click here for a related story about the hotels & restaurants in Dutch Kills section of Queens.
Click this link to go to the:
Long Island City Neighborhood or LIC Business Directory
Long Island City Real Estate or Events & Things To Do In LIC
Restaurants In Long Island City or LIC Shops & Shopping
---
$element(adman,groupad,NhoodSSWS)$
Site Search Tips. 1) For best results, when typing in more than one word, use quotation marks - eg "Astoria Park". 2) Also try either singular or plural words when searching for a specific item such as "gym" or "gyms".
$element(bwcore,insert_search,N)$
Click this link to search for something in our Queens Business Directory. Also check out Taste of Sunnyside.
---
Click the log in link below to create an ID and post an opinion.
Or send this story to a friend by filling in the appropriate box below.
$element(adman,groupads,Sectional2 Ad)$
---