Taste of Woodside: Grammy Nominated Mariachi Music & A First Class Repast
Latin Grammy Nominated Mariachi Band Serenades Local Woodside Restaurant Feast
November 16, 2015 / Woodside Neighborhood / Woodside Restaurants / Queens Restaurants / Queens Buzz.
On Thursday I made my way to cover the Taste of Woodside at Gulshan Terrace at 59-15 37th Avenue in Woodside. It was a dry, pleasant November evening as I arrived along with a host of other attendees.
Inside the Gulshan Terrace event hall there was a bar off to the left and the ticket table off to the right. Straight ahead was a large open space that was populated with tables and chairs and an elevated stage. And off to both the left and right were the serving tables of the restaurateurs. I felt like I had arrived at the wedding reception of a young couple … but I had not.
Instead I was greeted by a young-at-heart couple of Woodside on the Move Board Members. Jim Daley wasted no time in making me feel quite welcome and Joanne Smith made me feel right at home … like I was one of the family. Before they had become too dispersed, I was able to gather the full Woodside on the Move Board for a photo, which is included at the end of the report next to the thanks and appreciation section.
This was the fourth annual Taste of Woodside, and tonight I would have the opportunity to sample the food of fifteen restaurants from Woodside. But alas, I was not able to sample all of them in the allotted time.
What follows here is a brief sampling of the foods I was able to sample at the Taste of Woodside. I have included a few photos of the fifteen Woodside restaurants at the Taste of Woodside and a video of the music performed by an all female Mariachi band.
---
Taste of Woodside: Grammy Nominated Mariachi Music & A First Class Repast
Latin Grammy Nominated Mariachi Band Serenades Local Woodside Restaurant Feast
November 16, 2015 / Woodside Neighborhood / Woodside Restaurants / Queens Restaurants / Queens Buzz. Continued.
Donovan's Pub - Irish Pubs Woodside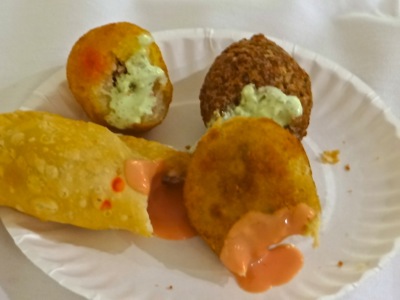 First up was Donovans Pub, a landmark Irish Pub and Restaurant in Woodside that was serving Shepherd's Pie. The taste included peas, carrots and ground beef atop a bed of mashed potatoes. A hearty Irish fare served by one of the 'new' owners who bought the landmark restaurant a couple years ago. Donovan's Pub is located at 57th Street and we did a review of the Woodside restaurant a number of years ago.
Empanada Monumental - Mexican Restaurants Queens
At the Empanada Monumental table bumped into NYS Assembly Member Michael Dendekker who had a smile on his face in nodding approval of what he'd been sampling at the Taste of Woodside. Both he and NYS Senator Michael Gianaris made a few remarks at the opening of the program. Empanada Monumental is located at 64th Street and Roosevelt Avenue.
I sampled all four of Empanada Monumental offerings which [clockwise starting at lower left] included an empanada, a bola de yucca, a quipe and a capricho. The empanada is a Latin fried turnover filled with meat, vegetables and / or cheese. The bola is a cassava ball, which had a moist soft texture and a filling of chicken, beef or cheese.
The Quipe was perhaps one of the most interesting delights of the evening as it has a dense dry texture and is made of whole grain, beef and an added mix of spices and herbs. The quipe came to the Dominican Republic near the turn into the 20th century along with the Lebanese immigrants. And last, but not least, was the Capricho which is made with potato and chicken dough and stuffed with cheese and then filled with either cheese, chicken or beef. All were very nice and make good appetizers, snacks or meals.
The Copper Kettle - Irish American Restaurants Woodside & Sunnyside
The Copper Kettle was next along the culinary wall of Woodside fare, and they were serving a Chicken Pot Pie and Conchiglie Pasta. The chicken pot pie was served with a gentle flaky biscuit atop it. The quality of the biscuit was heralded the news that this was no ordinary pot pie for inside there was a hearty mix of chicken, carrots, peas and other vegetables and herbs all put together in a symphony of succulence.
This taste delight was followed by the Copper Kettle's conchiglie pasta which is a wheat pasta made in the shape of shells and cooked al dente which shows a certain flair for the flavorful. The pasta was mixed with carrots, broccoli and parsley [see photo at right]. The Copper Kettle is located on Skillman Avenue at 51st Street in Woodside.
As you can imagine, no single person would be able to sample the bounty provided by the Taste of Woodside. This is, of course, good news for all the people who attended the event that night, the fee for which was only $30 - and it included seating, and as you will soon see – top notch Latin entertainment.
La Flor Restaurant Woodside & Sidetracks Restaurant Sunnyside
I stopped by the tables of La Flor restaurant and also of Sidetracks. La Flor is one of the more established restaurants in Woodside, having a reputation for providing good fare, a pleasant ambiance at a competitive price. I have frequented the restaurant many times and it's located along Roosevelt Avenue at 53rd Street in Woodside.
And Sidetracks restaurant is also one of the more established restaurants in the community. Sidetracks is located on Queens Blvd near 46th Street and has long been the favorite of friends for an after work repast or drinks.
Casa del Chef - Fine Dining Woodside
The Casa del Chef is located on 64th Street between Roosevelt Avenue and 39th Avenue in Woodside. The restaurant is fairly new and owned and operated by Ecuadorian Chef Alfonso Zhicay who has worked for other accomplished NYC Chefs, including one from Bouley in Manhattan.
Tonight Alfonso was serving Brook Trout with Sunchokes and three varieties of sweet potatoes. The brook trout was cooked to that fine line between moist and dry and the seasonal root vegetables were a hearty complement without distraction from the main fare. And Chef Alfonso had added a light sprinkle of vinegar to lift the entire ensemble [see photo at beginning of story].
Mariachi Flor de Toloache - Mariachi Bands Queens
It was at this point that we were treated to a performance of mariachi music by the band Mariachi Flor de Toloache. As you can see in the video, they're an accomplished group that brings alive the joyful culture of our Mexican neighbors. It's worth mentioning that the Mariachi Flor de Toloache, which is an all female mariachi band from Queens since 2008, was recently nominated for a Latin Grammy Award in the Best Ranchera Album category. Salud.
Ottomanelli Burgers Woodside Queens
I crossed the room to continue my journey into the wonderful world of the Woodside restaurants. My first stop was the F
. Ottomanelli Burger. The Ottomanelli's have been operating a butcher shop at 60th Street on Woodside Avenue for decades and perhaps even longer. A few years back they opened a burger and fries place. I sampled the Chipotle Burger, which was a medium rare burger with a bit of spice added to it. I ate it without the catsup, so I could enjoy the beef and added spice flavors.
Adelita Restaurant - Mexican Restaurants Woodside
Adelita Restaurant is reportedly leading the 'Mexican Recipe Revolution'. Adelita Mexican restaurant is located along Roosevelt Avenue at 52nd Street and they were serving flautas and quesadillas. Unfortunately, as I was running short of time, this was to be my last sampling of the marvelous morsels served at the Taste of Woodside. I sampled the quesadilla which was a soft doughy tortilla filled with cheese and topped with guacamole [see photo at right].
Woodside Restaurants at Taste of Woodside 2015
As I was exiting I met the exhibitors of Renacer Restaurant, which is a Bolivian restaurant at 67th Street and Woodside Avenue, only a few blocks from Ottomanelli's Burger and Fries. The Peking BBQ Restaurant is at 58th Street and Woodside Avenue. Sean Ogs and W Café are both run by the same owner. Each place has a different ambiance and
they are located on the same block which is on Woodside Avenue near 60th Street. Sean Ogs is a warm traditional style Irish pub with cathedral ceilings and fireplaces, while W Café is a modern American café. Payag Filipino Restaurant is located along Roosevelt Avenue at 51st Street in Woodside. And the Sri Pra Phai Thai Restaurant located at 64th Street along Woodside Avenue. Lastly, but not least, there were the beverage vendors Laguntas Beer Corporation of California and Jin Brothers Wine & Liquors at 51st Street along Skillman Avenue in Woodside.
All in all a great feast with plenty of culinary choices and a great way to sample the fare of the local Woodside restaurants while contributing to the coffers of Woodside on the Move which is a 39 year old non-profit organization dedicated to improving the quality of life in the neighborhood of Woodside Queens.
Many thanks for Woodside on the Move for organizing the event, Gulshan Terrace for hosting it, the 15 local Woodside restaurants and 3 beverage providers to serving up great fare and the Mariachi Flor de Toloache band for the musical entertainment. In the photo above are [from left to right] Jim Daley, Al Volpe, Joanne Smith, Adriana Beltran and Bob Piazza who is the President.
Click the Refresh Button if Video Doesn't Appear

---
---
Queens Buzz Subscriptions
We work very hard to help keep you informed by providing you with independent news coverage, as well as information about events in the arts, culture and business in the borough.

You can help us continue to provide you with independent, first-person, fact-based, contextural reporting by purchasing an annual voluntary subscription, which we've priced to accommodate all budgets.
Thanks for your encouragement and support.
---
$element(adman,groupad,NhoodSSWS)$
Sunnyside Neighborhood Links
Click on these advertisements for promotions, discounts and coupons by retailers and restaurateurs in Astoria and nearby Queens.
Click this link to go to the:
Sunnyside & Woodside Neighborhood
Sunnyside Business Directory or Woodside Business Directory
Sunnyside & Woodside Real Estate or Events & Things To Do In Sunnyside & Woodside
Restaurants In Sunnyside & Woodside or Sunnyside & Woodside Shops & Shopping
---
LIC Neighborhood - Long Island City Links
$element(adman,groupad,Catgry Foodwine)$
Click on these advertisements for promotions, discounts and coupons by retailers and restaurateurs in Long Island City LIC and nearby Queens. Click here for a related story about the hotels & restaurants in Dutch Kills section of Queens.
Click this link to go to the:
Long Island City Neighborhood or LIC Business Directory
Long Island City Real Estate or Events & Things To Do In LIC
Restaurants In Long Island City or LIC Shops & Shopping
---
$element(adman,groupad,NhoodLIC)$
Site Search Tips. 1) For best results, when typing in more than one word, use quotation marks - eg "Astoria Park". 2) Also try either singular or plural words when searching for a specific item such as "gym" or "gyms".
$element(bwcore,insert_search,N)$
Click this link to search for something in our Queens Business Directory. Also check out Taste of Sunnyside.
---
Click the log in link below to create an ID and post an opinion.
Or send this story to a friend by filling in the appropriate box below.
$element(adman,groupads,Sectional2 Ad)$
---