Joe's Shanghai Restaurant - Flushing
Chinese Restaurants In Flushing Queens NY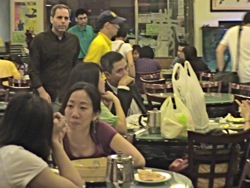 Flushing Neighborhood / Flushing Restaurants / Queens Restaurants / Queens Buzz.
I've passed by Joe's Shanghai in Flushing on many occasions. Without a miss, every time I walk by there's a good crowd inside, and sometimes a few groups waiting outside the door. I reckon, as they say, that that is about as good advertising as one can get. But that kind of trade doesn't happen overnight and it doesn't happen without a lot of hard work.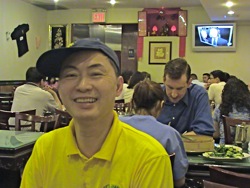 I arrived a bit past the rush hours, which generally run from about 7 to 9 pm. I was greeted and seated by Keith Yip [see photo to left], who is the restaurant manager and also a relation to Joe. Like the customers around me, I was instantly waited on and served tea. I perused the menu and decided to try the signature dishes recommended by Keith. You might want to take this review with you next time you head into Flushing, because everyone of these dishes was a hit.
---
Joe's Shanghai Restaurant - Flushing
Chinese Restaurants In Flushing Queens NY
Flushing Neighborhood / Flushing Restaurants / Queens Restaurants / Queens Buzz. Continued.
Pork And Jellyfish - At Joe's Shanghai Restaurant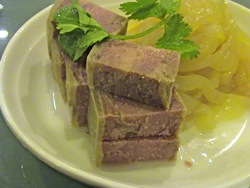 We started with the pork and jellyfish – not something I would order myself, but which, as it turns out, was a most pleasant surprise. The light dangling white jellyfish were crunchy like the multi-colored worm candy and had a very neutral taste to them. They happen to be a high source of protein and are low in calories, but they didn't become a favorite of mine this evening. It was the pork that came with the jellyfish that turned out to be the most pleasant of surprises.
The pork was served in a cubed shape with what at first looked like fat to me. It looked like it would be heavy and dense and rich in choleterol. But as I bit in, it crumbled away, in a light, moist texture with light seaworthy flavors from the east. Keith had told me that the pork had been marinated in a soup, cooked and then frozen. It was cut while still frozen and then thawed and served. All of this takes place in the course of about three hours. MMMmmm, it was surprisingly good.
Black Mushrooms & Cabbage - Chinese Restaurants In Queens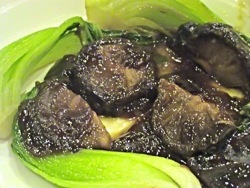 The next dish was a vegan specialty, that didn't taste like what one would anticipate a vegan dish to taste like. It was the cabbage hearts and black Shanghai mushroom dish. The cabbage hearts had a clean oily taste to it, and it was perfectly cooked al dente. That was the yin of the dish, while the yang was the black mushrooms, with a pure sweet layer covering the dark black mushrooms which has a nice manly bite to them compared to lighter mushrooms like the shitake - kind of like a Guinness compares to a regular beer. I liked 'em, but I also like Guinness.
Good Chinese Restaurants In Queens - Joe's Shanghai Restaurant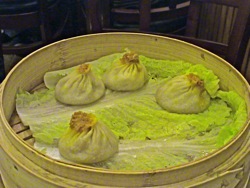 This was followed up on with the crab pork dumplings bun. These are served in a round wooden [cottage – like the stuff they made in Denmark] tin atop a few leaves of lettuce. The crab sits at the kiss of the dumpling and adds a sea salty flavor as I bit into the doughy moist dumpling. Hot pork soup spilled out and inside was soft, moist ground pork. I could have eaten these all day and you'd have had to roll me out of there. These are dangerously delicious.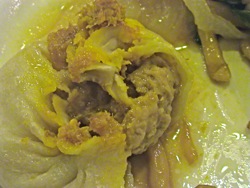 Aaaahhh. I was beginning to become satiated, only to be treated to even more Shanghai cuisine. Keith explained to me that Shanghai has its own cuisine. That sometimes get lost as most Americans, including myself, are used to Cantonese or Szechuan style Chinese cuisine that is so prevalent around the country. In San Francisco they seem to favor Hunan, which differs from what most of us are used to. Szechuan is generally spicy, Cantonese fairly bland and Hunan, like Shanghai has a light, flavorful oily taste.
Pork, Noodles, Spinach & Cabbage At Joe's Shanghai Restaurant Flushing
So then came the pork noodles with spinach and cabbage. The noodles were a tender soft doughy texture and lightly sweet. The pork was still tender, juicy and warm; the spinach lightly cooked and the cabbage still had a nice crunch to it. Another savory treat that made me wish I had a larger stomach. Joe's was batting 1.000.
Chinese Scallion Pancakes - Chinese Restaurants In Flushing Queens NY
Done? Not quite. The last treat were the scallion pancakes. These were also freshly baked and tasted like a very good pizza crust with scallion flavoring. These were served with vinegar and soy sauce on the side.
Joe's Shanghai began to thin out around 10 pm and by 11 pm, right on schedule, they closed. Courteous, efficient and oh so good at what they do. They seat approximately 100, all in the same room. Cash only and beers only [Chingtao, Heineken and Bud]. Open 11 am to 11 pm every day. It's definitely worth a visit. Check it out next time you're in Flushing or in Flushing Meadows Corona Park.
---
Joe's Shanghai Restaurant Flushing NY - Related Links
Click this link to view a map of Joe's Shanghai Restaurant in Flushing NY. Click this link to obtain the contact info and website url for the Joe's Shanghai Restaurant in Flushing Queens.
---
Flushing / Corona Related Info
$element(adman,groupad,NhoodFlush)$
Click here to go to the Art Exhibits, Galleries & Museums section of this site.
Click these links for promotions by advertisers in Queens.
Click this link to go to the Flushing Neighborhood.
---
$element(adman,groupad,Catgry Foodwine)$
Site Search Tips. 1) For best results, when typing in more than one word, use quotation marks - eg "Astoria Park". 2) Also try either singular or plural words when searching for a specific item such as "gym" or "gyms".
$element(bwcore,insert_search,N)$
Click this link to search for something in our Queens Business Directory.
---
$element(adman,groupads,Sectional2 Ad)$
---
Click the log in link below to create an ID and post an opinion.
Or send this story to a friend by filling in the appropriate box below.
---