... sometimes done by and / or with the help of the audience
---
Newspapers, Magazines, Television Producers, Filmmakers, Artists, Photographers, Journalists, Actors, Musicians, Writers & Software Developers
Copyright Law Change Alert: Pending Legislation May Curtail Your Ownership Rights
July 5, 2015 / Queens Notices / News Analysis & Opinion / Queens Buzz. Click the Queens Notices link to view proposed overhaul of copyright laws which would significantly curtail the ownership rights one has to their own work. It includes a bit about how you can help by sending a notice to the government regarding this effort to overhaul copyright law.
According to the report, the law would weaken content creators' ownership rights and thus their ability to monetize their creations. They also allege that the big internet companies are pushing this. We surmise that this is because the big internet companies are using everyone's content, collecting revenue for organizing and distributing it, and not compensating the content creators for the use of it. This may leave a huge outstanding, unestimated legal liability on their balance sheets.
The weakening of copyright laws has disturbing societal implications as well, as it completely destroys the economic incentive for artists, filmmakers, writers, journalists, photographers, actors, recording artists and software developers to invest their time and resourcess in the creation art, film, journalism, photography, music, software and other media content and entertainment. And in doing so, paves the way for considerable consolidation and control over freedom of speech and what media and entertainment content we as a society consume.
The net effect of the law is to curtail content creator ownership rights, and thus in some good measure transfer the ability to monetize content from the content creators to the content distributors. But it's not too late for you to do something about this.
The deadline for comment is July 23rd, 2015. Click Queens Notices and scroll down to first notice. There are links there to the authors of the report, as well as instructions and links to making a comment to government officials. Is retaining ownership rights to your work worth 10 to 15 minutes of your time?
"Many hands make light work." Chip in and make your concerns heard.
---
CB Votes Split On USTA Expansion Plan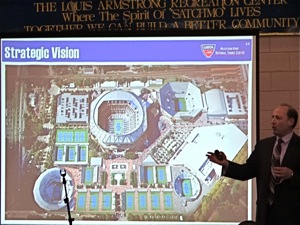 March 14, 2013 / Flushing Corona / Issues Facing Queens / Queens Buzz. The USTA has asked the city of New York to give it .68 of an acre of Flushing Meadows Corona Park so that it can proceed with an expansion plan. The expansion plan is estimated to increase the sports complex capacity for the U.S. Open by about a third, while increasing the USTA footprint in the park by .68 of an acre. The USTA informed the audience attending the Community Board 3 meeting that this will result in more jobs in Queens. They also talked about the positive estimated annual $784 million economic impact that the USTA has had on NYC - according to a study done by a private consulting firm named AKRF, Inc.
The detractors informed the audience that this is the first step in a much larger effort toward a massive privatization of Flushing Meadows Corona Park by several large, well-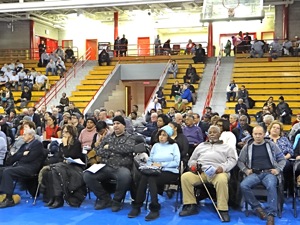 funded corporate interests. The opponents talked about three other proposals which were not a part of the USTA plan. These other proposals to develop private interests on public parkland include the development of a shopping mall by a private investment group in tandem with the owners of CitiField; 2) a condominium / hotel complex done by another group of private investors; and 3) a 13 acre soccer stadium by Major League Soccer, which is also a privately held corporation.
Community Board Tally & Boro Prez Candidates Positions
In the end Community Board 3 voted against the expansion plan, citing among other things, promises not kept when the USTA asked to expand its footpint in 1993. All six Community Boards have now voted on the USTA Expansion proposal, with three voting for it and three voting against it. We'll post a far more complete report on this Community Board Meeting at a later date.
While I was attending the Community Board 3 Meeting in Corona, all six Queens Borough Presidential candidates were attending a forum about the issues facing Queens at the Greater Astoria Historical Society in Astoria. The issue of turning over public parkland to private interests came up during the forum. To date only City Councilmember Tony Avella has come out against giving up public parkland to private interests. NY Senator Jose Peralta is the only other candidate to take a stance on the issue, but only on one of the proposed developments, namely the erection of the MLS Soccer Stadium on 13 acres of FMC Parkland [which he conditionally supports if MLS fulfills all of their promises]. All four other candidates have taken a wait-and-see stance on the issue.
Click here to read our past reports related to the proposed development plans for Flushing Meadows Corona Park. The first report provides an early history of Flushing Meadows Corona Park I and the second report provided an intermediate history of Flushing Meadows Corona Park II which included a number of relevant historic lessons related to sports complex developments in FMCP as well as NYC.
---
MTA Fare Hike This Weekend - Queens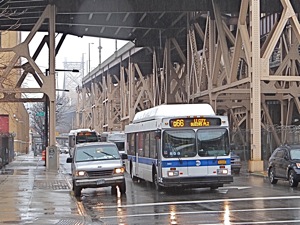 March 9, 2013 / Queens Neighborhoods / Queens Buzz. The MTA fare hike becomes effective this weekend. Subway and bus rids will rise from $2.25 to $2.50 on a MetroCard and a single purchase fare will rise from $2.50 to $2.75. New cards will cost an additional $1. The monthly card will rise from $104 to $112 and the weekly will rise from $29 to $30. Weekly express bus passes will rise from $50 to $55.
Tolls on the MTA's seven bridges and two tunnels will rise from $6.50 to $7.50 per single pay riders, and from $4.80 to $5.33 for
The funds will raise an additional $450 million per year and help fund operations and infrastructure maintenance.
---
---
School Bus Strike Ends 2/15
February 15, 2013 / Queens News Briefs / Queens Buzz. The primary union involved in the school bus driver strike announced Friday that the strike is ending and that they will resume work on Wednesday, February 20, 2013. The strike affected more than 100,000 students [see posting below] and according to the New York Times, 5,000 of the 7,700 school bus routes.
Apparently the striking workers weren't able to endure the ongoing financial and healthcare losses. And union officials said they would continue fighting for worker job protections, with Mayor Bloomberg nearing the end of his term.
---
School Bus Strike Wednesday 1/16
Yellow School Bus Drivers Strike
January 16, 2013 / Queens Neighborhoods / Queens Issues / Queens Buzz. It appears that failure by NYC and the Union of the Yellow School bus drivers to reach a contract agreement resulted in a strike that began Wednesday morning, January 16, 2013 at 6 am. About 111,000 public school children and 41,000 parochial school children that rely on this bus service are affected. There are about 1.1 million public school children and about 0.1 million parochial school children in NYC.
Children should request a Metro Card from the general office of their school. Parents or guardians of children in grades K - 2 are also eligible for the MetroCards. Those requiring IEP or door-to-door transportation may submit receipts for taxis or gas mileage [55 cents / mile] to the Transportation Reimbursement Unit / 44-36 Vernon Boulevard / Long Island City, NY 11101.
Stay tuned for labor negotiation updates on radio, TV or the internet. The last NYC school bus drivers strike was in 1979. Use this link to see if your children's NYC school bus route will be affected.
---
Queens Neighborhood News Briefs 2012
---
Noreaster Weather Arrives In Queens
High Winds, Rain & Sleet To Hit Queens, Abating By Friday
November 7, 2012 / Queens Neighborhoods / Queens Buzz. A Noreaster has arrived with drizzly rain / sleet and strong winds. Winds will likely be around 25 - 35 miles per hour through Thursday, with gusts hitting up to 60 miles per hour. In places there may be somewhere between 3 - 6 inches of snow, but given the temperatures in Queens are expected to stay in the mid to high 30's - not as likely here.
Click here to see the National Weather Service or click the button on the right side bar for additional Queens Weather info.
Click here to read more Queens News Briefs.
---
Obama Wins Re-election
Democrats Pick Up Seats In Senate & House
Queens County Voting Results Shown Below
November 7, 2012 / Queens Buzz Election Headquarters. The results are in with Obama
winning re-election. The numbers were close in the popular vote count, but there was a wide margin in the electoral college count, where Obama won all but one of the swing states. In the Senate the Democrats strengthened their majority by picking up two seats, and it appears the Democrats picked up some seats in the House too, but the Republicans are still in control of it, albeit with a smaller majority.
In New York federal races, Kirsten Gillebrand handily beat her opponent for the U.S. Senate with well over 60% of the vote. Incumbents Joseph Crowley, Nydia Velazquez and Carolyn Maloney, and newcomers Grace Meng and Hakeem Jeffries - all Democrats - won their races for the U.S. House of Representatives.
In the NY State Senate election Tony Avella (11), Michael Gianaris (12), Jose Peralta (13), Malcolm Smith (14), Joseph Addabbo (15), and Toby Ann Stavitsky (16) - all Democrats - won their races generally by wide margins.
In the NY State Assembly election David Weprin (24), Margaret Markey (30), Michael DenDekker (34), Aubry Jeffrion (35), Aravella Simotas (36), Catherine Nolan (37), and Assembly Speaker Sheldon Silver (65) - all Democrats - won their races generally by wide margins.
Click here for prior coverage of the 2012 election and voting in Queens.
---
Queens Gets Back To Basics
All East River Bridges Are Open / HOV's Only
Updated 7 pm / October 31, 2012 / Queens Neighborhoods / Queens Buzz. All East River Bridges are open, but they are only allowing HOV [High Occupancy Vehicles - 3 or more people per car] to pass through. As of 2 pm, traffic along Queens Blvd, particularly on the inbound lane, is moving at a crawl [see photo to your right].
There are police stationed along the Blvd to expedite traffic movement, but given the subway service has not yet been restored, people have taken to their cars.
Subways, Schools & Libraries in Queens
Subways. Three of the seven flooded East River subway tunnels have been drained and they will conduct electrical testing in hopes that limited subway service on the F line in Queens will be restored Thursday morning. The #7 and E trains will NOT be back up Thursday morning.
Most Queens libraries will open Thursday, except in the Rockaways area. Queens Schools will remain closed until Monday November 5. Click here for prior Hurricane Sandy in Queens coverage. Thanks to City Councilmembers Daniel Dromm & Jimmy Van Bramer, QEDC & NY Senator Peralta for keeping us informed.
Business Relief Services From Government Agencies
The government has a number of programs designed to help small businesses that have been impacted by Hurricane Sandy. They include: 1) getting up to $10K of small business emergency interruption loans, 2) Small Business Disaster Recovery Loans and 3) help from the NY Tech Meetup Group which you can contact jessica @ nytm.org.
Halloween Trick Or Treating in Jackson Heights
The Jackson Heights Halloween Parade has been cancelled due to manpower constraints on the NY Police Department in the wake of Hurricane Sandy. Nonetheless the Jackson Heights Green Alliance is holding a Trick or Treat on the Street beginning at 5 pm tonight at 78th Playstreet [at 34th Avenue]. They are asking residents to show up with kids in costume and some candy to share which will be distributed at tables.
---
Queens News - News Briefs About Queens - 2011
---
Snowy Halloween Weekend In Queens
Trick or .. a treat only a penguin would appreciate?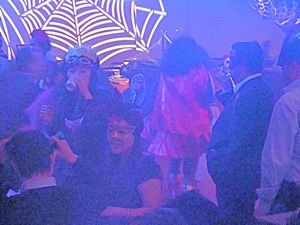 October 31, 2011 / Queens Buzz. Temperatures dropped into the low 30's on Saturday morning, paving way for the first snowstorm of the 2011 - 2012 winter season. The storm broke historic records for snowfall in October. In western Queens some places received a few inches of snowfall, while others received only rain. While in New Jersey some places received as much as 19 inches of snowfall and the power lines were knocked down leaving many without power.
While this did tend to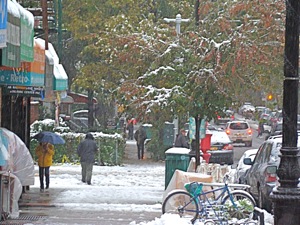 curb the Halloween festivities, it didn't stop them on Saturday night. Party goers braved the inclement weather to celebrate the night of spirits and ghosts. We attended the Halloween party hosted by the Flushing Town Hall. They had completely changed the theater on the second floor, converting it into a very nice night club. Drinks were being served as a DJ spun dance tunes, and some scary hors d'oeuvres were put out, while those in attendance danced the night away in some very well done costumes. Happy Halloween.
---
Mayor Declared Weather Emergency
Queens Dug Out From Over A Foot Of Snow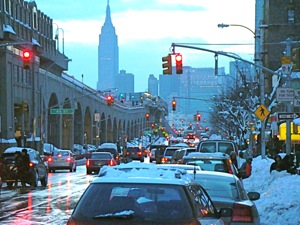 Queens Buzz Weather / January 27, 2011. It was a snowy Thursday, as intrepid Queens residents and workers dug themselves out of over a foot of snow.
By 5 am over a foot [we measured 13 inches of snow accumulation in Queens] had fallen. By this time most side roads had become impassable and the main roads, while operable, weren't pretty. The Mayor declared a weather emergency and all schools were closed as were the Queens Libraries.
By 5 pm the main roads were functioning fine [see Queens Blvd in photo] and based on an unscientific survey, many of the side roads had been cleared as well. But there's still more work to do, as every bus stop we encountered remained blocked, and nearly every parked car was still snowed in.
The rest of the weekend weather forecast indicates a low likelihood of snowy weather [20% - 30% chance] with the temperatures in the 30's during the day and the 20's during the night. Click here to go to the Queens Weather section of this site for an update [link located along left side bar].
---
Queens News - News Briefs About Queens - 2010
---
Queens Film Festivals 2010
Jackson Heights Film Festival On Hiatus [2nd Yr]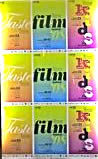 There appear to be two film festival casualties in 2010. The first we heard about was the Jackson Heights Food & Film Festival, which was a highly popular annual event, particularly its food venue. As we understand it, part of the issue was again finding suitable venues [also last year], but there were additional issues too, in part due to the dour economic climate. The Jackson Heights Film Festival is going on hiatus for the second year running.
To find prior stories on the Jackson Heights Film and Food Festival, use our site search function or click on the photo to your left.
Sunnyside Shorts Film Festival - September 25th
September 13, 2010 / Sunnyside / Long Island City LIC / Astoria / Jackson Heights / Queens Buzz. The Sunnyside Shorts film festival is slated to commence on September 25th at the Sunnyside Community Service Center [click photo for story about the film festival in 2010]. We provide a a full report of the film festival in the linked story, including snippets of about each film shown.
Astoria / LIC Film Festival - October 22nd - 24th
There's also a new festival in town, the Astoria / LIC film festival which is scheduled to run the weekend of October 22nd - 24th at the Secret Theatre in Long Island City LIC. Click the emblem to your right to view a report about the last day of the festival in 2010, including brief reports about some of the programs and films.
QIFF - Queens International Film Festival 2010 Appears Unlikely

And the once popular Queens International Film Festival also appears unlikely to return this year, but this is due to very different circumstances. As we understand it the festival founder is currently entangled in financial and legal problems and is not likely to emerge from them in time to organize the QIFF. Use the search function to find prior stories written about the QIFF, or click on the image to your left.
Please note that these film festivals do not have any relationship to one another. Click here to read related stories about the Sunnyside Shorts Film Festival and the Astoria / LIC Film Festival in Queens in 2010.
---
Primary Elections Held Tuesday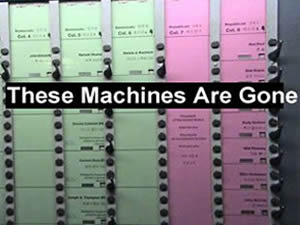 September 14, 2010 / Queens Buzz. The primary elections are being held Tuesday September 14th. The polls will be open from 6 am to 9 pm.
New York State has disposed of the old hand lever voting machines that we've been voting on since the beginning of time [see photo to right]. In their place are paper ballots which you fill out and are then scanned. It's good opportunity to vote using the new procedure before the general election which is scheduled later this fall on November 2nd.
It's also worth noting that some of the polling stations in Queens have changed. And again, by voting in the primary, you'll be sure to know where to go for the general election. Click here to visit the New York state poll locator. And in both parties, may the best people win.
---
Free Summer Concerts In Queens
Free Movies In Some Parks Too
July 6, 2010 / Queens Neighborhoods / Queens Buzz. We hope you had an enjoyable fourth of July weekend. The weather was pretty good, albeit a bit on the warm side.
Right around the July 4th holiday, a full platter of free public entertainment becomes available. There are free concerts series given in many of Queens public parks, as well as by a couple of non-profits. They've already begun in Gantry State Park in LIC [Live At The Gantries], as well as in Astoria Park with the concert that preceded the fireworks last week. Athens Park held its first concert in Astoria two weeks ago, and the Louis Armstrong House in Corona [private non-profit] has already hosted two of them in its garden. Soon concert series will begin in Windmuller Park in Sunnyside / Woodside, at Travers Park in Jackson Heights and at Flushing Town Hall [private non-profit] in Flushing. We'll post details, including dates and times later this week.
Summer films begin as well. Socrates Sculpture Park offers a weekly foreign film in Astoria / LIC and the Queens Museum Of Art in Flushing is hosting a weekly mix of music, dance and film that spans cultures from around the globe, reflecting the ethnic tapestry of Queens NY.
---
Cooler Weather To Return
Spring To Return To Queens On Friday
April 7, 2010. The highs today will be in the 80's today and tomorrow. But on Friday we're expected to receive rain which is expected to cool things back down to seasonal temperatures [highs in the 60's / lows in the 40's]. It will be sunny this weekend and into next week with Spring temperatures returning for a while. These are some of the best days of the year. Enjoy.
---
Queens News - News Briefs About Queens - 2009
---
Snowstorm Blankets Queens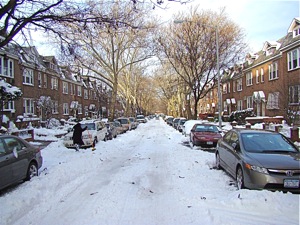 Queens NY / December 20, 2009. About a foot of snow blanketed Queens. The snow started as a drizzle Saturday afternoon, growing to a full puffy snowfall into the evening, and finally stopping in the wee hours of Sunday morning. According to various sources, between 10 and 12 inches of snow fell in Queens county. Most of the main streets were cleared before noon, but the side streets were still difficult to navigate throughout the day.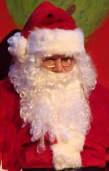 The kids seemed to enjoy the fluffy white wintry magic and at least one adult indicated he was happy with the snowy weather. We placed a call to the north pole where Santa took a couple of minutes to speak with us. He said things were moving along nicely during his last week of production of toys, clothing, gift certificates, eyeglasses, food, furniture, wedding items and wine. He added that the snow would help him expedite deliveries on Christmas Day. He made mention that in Queens people could also find all of these items in their local shopping districts, such as in Astoria, LIC, Sunnyside and Jackson Heights. He couldn't talk long, because he still had a lot of details to tend to prior to Christmas Eve, but he noted that this year he expects to make a record number of deliveries as the planet is home to 6.7 billion human beings.
---
Record Rainfall Acts As Spoiler In June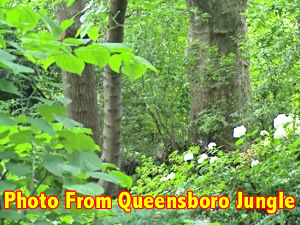 Queens NY / June 22, 2009. We've been the recipients of about eight inches of rainfall this month, which is about four times what we normally receive. So it's not your imagination that this has been an unusually wet month. Because of the cloud cover, we are also running at temperatures that are about four degrees cooler too. That's why Queens, home to the most trees of any NYC borough, seems as lush as a Wisconsin forest.
But there's some good news on the weather front. The rains on Tuesday aren't expected until nightfall, so we should see the sun. And then Thursday through Sunday will be good, relatively speaking that is, with clouds, and on Friday and Sunday only scattered T-storms. For complete weather updates click on the 'Weather / Nation' link along the left side bar.
---
My Parks Day In Jackson Heights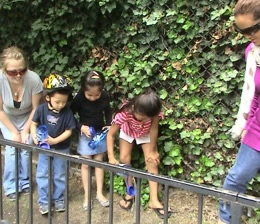 My Parks Day enjoyed a pretty good turnout, in spite of overcast skies and predictions of rain. Volunteers showed up at parks around the borough to help tidy them up and plant flowers and other plants. At Two Coves Garden they held workshops on canning, picklying, composting and container gardens. The Waterfront Parks Alliance worked with numerous Queens parks to clean up along the waterfront.
We visited Traverse Park in Jackson Heights where we found these young helpers and their mothers watering some new sunflowers they had just planted in the park. We'll have additional photos to view which we'll post later.
---
Jackson Heights / Elmhurst Related Info
$element(adman,groupad,Catgry Wedding)$
Click this link for promotions, discounts and coupons in Jackson Heights, Corona and Queens.
Click this link to go to the Jackson Heights & Elmhurst Neighborhood News / Jackson Heights Restaurants / Jackson Heights & Elmhurst Shopping.
---
$element(adman,groupad,Catgry Queens)$
Site Search Tips. 1) For best results, when typing in more than one word, use quotation marks - eg "Astoria Park". 2) Also try either singular or plural words when searching for a specific item such as "gym" or "gyms".
$element(bwcore,insert_search,N)$
Click this link to search for something in our Queens Business Directory.
---
$element(adman,groupads,Sectional Ad)$
---
Click the log in link below to create an ID and post an opinion.
Or send this story to a friend by filling in the appropriate box below.
---