Greening Western Queens
Trees Beautify, Provide Shade & Oxygen, And Can Increase Property Values
Summers in Sunnyside / Sunnyside / Eco-friendly In Queens / Queens Buzz. Spring is the time to start planting again, and trees are a source of good value for the community. The following includes a lot of information about how to select, grow and care for trees in Western Queens.
I went to check out the Greening Western Queens event which was held in Sunnyside on Saturday morning. I went, not knowing what to expect, and found the event provided a tree-mendous opportunity to learn more about what trees do for us, how to get involved in identifying places to have trees planted, as well as how to care for them.
The Con Ed blackout in 2006 hit areas like Astoria and Sunnyside rather hard. Following the blackout there were financial settlements made with Con Ed, one of which was a $7.8 million fund that went to NorthStar for the purposes of building more sustainable – and thus energy efficient – infrastructure in these neighborhoods.
I wasn't aware that these two neighborhoods have far less tree coverage than the city average [which is 14% tree coverage] and hence require far more air conditioning to keep cool in the summer.
Click here to learn more about Greening Western Queens - including info about tree types, tree insects, tree mapping and tree care certification in Queens. You will also learn how you can become involved in selecting public and private tree planting locations in Queens.
---
The Benefits Of Trees - Greening Western Queens
Trees Beautify, Provide Shade & Oxygen, And Can Increase Property Values
Summers in Sunnyside / Sunnyside Neighborhood / Eco-friendly In Queens / Queens Buzz. Continued / Use the search function to find story introduction if needed.
The Greening Western Queens Kick-Off event was held in Vincent Daniels Square in Sunnyside. Greening Western Queens is a three year project that will cost tax payers nothing, as it is funded by the settlement with Con Ed. The effort is designed to identify and plant up to 1,000 trees in the Astoria and Sunnyside neighborhoods over the next three years and then to sustain these trees for the next one hundred [the last number is mine].
The map to your left shows part of the area covered by the Greening Western Queens project. See the slide show / photo album for a larger copy of the two section map [second section not shown in this photo].
You Can Select Tree Planting Street Locations In West Queens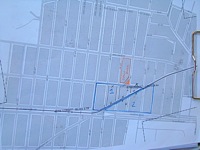 So here's how it works. The Partnership for Parks is working on the community outreach which includes making people aware of the project and that they can participate. The Parks Department is providing the land upon which many of the trees will be planted – but trees can also be planted on city streets. And NYRP [New York Restoration Project] is working with schools and churches to help identify locations where they might like trees planted. Those who participate may also be able to help in selecting the type of tree to be planted. A sample tree map is shown to your right and a chart showing different tree types is shown in the photo below.


Tree Care Is Important To Tree Growth - Tree Huggers Unite!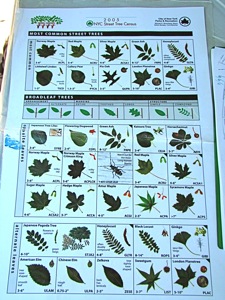 Green Shores NYC has set up a special Street Tree Committee to work on the project. The Street Tree Committee was founded by the non-profit group in 2008 and became active in 2009. Christie Van Kehrberg is the committee chairperson. I spoke to her about why she'd become so involved in the caring for trees.
Christie told me that she lived on a street where a number of years ago she'd noticed four new trees had been planted on her street. She found an avenue through which she became involved [TreesNYC – more about them further in the story] learning how to care for them and getting a license to take care of public trees [it requires a bit of training which isn't difficult and the training is free].
She found, through her involvement, that she really likes caring for trees as it's a lot like gardening. And, she informed me, when tree tending is done with others [like those on the GreenShoresNYC committee], it can provide an enjoyable way to spend time some outdoor / social time in the morning or afternoon.
I asked her if she had cared for more than a hundred trees over the past three years. She answered in the affirmative, but also told me that the numbers are unimportant. It's the feeling one gets from the experience of caring for these stewards of the earth.
Tree Dimensions - Health, Beauty & Property Values?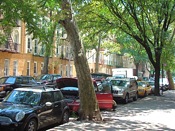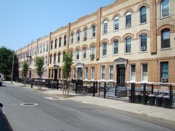 Trees add great value in many different ways. The reason that part of the Con Ed settlement is going to this tree planting effort is that they produce shade, which cools an area, thereby reducing the amount of energy required to cool a home. Trees also freshen up the surrounding air by producing healthy oxygen. And oftentimes trees provide a natural aesthetic to a street or neighborhood which can add value to real estate by enhancing its appeal.
Take note of the difference between two very similar streets in the Sunnyside / Astoria neighborhood. The street shown to your right has the same apartment buildings as shown in the photo to your right.
Tree Mapping - Surveying Returns To Queens
Liz Barry from Tree Kit took a group of us out for a walk in the neighborhood to show how tree mapping is going to be done. The purpose of tree mapping is to identify where public trees are located, identify what type of trees there are, how big they are based on trunk size, and measure the size of the tree pit. In time the city hopes to work with community individuals and groups to help care for their neighborhood trees. Through the Con Ed grant the Sunnyside and Astoria neighborhoods will be the first in the city to have tree maps.
Important - Baby Trees Are Thirsty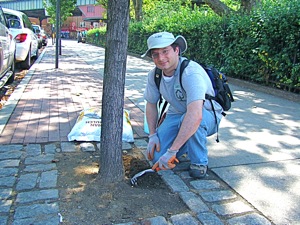 Sam Bishop of Trees NY took me out on a short expedition to show me how to care for trees. The most important part of tree care is watering them. I was told by Christie that baby trees require 20 gallons of water per week. They need this so that they can grow. In time their roots grow deep down into the earth, enabling them to obtain water even through dry spells.
The other duties of tree care including oxygenating the soil by turning it. Mulch and other healthy things can be added to provide additional nutrients to the tree. And very little spraying.
Leeanne of Build it Green & Western Queens composting – told me about composting bins. There's a compost bin for vegetation mulch at the Sunnyside Farmers market which is open from 9 am – 12 noon on Saturdays alongside Lodati Park.
Greening Western Queens - Eco-friendly Collaboration By ...
The Greening Western Queens kick off event was a collaboration by Partnership For Parks, the Parks Department and New York Restoration Project [aka NYRP]. Green Shores NYC, Build It Green's Compost Care unit, Trees New York and Tree Kit were also there, supporting the effort and participating in it.
The photo to your left shows the Greening Western Queens kick off event held in the Sunnyside NY neighborhood.
Greening Western Queens Slide Show
In the slide show are the following: 5) Trees NY – Sam Bishop of Trees NY, 6) [L to R] Jules Corkery, Nasha, Katie Ellman, Christie Van Kehrberg [Greenshores volunteers], along with attendees Olga Castillo and Christopher Fernandez Castillo in the background, 8) Jason Schwartz [speaking - left to right], CCM Jimmy Van Bramer, NYS Senator Michael Gianaris and attendees, 15) Liz Barry, Sofie & Sam of Tree Kit NY, and 17) Kyle Richards [left], and 18) Leeanne Spaulding of Build It Green & Composting Western Queens.
Click here to view enlarged photos of the Greening Western Queens event.
---
$element(ophoto,photo_slideshow,184,550,,5.00,fade)$
---
Sunnyside Neighborhood / Woodside Neighborhood Links
$element(adman,groupad,NHoodSSWS)$
Click on these advertisements for promotions, discounts and coupons by retailers and restaurateurs in Woodside, Sunnyside and nearby Queens.
Click this link to go to the:
Sunnyside & Woodside Neighborhood
Sunnyside Business Directory or Woodside Business Directory
Sunnyside & Woodside Real Estate or Events & Things To Do In Sunnyside & Woodside
Restaurants In Sunnyside & Woodside or Sunnyside & Woodside Shops & Shopping
---
$element(adman,groupad,Catgry Foodwine)$
Site Search Tips. 1) For best results, when typing in more than one word, use quotation marks - eg "Astoria Park". 2) Also try either singular or plural words when searching for a specific item such as "gym" or "gyms".
$element(bwcore,insert_search,N)$
Click this link to search for something in our Queens Business Directory. Also check out Taste of Sunnyside.
---
Click the log in link below to create an ID and post an opinion.
Or send this story to a friend by filling in the appropriate box below.
$element(adman,groupads,Sectional2 Ad)$
---