News Briefs about education, healthcare, development & open space, governance and social issues in LIC, Sunnyside, Astoria, Jackson Heights, Flushing, Jamaica, Corona Queens
---
$element(bwcore,article_picker,874,Y,N,page_title_home,N)$
Affordable Care Act - 3rd Year
Open Enrollment Ends January 31st, 2016
November 2015 / Jamaica Neighborhood / Healthcare in Queens / Queens Buzz.
I attended a workshop last Fall, intended to help folks enroll, re-enroll or address issues they may be having with their Affordable Care Act health insurance.
There are a few things you should know. Perhaps the most important is that if you don't have health insurance you will have to pay $695 or 2.5% of your income in taxes.
And if you don't have health insurance you can sign up for it by telphone, on the web or in person through the Affordable Care Act. What you ultimately pay for the insurance is subject to your earnings in the year.
It's important to note that there are various levels of coverage, so depending on your needs, you can choose one that's right for your healthcare needs and budget. Open enrollment began November 1, 2015 and remains open until January 31st, 2016. There are some exceptions for this deadline for life changing situations like for some marital status changes, newborns and location changes. Contact the New York State of Health.
For the year 2016, over 12 million Americans have enrolled in the Affordable Care Act insurance plans. And I believe there are something like 2 million enrollees in the New York State of Health plan.
---
Affordable Care Act Insurance Deadline
February 15th Is Final Day To Begin NYS Insurance Enrollment
Deadline For Enrollment Completion Extended To February 28th
Updated February 15 / February 12, 2015 / Manhattan Healthcare / Gotham Buzz.
New Enrollments For ACA Health Insurance Ends February 15, 2015. Those who have begun the enrollment process by February 15th will have until February 28th to complete them. The deadline is February 15th to begin an enrollment. We received reports that many folks were having difficulty in getting through to a telephone operator, so it looks like there was a spike in demand near the deadline, which also happened in 2014.
On Saturday, NY State of Health extended the enrollment deadline by two weeks to enable those who do not complete their enrollments by Sunday, February 15th. Hence, enrollees now have until February 28th to complete enrollments in the New York State health insurance plans associated with the Affordable Care Act. It's worth mentioning that the NY State Of Health does not have operators available on Sunday and that they are only available Saturday from 9 am - 1 pm.
Enrollment On Target With Government Incentives. According to recent national news services, there were already 9.5 million enrollees in the Affordable Care Act plan as of a few weeks ago [mid / late January 2015]. The total enrollment target nationally for this year is 10.5 million. Last year the New York State of Health - which runs the NYS Affordable Care Act enrollments - signed up nearly 371,000 people. There were reports in January 2015 that the number of NY State of Health enrollees has grown this year. We also understand that the folks who enrolled last year and are currently participants in a plan will be automatically renewed in their Affordable Care Act Health insurance, so they are not required to update their enrollment with the state. But that said, they must renew their status with their health insurance provider around the time of the anniversary of their enrollment.
One news site recommended that folks already enrolled in the plan ought to review and update their enrollment to make sure they want to stay with their present insurer, and that they fully understand the tax consequences of their healthcare choices.
Tax Penalties 2015. One report noted that the majority of Affordable Care Act enrollees get some measure of monetary incentive to enroll in the plan. In 2014 the tax penalty for not having health insurance was $95 per adult or 1% of household income. In 2015 the penalty rises to $325 per adult or 2% of income.
Click here to view the New York State of Health website.
---
Air Beam: What Are You Breathing?
Adventurous Bike Ride With TA Queens ... On The Road To Find Out
November 10, 2014 / Queens Neighborhoods / Biking Queens / Queens Buzz. I just returned from a bike ride that began at the Central Park Boathouse and ended in Jackson Heights at 34th Street and the BQE Expressway. Celia Castellan, who is the organizer for Transportation Alternatives Queens [aka TA Queens] collaborated with me on this story which is about Queens & Manhattan air quality and also about biking. Celia is shown in the photo to your right, atop the Queensboro Bridge around 6 pm Monday night as we bike commuted from Manhattan to Queens.
It was a beautiful night with clear, dry air and temperatures around 60. Our mission was to test the Air Beam, a new device designed to enable people to measure the air quality, and then map the information to a public website, so that the public can begin to see what's going on with the air they breathe. The Air Beam is a blue, slightly-larger-than-a-cell-phone device, that you wear to measure the air [quality].
We began the ride in Central Park. We were on our way after receiving only a couple minutes of instruction. The device is brand-spanking new and must be sync'ed to an Android cell phone. The inventors work for a non-profit and are trying to raise a bit of money to mass produce it.
I'm going to take you on the rest of the ride, including a sampling of the air quality readings along the way, and provide some photos of the Queensboro Bridge bicycle commute a bit later this week. In the meantime, check out the Air Casting website and if you want to help, there are a few more days left on their Kickstarter campaign.
---
Affordable Healthcare Deadline Monday
Enrollment Trending Toward 7 Million Target
New York State Of Health Surpasses 1.1 Million Applicants & 782K Enrollees
March 31, 2014 / Jackson Heights / Queens Healthcare / Queens Buzz. Get ready for an endless spin game about the enrollment numbers of the Affordable Healthcare Act aka Obamacare.
It appears the Administration is on target to achieve the first target they had set, prior to running into innumerable problems in October 2013 with the federal healthcare insurance website - healthcare.gov - when enrollments first began. Following the opening website debacle, the Administration lowered the enrollment targets from seven million to six million. They hit the six million number last week and the application and enrollment activity has spiked during the final week to submit an application.
There are 36 states participating in the rollout of the national health insurance plan and 14 states which have opted out of the plan. New York state is one of the 36 participants and as of Sunday night, New York State had received over 1.1 million applications and nearly 800,000 people had enrolled. These numbers are up significantly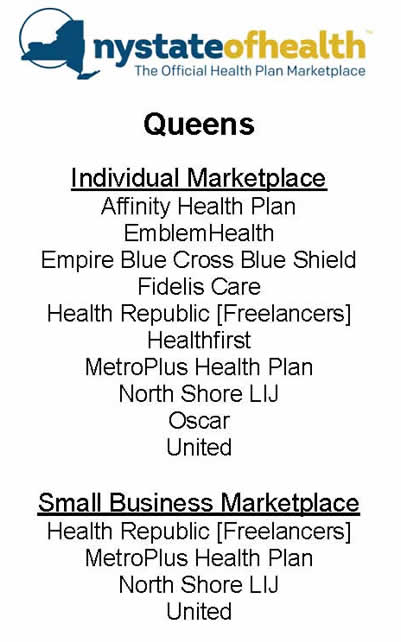 versus three weeks ago, when applications were at about 900,000 and enrollment at about 500,000. As of early March, we were informed that about 70% of the enrollees were people who had not previously had health insurance. Hence by that metric the plan appears to be achieving its goal in New York State.
According to national reports, it also appears that the late applicants are skewing younger, which was another important metric for the Administration. The composition of young and older ages is needed to enable insurance company participants / healthcare plan providers make the financials work.
Opponents of the Affordable Care Act [ACA] say that the enrollment numbers are inflated, as the enrollment numbers don't take into account enrollees making their first payments. Some opponents are also predicting that the enrollees are largely comprised of folks who will need government subsidies to pay their insurance premiums. Proponents have said that giving tax deductions for health insurance to people trying to maintain their health, is no different than providing tax deductions for interest on loans used to purchase a home.
We've attended a number of sessions about the Affordable Care Act and the regular folks attending these sessions have made statements saying that they are no longer locked into jobs they don't like because of health insurance, that the Affordable Care Act has significantly lowered their healthcare costs and that they are relieved to finally be covered by health insurance.
Applications must be submitted no later than 11.59 pm Monday night, March 31st. We understand that national applicants will have another 7 days to provide documentation for application submissions that fail to meet the application criteria. And in New York State that deadline appears to be April 15th, but in both cases we suggest you confirm it by calling the group with which you're working.
---
ACA Deadline Extended To 12/23
Registration For January 1st 2014 Insurance Coverage Extended To Dec 23rd In Queens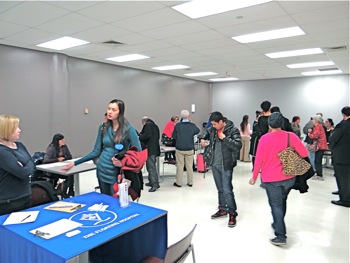 December 17, 2013 / Healthcare in Queens / Queens Buzz. The deadline for registering with the New York State healthcare / insurance exchange for January 1st, 2014 insurnace coverage has been pushed back a week from December 15th to December 23rd. We understand that implementation of the Affordable Care Act [ACA aka Obamacare] continues to be affected by executional problems, but according to experts, the problems are being addressed and the number of issues are abating.
In the photo to your right are Queens residents talking to Affordable Healthcare Act navigators who provide free assistance to people in selecting a healthcare plan. This event was sponsored by the office of City Councilmember Jimmy Van Bramer at LaGuardia Community College in LIC.
There are a few things we've picked up over the past week that are worth mentioning at this point.
First be aware that the providers listed on any given insurer's website is subject to change and sometimes the providers listed have quit the program and sometimes there are providers who are participating in the program who are not listed. This situation also oftentimes occurs with other insurance providers / health maintenance organizations. According to a policy expert from the Robert Wood Foundation, a healthcare focused non-profit, the listing / not listing issue on insurers' sites has increased by about 10% since the implementation of the Affordable Healthcare Act began in Queens on October 1st. The reason for this is that healthcare providers and insurers continue to analyze and evaluate how they are going to manage their networks to accommodate the influx of new patients / clients.
Another thing participants need to pay attention to is that participants need to obtain a card or member number from the insurance company in order to obtain / use the benefits from the listed healthcare providers. As we understand it, a number of people have registered using the NYS exchange and thought they had completed the process prior to obtaining their member number / insurance card. Exchange registrants need to follow up with the insurers to obtain the card. We also understand - but this has not been confirmed - that participants need to make their first payment for the plan they choose, prior to being able to obtain the benefits / use the healthcare system.
Lastly, another item we picked up refers to a clause in the program with respect to people who switch plans. Healthcare Plan Switchers are able to change providers during the year, but those who do so will be subject to higher co-pays. So try to choose a provider you think you will work for the long haul. We'll have more on the implementation of the Affordable Healthcare Act in Queens later this month.
Click here for prior coverage of the Affordable Healthcare Act in Queens [aka Obamacare in Queens].
---
$element(bwcore,article_picker,1029,Y,N,page_title_home,N)$
Health Fair: Keeping The Machine Going
June 4, 2013 / Jackson Heights Neighborhood / Queens Healthcare / Queens Buzz. I attended a Health Fair in Jackson Heights on Saturday at the Lexington School for the Deaf. It was held outside in the playground, which was a large grassy field not far from the Bulova Building.
Inside the yard there were booth set up where you could have your lungs tested for things like asthma, have your heart rate and blood pressure measured, get a bone density reading to see if you're at risk of osteoporosis, have your glucose and cholesterol measured, and get a body mass index reading - all for free. For those folks who are managing their health without the benefit of insurance, it's a good one stop shop to get some sort of reading on a number of your vitals.
There were other, less health focused booths there too. For example a couple of booths provided coffee, bagels and fruit - like the Port Authority of NY / NJ and the NYC Department of Corrections. And some were set up to entertain the kids with balloons, dancing to music, yoga and the like. The event is hosted annually by Mt Sinai Queens and the United Civic Community Association. We'll post more later.
---
$element(bwcore,article_picker,989,Y,N,page_title_home,N)$
Eating Right in Queens in the New Year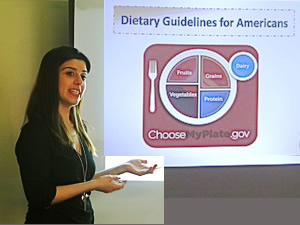 December 14, 2012 / Astoria & LIC / Food in Queens / Queens Buzz. I attended a lecture on nutrition sponsored by Mount Sinai Hospital of Astoria at the LIC YMCA. The presentation was given by Effie Nerantzis, Registered Dietician, who is shown in the photo to your left.
She provided a lot of information that one can use to begin to make smart, healthy choices in their diet, while continuing to lead an on-the-go modern lifestyle. Some of the lecture including how to read nutrition labels on the backs of packages, how to interpret the claims on the front of food packages, she touched on how organic foods factor into the mix, and how to shop and prepare foods in short order.
---
$element(bwcore,article_picker,874-675-674,Y,N,page_title_home,N)$
---
$element(adman,groupad,Catgry Medical)$
$element(adman,groupad,NhoodAstoria)$
---
$element(bwcore,article_picker,669-569-502-494-469,Y,N,page_title_home,N)$
---
Queens Related Info
$element(adman,groupad,NhoodLIC)$
Click these ads for promotions, discounts and coupons in Astoria, LIC, Jackson Heights, Woodside, Sunnyside, Flushing, Jamaica and Queens
Click this link to go to the Astoria Neighborhood / Long Island City LIC Neighborhood / Sunnyside Woodside Neighborhood News / Jackson Heights Elmhurst Neighborhood / Flushing Corona Neighborhood / Jamaica Neighborhood.
---
$element(adman,groupad,Catgry Wedding)$
Site Search Tips. 1) For best results, when typing in more than one word, use quotation marks - eg "Astoria Park". 2) Also try either singular or plural words when searching for a specific item such as "gym" or "gyms".
$element(bwcore,insert_search,N)$
Click this link to search for something in our Queens Business Directory.
---
$element(adman,groupads,Sectional2 Ad)$
---
Click the log in link below to create an ID and post an opinion.
Or send this story to a friend by filling in the appropriate box below.
---