Sunnyside Yard: Finding Our Place In Space & Time
Part II. History Of Transit & Housing In Queens: Sunnyside Yard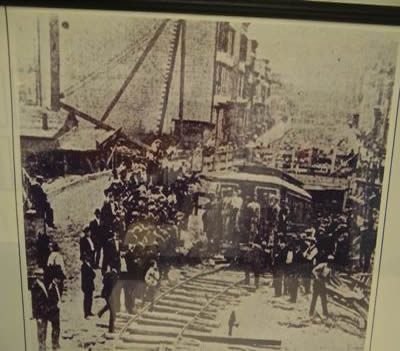 March 18, 2015 / Sunnyside / Queens Real Estate / News Analysis & Opinion / Queens Buzz.
Click here to view our first report about Sunnyside Yard.
In Part I of this report series about Mayor de Blasio's proposed development of Sunnyside Yards, we saw how Queens evolved from the rolling woods and farmlands of the early 19th century, into an industrial and manufacturing center along the East River waterfront in the second half of that century. In 1898 Queens became a part of New York City and the dawn of the 20th century had begun.
Work On The Steinway Tunnel Resumes & Begins The Era Of The Commute
In 1892 William Steinway [he died in 1896] began digging a tunnel underneath the East River between Queens and Manhattan. He had envisioned completing it to enable mass transit flows between Queens and Manhattan to enhance the value of his vast Astoria / Long Island City real estate holdings, but he died before that vision came to fruition. The Steinway Tunnel, which was named in his honor and which it carries to this day, is now the underground tunnel for the #7 subway line between Flushing Main Street in Queens, and Times Square in Manhattan. I shot the photo to right at a LaGuardia Community College exhibit in LIC which shows a newspaper account of a 1907 test run of a trolley through the line, three years after the completion of the Steinway Tunnel between Manhattan and Queens in 1904.
Large Scale Real Estate Development Begins In Queens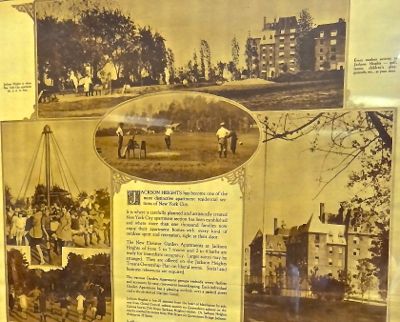 Following the creation of the interborough subway lines, affordable housing developments followed in Jackson Heights, Forest Hills and Sunnyside. The photo at right shows a 1922 real estate development in Jackson Heights built for the upwardly mobile growing middle class. I shot this photo at the Jackson Heights Beautification Group's Historic House [Garden] Tour Weekend.
We ended Part I talking about Public Housing that ultimately became low income housing, and which had systemic problems attributed to the civil rights struggle of the mid 20th century, and which was followed by social upheaval accompanied by narcotics. While remnants of the past remain with us, the most egregious aspects of these historical issues have been ameliorated.
And so we begin Part II by taking a deeper dive into the evolution of New York City's transportation system and housing development, with an eye toward how mass transit and the auto enabled the daily movement of millions of people / workers between their workplaces in Manhattan to their homes in the outer boroughs - most notably of Queens.
What follows is Part II of a deeper look into the Mayor's proposed development of the Sunnyside Yard.
---
Sunnyside Yard: Finding Our Place In Space & Time
Part II. Sunnyside Yard History
March 18, 2015 / Sunnyside / Queens Real Estate / Queens Buzz. Continued from Part I - Sunnyside Yard.
1904: Completion Of The Steinway Tunnel & The Beginning Of Queens Growth
In 1902 the Steinway tunnel effort was resumed. The tunnel was completed only two years later in 1904 [compare the three years combined total for that tunnel project to the East Side Access Tunnel Project which has, to date, taken nearly a decade].
Seth Low was the NYC Mayor [1902 - 1904] during the two years of tunneling leading to the completion of the East River tunnel. He was elected and served the two year term which back then was the standard length of term for that elected position. He had run as an Independent / Fusion party which was a coalition of Republicans and the anti-Tammany Democrats.
George McClellan Jr. [son of the Union Civil War General] followed Low as Mayor [1904 - 1910]. McClellan broke with Tammany Boss Charles Murphy during his second term [they restored the length of the term of Mayor's Office to four years] and thus ended his political career. Hence, the tunnel was not put to use for the purpose of mass transit until 1915, due to what appears to be political wrangling which involved legal, financial and engineering issues. See photo in the story introduction section above, showing [one of or] the first trolley cars to travers through the Steinway Tunnel at the Vernon Blvd Station in Long Island City.
1909: Opening Of The Queensboro Bridge With Trolley & Auto Lanes
The Brooklyn Bridge connects to lower Manhattan and construction on it began in 1870 and it opened in 1883. The Williamsburg Bridge connects the Lower East Side to Brooklyn and construction began on it in 1896 and it was completed in 1903. At the turn of the century New York City created a Department of Bridges and appointed Gustav Lindendahl as its Commissioner. A bridge connecting Queens and Manhattan had been envisioned for many years prior to it becoming a reality. Work erecting the Queensboro Bridge began circa 1903 and it was opened in March of 1909 [see photo of the bridge above right during construction].
At the time trolleys were the primary public means of traveling around town. Hence during the first years the public generally crossed the bridges and tunnels via trolley between Queens and Manhattan. When the Queens Bridge opened in 1909 there were four trolley lanes and a couple of lanes for autos. But as the 20th century wore on, the city phased out trolleys over the bridge. In 1959 the last trolley lanes were converted to accommodate automobile traffic. The photo at right shows trolley cars on Parsons Boulevard in the Jamaica section of Queens. I shot this photo from a mural in downtown Jamaica.
1915 - 1928: Interborough Subway Transit Begins & Grows In Queens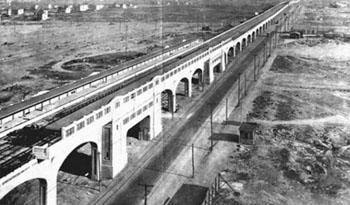 The first installment of the subway line between Queens and Manhattan ran between Times Square / Grand Central Station and what is now Vernon Blvd in LIC [see first photo of this segment of our series]. By 1928 the line had been extended as far east as Flushing Main Street in Queens, where it terminates today. The Flushing / Times Square subway line [#7 ] is one of the busiest subways in New York City, and according to the Wall Street Journal, the most highly rated subway by its passengers for seven years in a row. The photo at right shows the #7 subway line along Queens Boulevard at what is currently the 46th Street station.
1930s: Mayor LaGuardia Succeeds In Completing Public Takeover Of NYC Subways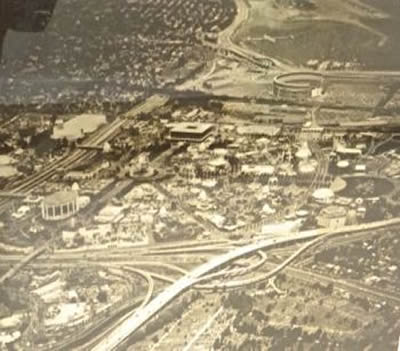 Mayor Hylan advocated for the public takeover of the subways and the merging of them into one system in the late teens / early 1920's, but it wasn't until the 1930's, and the rise of Mayor Fiorello LaGuardia, that his vision came to fruition.
In 1939 Mayor Fiorello LaGuardia aquired the IRT and merged it with the BRT thus unifying the mass transit system into one unified system controlled and managed by the City of New York.
1930's: Transportation Infrastructure Development - Highways & LaGuardia Airport
Robert Moses, NYC's City Planner, used the World's Fair of 1939 to clean up Flushing Meadows Corona Park. The event also showcased the #7 Flushing subway line into Manhattan, the recently erected Municipal Airport [LaGuardia] and New York City's evolving web of freeways, throughways and highways - many of which run through the borough of Queens.
The photo at right shows an aerial view of Flushing Meadows Corona Park at the time of the 1939 Worlds Fair. Near the top of the photo you can see the newly built Flushing Municipal Stadium which was later renamed after William Shea, an attorney, who convinced the National Baseball League to place a second team in New York City. The photo below was taken around the time of the 1939 World's Fair. I shot copies of both photos at an exhibit at LaGuardia Community College in LIC.
Mayor Fiorello LaGuardia envisioned and supported the opening of Municipal Airport [it would later be renamed LaGuardia Airport in his honor] adjacent to the Astoria, Flushing, Corona and Elmhurst neighborhoods of Queens. The land upon which the airport now sits, was once the Gala Amusement Park which was owned in part by William Steinway. The photo at right shows an airplane traveling north along the west side of Manhattan shortly after Municipal Airport [LGA] opened.
Municipal Airport replaced the first airport in New York City, which was Floyd Bennett Airfield. Floyd Bennett Airfield was opened in the early thirties [1930 - 1931] and it was located on the eastern fringe of Brooklyn. The Floyd Bennett Airfield location along the northwest rim of Jamaica Bay made it difficult to get into Manhattan, as passengers would have to travel through the busy streets of Brooklyn.
Ironically, just across Jamaica Bay, now sits JFK Airport in Queens. JFK Airport was completed in 1964 and generally accommodates the bigger planes associated with international or long distance domestic travel.
1900 - 1940: Private Housing Developments For The Working Class Emerge In Jackson Heights, Forest Hills & Sunnyside
In Part I of our series on Sunnyside Yard we mentioned that several efforts to develop Queens real estate were made around and after the turn of the 20th century on a rather grand scale. These large scale private real estate developments began with beginning with Cord Meyer in Forest Hills Gardens, the Queensboro Corporation in Jackson Heights, and City Housing Corporation in Sunnyside Gardens. These affordable housing developments targeted a growing affluent middle class that worked and lived in the crowded and noisy borough of Manhattan.
The new developments offered more space at a lower cost and included amenities like a nearby privately and communally owned park in Sunnyside Gardens and garden apartment outdoor space in Jackson Heights. In Sunnyside the construction of the houses was on the minimalist side, while the apartments in Jackson Heights began modest, became more elegant during the post war 1920's and then scaled back again in the 1930's. The photo at right was shot at an exhibit at LaGuardia Community Collge.
Smaller real estate developments also emerged, of which one worth mentioning is the Phipps Garden in Sunnyside as the owners of this complex, like Cord Meyer in Forest Hills, continue to play a role in Queens real estate. The photo at right shows one of the most famous Forest Hills real estate developers around the turn of the 20th century: Cord Meyer. This photo I shot at the Elmhurst Library prior to its remodeling.
The people who developed Queens real estate didn't fare well as the century progressed. Less expensive homes with far more space and garages began sprouting up like weeds all over the nation following WWII. Hence many people began an exodus for Long Island and Westchester and inner city urban decay began to happen. This also occurred at a time when there was significant racial unrest as the African Americans' struggle for equal and civil rights took on new meaning after many of the African American GI's returned from WWII.
1930's To Present: Reallocation Of Transit Infrastructure Investments From Rail To Auto
From 1928 to present, little has been done to evolve or upgrade the mass transit system, as since the early part of the 20th century the age of the automobile took precedence. Robert Moses, NYC City Planner, channeled billions of dollars of public money into developing the roadways throughout the city. While these roadways originally enabled autos to move freely around New York City, they now contribute to the traffic congestion in the city today. The photo at right was shot at an exhibit at LaGuardia Community College.
There's a movement afoot to add tolls to the intra-borough bridges, which one pundit described as a method to clear the way for the wealthy to move about the city more freely. They opined that the Congestion Pricing Approach to traffic management would price lower and middle income residents out of being able to afford crossing the bridges via auto. This was first proposed by Mayor Bloomberg a few years back, but was defeated in the City Council. I find it hard not to visualize that adding toll booths to the bridges would actually increase traffic congestion at the bridge entrances and roads leading to them.
Rails Decline As Auto Becomes Affordable & Robert Moses Builds NYC Roadways
Below we take a brief look at some of Robert Moses' infrastructure accomplishments. Since Moses retired in the early
1970's, only modest new investments have been made to the transportation infrastructure of New York City. The East Side Access Project, which is an additional tunnel underneath the East River, is expected to provide the LIRR with direct rail access into Grand Central Station. The project was first conceived / started in 1969 and resumed in 2006 [need to verify date]. It is expected to be completed in 2023 and the budget nearly doubled from about $6 billion to more than $11 billion and will have taken 17 years versus the three years it took to build the Steinway Tunnel over a century ago.
The age of railroad dominance was rapidly declining as the 20th century wore on. Automobiles grew rapidly and replaced railroads as the primary mode of overland passenger transportation. Between the two world wars, the automobile and trucks had gained an upper hand on the railroads, but following a brief haitus from those trends during WWII when rails won nearly all of the freight transportation, the automobile and trucking industries resumed their dominance. This resulted in declining rail revenue, followed by mergers and closures of many train services. I shot the photo at right at an exhibit about the World's Fairs at the Queens Museum.
Local, state and federal governments stepped in to fill the breach, because rail transit came to be considered a community good because it alleviated congestion and pollution in the urban centers. One pundit believes that a more positive and equitable approach to relieving intra-borough bridge traffic congestion would be to incent all residents to use public rather than private transportation to move around the boroughs by updating the public transit system. This could be achieved by increasing investments in the MTA via the addition of more capacity and enhancing the reach and frequency of public transit within the boroughs. They opined that it would also contribute to cleaner air, greater fuel efficiency and less reliance on oil imports, while avoiding socio-economic price discrimination.
Rail and car stats to follow one day. Cars up and rails down.
1930's - 1960's: Robert Moses Oversees Building Of Midtown Tunnel & Bridges Of Triborough, Whitestone & Throgs Neck
Midtown Tunnel to be added one day. Done around the same time as the Triborough Bridge.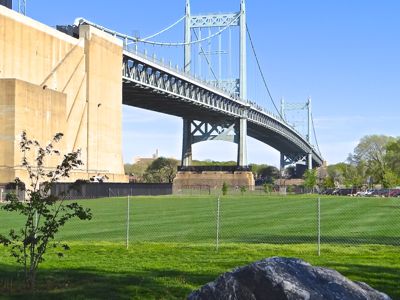 The Triborough Bridge was first conceived in 1916 by Robert Byrne in NYC's planning department. Construction first began on the bridge in 1929 but ran into funding problems due to the Great Depression. The Triborough Bridge was resumed in the 1930's and opened in 1936 by Robert Moses the Master Builder. Moses used the project to form a non-profit corporation, the TBTA [Triborough Bridge & Tunnel Authority], which was funded by NYC government, but which was operated largely outside of direct government supervision. The funding streams came from the tolls collected on New York City's bridges and tunnels. The photo at right was shot on Randall's Island of the RFK / Triborough Bridge.
Robert Moses was the powerful head of the TBTA [Triborough Bridge & Tunnel Authority]. He increasingly ruled over the building of NYC infrastructure beginning with the administration of Republican Mayor Fiorello LaGuardia [1932 - 1946] and ending with Republican / Democrat Mayor John Lindsay [1972]. Following LaGuardia's terms in office, Tammany Hall supported Democrat Mayor O'Dwyer [1946 - 1950] who appointed Moses to the Office of City Construction Coordinator. An office with which Robert Moses also obtained influence over public housing projects. Mayor O'Dwyer left office after a corruption scandal emerged and was followed by Democrat / Independent Mayor Vincent Impelliterri.
Late 1930's to Mid 1940's: Looming Crisis & The War Years
As mentioned above the Triborough Bridge opened 1936. The Triborough Bridge connects Queens to Manhattan and the Bronx. Over the course of the next three decades, significant investments continued to be made in Queens transportation infrastructure, designed to accommodate the automobile, but most infrastructure investments went on hiatus leading up to WWII. I shot the photo at right at a WWII exhibit done by Grolier in Manhattan.
The Whitestone Bridge was opened in 1939 and about three years later, following the bombing of Pearl Harbor, America jumped into WWII. Building bridges in Queens went on a two decade hiatus beginning with the war. Following WWII there was an exodus from New York and other American cities to the emerging suburban communities such as those located in Long Island and Westchester [check population stats]. In 1961 the Throgs Neck Bridge was opened to increase traffic flows between Queens and Long Island and the Bronx, Westchester and New England, as the Whitestone Bridge, built two decades earlier was insufficient. The Throgs Neck Bridge was the last major bridge to built in Queens.
Robert Moses began losing power when community groups started opposing his efforts to run infrastructure developments through their neighborhoods. Robert Moses finally lost his power in 1968, years after the 1964 World's Fair, which was viewed as an economic debacle during which accounting improprieties surfaced. Hence in 1968 Governor Nelson Rockefeller joined forces with Mayor Lindsay to fold the TBTA in with the MTA, and in the re-organization Robert Moses was moved into a position without real power.
1940 - 1947 Publicly Incented Private Housing Emerges In Manhattan
Mayor LaGuardia was a Republican and President Roosevelt was a Democrat, but together they reshaped the face of New York City during the 1930's and 1940's. The intent was twofold in that: 1) they aligned themselves against the powerful Tammany Hall and 2) they used New York City to showcase public works programs as successes.
As previously mentioned, after WWII people began moving leaving the city for the suburbs to buy their own homes. The suburbs offered more space, a garage and the conveniences of modern living. This was made possible by the G.I. Bill of Rights and the newly built roadways which enabled people to commute into work via auto. During the next decade, in the 1950's, the Eisenhower Administration had the federal government invest heavily in the automobile / freeway system which today connects the nation through a series of modern interstate roadways, and which also enables long commutes.
Stuyvesant Town & Peter Cooper Village - Large Scale Housing From Public / Private Collaboration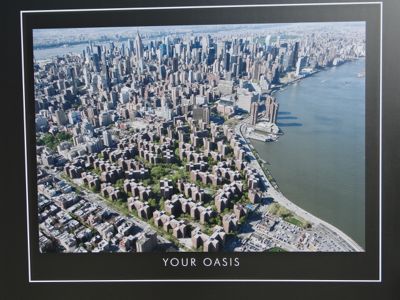 Since Mayor de Blasio referenced the Stuyvesant Town and Peter Cooper Village real estate developments in Manhattan during his 2015 State of the City Address, it's worth adding a bit of context on those two complexes. Leading up to, during and after WWII there was a growing housing shortage in NYC. In Manhattan, just north of the East Village, a neighborhood which had once been home to fuel tanks, was targeted for a massive public / private urban development.
By 1947 the real estate development, called Stuyvesant Town and Peter Cooper Village, opened. The East Village real estate development contains about 8,750 apartments in 89 buildings in Stuyvesant Town and another 11,250 apartments in 110 buildings at Peter Cooper Village.
It was a gated community which was owned and developed by Metropolitan Life using public funds and land [need to confirm]. At the time there were complaints of population density, and a lack of public space and facilities such as schools. In exchange for city funds, the development was slated for rent stabilization via tax abatements, and the city [helped?] razed the buildings that were there, and helped clear the land [use of eminent domain?]. Mayor LaGuardia initiated the effort, while the completion of it was overseen during Mayor O'Dwyer's term in office. The east village / east side real estate development sits on 80 acres of land.
The photo above was taken of an ad shown at the 2015 rental office for Stuyvesant Town / Peter Cooper Village. As you can see, it is a very large private development.
Tishman Speyer Properties Buys Stuyvesant Town Peter Cooper Village & Subsequently Defaults On Bonds
It's also worth mentioning that Tishman Speyer Properties bid for and aquired Stuyvesant Town / Peter Cooper Village for $5.4 billion from Met Life. Tishman Speyer Properties later defaulted on bonds they floated to acquire it. The Stuyvesant Town / Peter Cooper Village tenants filed a class action lawsuit [against who?] for rent overcharges and won tens of millions of dollars. A subsequent valuation estimated that the development is worth about $2 billion. Apparently some of the financial miscalculations centered around valuations having to do with market rate rents versus stabilized rents, which is what the lawsuit was also about.
I understand that Tishman Speyer Properties is currently an active participant in the LIC market, specifically in the Queens Plaza area where they will be developing a new residential tower called Gotham 2. They had previously developed Gotham Center with financial incentives from the Bloomberg Administration, and sold it to a Canadian firm with which they are now developing the adjacent land.
1939 - 1965 Public Real Estate Developments In Long Island City, Astoria & Woodside
One of the early public efforts to provide the working class with affordable housing was the creation of publcly owned and managed apartment complexes which over time became known, with a stigma, as the 'projects'. While things have greatly improved since the height of the racial strife of the 1960's and 1970's, the stigma of that name persists.
Public Housing In Queens
There are 22 public housing projects in Queens. This is a small, but relevant look at a few of the public housing projects that are located along the western rim and / or off the main subway lines of Queens. I shot a copy of the photo at right at an exhibit at LaGuardia College which shows the empty lot upon which the Queens Bridge Housing project would be built.
QueensBridge Public Housing Projects
QueensBridge is divided into north and south - each with about 1.5 thousand units [over 3,000 total] and a resident population of about 7,000. NYCHA built the housing during the Great Depression on 47 acres of land and opened it in 1939. It became home to middle class whites before they were transferred out Queens Bridge based on improving income. The movement of people whose fortunes were improving, eventually lead public housing projects to become income and racially segregated.
This is purely anecdotal / hearsay, but two years ago I heard rumors that public housing tenants in some of the western Queens Projects were being transferred out of the Queensbridge Houses. The rumor indicated that the outbound transferees might largely be comprised of African Americans. The adjacent neighborhoods are comprised of middle and possibly lower income Irish, Greeks, Italians and Latin Americans.
Ravenswood and Astoria Houses - Public Housing In Queens
Astoria Houses & Ravenswood are two large public housing projects located along the East River in Astoria / LIC. We went by there recently and noticed that NYCHA is repairing the roofs [see photo].
Flushing / Ridgewood also are home to some public housing. And, like below, I want to push on into section three of this series, so I hope to return to this at a later date.
Woodside & The Rockaways - Public Housing In Queens
Woodside & the Rockaways each became home to a large, public housing project. Like some of the others, we discover these in our travels around Queens, but also though issues such as education and schools in Queens.
We hope to return to this at a later date and to provide more visibility into how public housing works including the roles of the U.S. HUD [Housing & Urban Development], NYC's NYCHA [New York City Housing Authority] and NYS funding / management / participation in these housing projects. But don't hold your breath.
Ethnic Exodus - Migration Out Of Public Housing & New York City
These neighborhoods were comprised of, and still contain an ethnic mix, of Irish, Italian, Greeks, Jews and Germans. Over time the public housing projects came to be occupied by African Americans and Latinos, as the upward mobility enabled some of the former residents to move into private housing. But the management of the public housing projects also evolved into racially segregated housing with attendant discriminatory issues. The equal opportunity promised in the U.S. Declaration of Independence appeared at risk by the ethnic, economic and social segregation implicit in the evolution of NYC and Queens public housing projects.
The U.S. Declaration of Independence states:
"We hold these truths to be self-evident, that all men are created equal, that they are endowed by their Creator with certain unalienable Rights, that among these are Life, Liberty and the pursuit of Happiness."
Hence in the 1970's the development of Public Housing slowed in recognition that there's a problem generally, as racial strife and the Vietnam War put things on hiatus. President Reagan turned back the clock on social programs, leading to a re-evaluation of social programs that work / don't work.
1960 - 1985: Private Real Estate Development Of Housing In Queens
LeFrak City in south Corona / near Forest Hills / Rego Park in the 1960's or 1970's. There was only one large privately housing complex of which I am aware, developed in the 1960's and that was LeFrak City. At a later date I'll return with a bit more info on it, but generally, it's a well-kept middle class housing complex.
1985 - 2015: Commercial & Private Real Estate Investment In Queens
In a report we posted in late 2013, we provided an update of some of the real estate developments in Long Island City along the East River waterfront. Beginning with the erection of the Citibank Tower in the mid eighties, slowly real estate developers began acquiring and subsequently developing the land. By around the turn of the century a couple of high rises sprang up along the East River waterfront in LIC. Today there are about a dozen luxury high rise buildings lining the waterfront which you can see in the photo I shot from Four World Trade Center on Greenwich Street in downtown Manhattan.
While the East River waterfront in LIC was being developed for residential real estate, other NYC real estate developers were capitalizing on commercial real estate opportunities in the foot of the Queensboro Bridge which is also within close proximity to about a half dozen subways that snake their way through the tunnels of the city. Most of these developments are the recipients of generous tax abatements and other NYC government incentives, most of which were given out during the Bloomberg years.
Real Estate Investment Trusts REITs Are Growing Players In NYC Real Estate
At a Manhattan conference of real estate investors about three years ago, I listened as the speakers and audience discussed Manhattan and Brooklyn real estate in earnest. At the end of the session I asked the speakers and audience if anyone had given thought to investing in Queens. There was a silence in the room.
Eventually one of the speakers, who actually lived in an eastern / suburban neighborhood in Queens, said that he hadn't really thought about it. A few others chipped in with what seemed like scant knowledge of the borough. Fast forward to fiscal / calendar year 2014 and REITS have been rushing speculatively into the borough. In 2014 just the Real Estate Investment Trusts bought several [$3 - $4] billion dollars worth of Queens property.
Interest Rates, Housing Supply & Demand And Price Fluctuations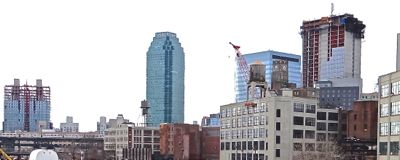 The Federal Reserve has started hinting that interest rates could begin rising this year. Property values have an inverse relationship with interest rate moves, because they either lower the payments [when interest rates fall] or increase the payments [when interest rates rise] and thus a rise in interest rates coiuld impact Queens, NYC and U.S. real estate prices.
I arrived in New York City in the late 1980's when there was a buying spree on the Upper East Side of NYC that had the same heady feeling that things seem to now have. Prices were rising daily and there were building cranes everywhere on the Upper East Side in the late 1980's. Within two years of my arrival, the building stopped and many people who bought apartments during the boom were saddled with real estate that was valued at less than their bank loans. My landlord dropped my rent, but I found a deal in the Gramcery Park area that I couldn't let pass. In the photo above right, you can see a number of new buildings / cranes jutting above the skyline of LIC.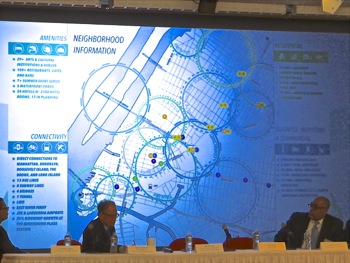 I wouldn't venture a guess as to where we are now, in the boom / bust real estate cycle. But as the Romans used to say, caveat emptor [buyer beware]. Mark Twain once quipped, "Buy land, they're not making it anymore." Because the land is limited, over time it will increase in value, but the prices will fluctuate based on interest rates, location and the rental / purchase prices of the space created on it.
But in general space is not limited, as more can be created by erecting taller buildings. So space rental prices and space purchase prices will continue to be subject to the bare knuckled economic laws of supply and demand, which as just mentioned, will in turn also impact land values. The photo at right was taken at an LIC Partnership real estate finance forum and shows various categories of property [eg. manufacturing, residential, office and commercial] that are planned or were recently built.
NYC Affordable Housing Supply Has Not Kept Pace With Modest Population Growth
Since everyone knows this, I"m going to skip this section for now and push on to the third part of the Sunnyside Yards series. Click here to read a report we did on affordable housing in LIC / Queens, which in part covers the issue. MASFUR & LICP link.
NYS Tenant Regulations Due June 2015: Real Estate Investment Trusts Versus Tenants
The most notable thing about affordable housing today is that there isn't much. Well over half of New Yorkers are paying far above 30% of their income in rent and a full 70% of New Yorkers are renters. The rent governance laws are up for renewal in Albany this Spring of 2015.
The jockeying for position with NYS Assemblymembers and Senators by Real Estate Investment Trusts and community activists has begun. In spite of the fact that the NYC population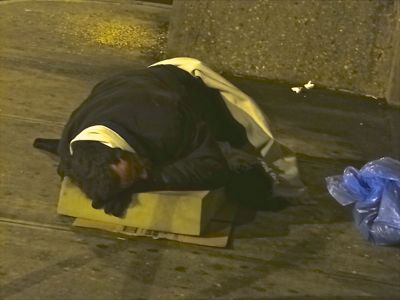 growth has been modest the past fifteen years [less than 1% growth per year during the Bloomberg years], the supply of affordable housing has not kept pace with it.
Homelessness in New York City more than doubled during the Bloomberg Administration to all time record levels. Also during the Bloomberg Administration, numerous apartment buildings were purchased by investors and Real Estate Investment Trusts [REIT] which found ways to skirt the rent laws, in part by closing buildings down, or re-purposing them, in part adding to the crisis. The photo at right shows a man without a home in western Queens.
As the recently purchased housing came off the market and pockets of housing rents began rising to market rates, tens of thousands of people found they couldn't keep up with the rent and lost their homes. Currently over 60,000 people or nearly 1% of the NYC population - of which between a third and a half are school age children - live in New York City homeless shelters. I call them New York City Refugees, because like refugees, they have no place to call home.
Click here to see the rents that former Mayor Bloomberg deemed to qualify as affordable housing in Queens. Thus, during the Bloomberg years, luxury apartments and condominiums were erected enmasse, while scant effort was made to erect housing affordable to half or more of the population of Queens and NYC whose median incomes are $58,000 and $51,000 respectively.
Aging Infrastructure: Queens Mass Transit System In The 21st Century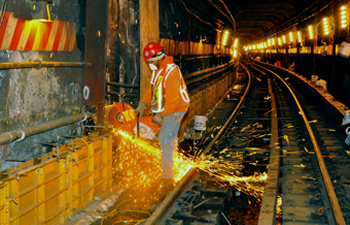 As mentioned earlier in this report, the Flushing / Times Square subway line [#7 ] is one of the busiest subways in New York City, and according to the Wall Street Journal, the most highly rated subway by the passengers who use it for the past seven years in a row.
But that said, the #7 Subway line had maintenance outages for about half the weekends of the past year. Hence complaints have been made, which come primarily from western Queens cultural, dining, retail and recreational establishments as mass transit service disruptions over the weekends reduces the attendance / shopping traffic flow, in what should be peak days of operation.
The photo at right shows an MTA employee working inside the Steinway Tunnels. The century old mass transit system requires a significant amount of maintenance, which the MTA does over weekends. While the tunnels aren't the only focus of maintenance, they are one of the primary ones.
Rapidly Growing Demand For Mass Transit & Parking In LIC & Queens
The Long Island City Partnership had compiled a chart of the LIC building growth statistics that has occurred in the LIC catchment area [includes parts of Sunnyside & Astoria]. The chart shows tremendous growth in residential and business construction in the western neighborhoods of Queens. The new businesses and residences will bring tens of thousands of additional people into the area daily, many of whom will use either the NYC mass transit system or the NYC roadway system - both of which were constructed between a half century and century ago.
Some modest investments have been made in Queens mass transit over the past decade. The remodeled station at Court Square now provides underground connections to the E, G and M trains from the #7 line. And in 2006, work on a long time project, the East Side Access Tunnel, was resumed [see photo at right]. The East Side Access Tunnel has experienced long construction delays, but will eventually provide Long Island commuters with a termination point at Grand Central Station.
Current Manhattan & LIC Real Estate Developments Expected To Significantly Increase Demand On Queens Primary Subway Line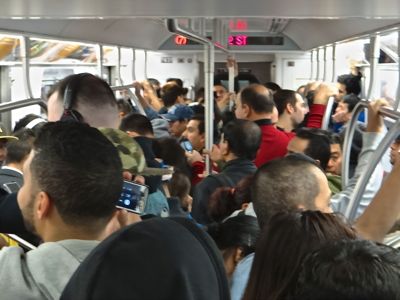 The Related Companies was one of the real estate investment firms that was party to three of former Mayor Bloomberg's major real estate development deals - two of which are located in Queens - and all which are located along the #7 subway line [Hudson Yards West Midtown, Hunters Point South LIC & the Willets Point Real Estate development]. And yet the former Mayor made no provisions to expand the #7 subway capacity in Queens to accommodate the increased transit capacity required to service those developments.
The photo at right shows folks standing in a #7 subway line train.
Bloomberg & Related Companies Real Estate Developments Didn't Adequately Address Queens Interborough Mass Transit Growing Needs
The Bloomberg Administration did make a massive multi-billion dollar investment to extend the #7 subway line to the Jacob Javits Center in Manhattan where the Related Companies' Hudson Yards real estate development is currently underway. I shot the photo below in the Fall of 2014 of the development cranes at the Hudson Yards development.
This extension of the #7 subway line is only expected increase demand for the #7 subway route in Queens which, as mentioned above, is
already one of the heaviest used subway lines in the city; and which has had weekend long outages for about half the weekends of the 2014 year to enable maintenance and repairs.
Kudos must be given to past generations which had the vision to build infrastructure in advance of population growth and real estate development. As previously mentioned, in fact most of our transportation infrastructure is somewhere between a half and a whole century old. In spite of its age, our transportation infrastructure continues to function reasonably well [given the givens] while servicing a vastly larger population than when first erected.
Nonetheless, it appears the time has come again, when we must increase our investments in Queens and NYC's mass transit system and housing stock. How to go about doing that is the multi-billion dollar question. And in Mayor Bill de Blasio's State of the City Address, one of his answers to that question was to develop Sunnyside Yards.
We're currently working on Part III of this report series which we expect to post sometime within the next week or so. In Part III we will continue to explore the many dimensions of the proposed Sunnyside Yard real estate development. Click here to read our first report in this series on Sunnyside Yards.
---
Queens Buzz Voluntary Single Copy Sales or Subscriptions
If you like what we're doing, you can help us continue to provide you with this coverage and possibly expand it, by voluntarily paying for a single copy or by subscribing to

Queens Buzz. Click button for details on how to make a purchase for as little as $5 which is less than what you'd pay for one issue of a magazine.
---
Sunnyside Neighborhood / LIC Neighborhood Links
$element(adman,groupad,NHoodSSWS)$
Click on these advertisements for promotions, discounts and coupons by retailers and restaurateurs in Woodside, Sunnyside and nearby Queens.
Several years ago the Hunters Point South development was approved by Community Board 2 and subsequently approved by the New York City Council and Mayor. Click the link above to read the earlier report. Click these links to gain a broader perspective of the Long Island City Neighborhood in which these units reside, as well as of the LIC real estate market for apts and condos or the Long Island City real estate market in general.
Click this link to go to the:
Sunnyside & Woodside Neighborhood
Sunnyside Business Directory or Woodside Business Directory
Sunnyside & Woodside Real Estate or Events & Things To Do In Sunnyside & Woodside
Restaurants In Sunnyside & Woodside or Sunnyside & Woodside Shops & Shopping
---
$element(adman,groupad,Catgry Realestate)$
Site Search Tips. 1) For best results, when typing in more than one word, use quotation marks - eg "Astoria Park". 2) Also try either singular or plural words when searching for a specific item such as "gym" or "gyms".
$element(bwcore,insert_search,N)$
Click this link to search for something in our Queens Business Directory. Also check out Taste of Sunnyside.
---
Click the log in link below to create an ID and post an opinion.
Or send this story to a friend by filling in the appropriate box below.
$element(adman,groupads,Sectional2 Ad)$
---