Topaz Arts Woodside Opens New Exhibit
A Contemporary Exhibit of Collage, Assemblage, Sculpture & Installation
March 14, 2016 / Woodside Neighborhood / Art Scene in Queens / Queens Buzz.
Last weekend I attended the opening reception at Topaz Arts in Woodside for Case Studies, which is an exhibition of contemporary collage, assemblage, sculpture & installation. The exhibit features five artists - Joseph Paul Fox, Ged Merino, Orange, Roger Rothstein and Junko Yamada who exhibited a variety of contemporary works.
I arrived around 3 pm on a beautiful sunny Saturday afternoon. The temperature was in the 60's and the door was wide open, welcoming the fresh Spring air and guests into the art gallery in Woodside. Along the front window there was a table of hors d'oeuvres and wine, while along the walls of the gallery were very neatly partitioned exhibits by each of the five artists.
The inspiration for the exhibit was an influential American artist, Joseph Cornell [1903 – 1972] who lived and created his artworks in Queens. Cornell was a pioneer in assemblage art and considered by many to be a Surrealist. He shunned the Surrealist label however, believing Surrealist artists' works alluded to black magic, while his referenced his own private, poetic world using found objects. By the 1930's he was a well-known New York assemblage artist, and appeared in numerous New York City metro art exhibits, including at the [then] new Museum of Modern Art in Manhattan.
Click here to view the rest of the story including photos and video about the new art exhibit, Case Studies, at Topaz Arts gallery in Woodside, Queens.
---
Topaz Arts Woodside Opens New Exhibit
A Contemporary Exhibit of Collage, Assemblage, Sculpture & Installation
March 14, 2016 / Woodside Neighborhood / Art Scene in Queens / Queens Buzz. Continued.
Thus the Topaz Art curators [and also co-Founders], Todd Richmond and Paz Tanjuaquio, sought to exhibit New York City artistic works involving assemblage, which is the collection of found objects 'that belong together', in the artistic processes of sculpture, collage and installation.
Joseph Paul Fox - Manhattan Artist - Contemporary Assemblage Sculptures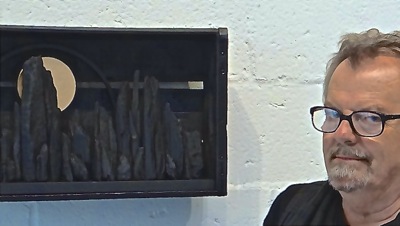 I started mingling and soon met Joseph Paul Fox who is originally from Brooklyn. Joseph had a number of works on display that were assemblages made primarily from wood. He took the wood, many of which appeared worn down by water and sand at the beach [driftwood] and assembled and sculpted them into beautiful three-dimensional artworks, resembling pictures, which conjured up a feeling of something real.
Joseph told me that this was his 73rd show, which in and of itself is impressive, but given the carefully, crafted construction of his works, and attendant aesthetic - not surprising. He went on to tell me that he "guarantees the maintenance" on all of the objects, for life. He went onto explain that while he is creating some of the objects, he uses nuts and bolts to facilitate the maintenance of them. If I understood correctly, some of them are glued and do not require any "maintenance".
Ged Merino - Sunnyside Queens Artist - Assemblage, Sculpture & Installation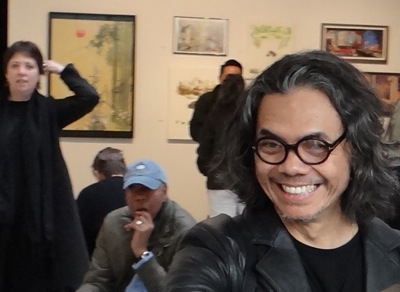 Ged Merino is a Sunnyside-based artist who with his wife Carolina Morales, founded and manages Bliss on Bliss Studio. Ged put together an assemblage of shoes, which he wrapped into a beautiful soft sculpture tapestry of footwear.
Ged asked people to donate their wearable shoes for him to use in his work entitled Found Bound Rebound. He began noticing that the donated shoes were mostly new, and had been sitting in people's closets, waiting for someone to put them to use, as the use for which they had originally been purchased never materialized.
Ged went on to talk about the culture of excess, where we buy more than we need, while others who need go without. But Ged isn't sitting idly by. He is taking the assemblage to Manila in the Philippines to exhibit the work, and following the exhibit he intends to donate the shoes through a charitable organization in Manila to the Haiyan typhoon victims.
Roger Rothstein - UWS Manhattan Artist - Contemporary Collage
I was running short of time but had a chance to meet Roger Rothstein. Roger Rothstein is an Upper West Side Manhattan artist who does collage. His works run the gamut from what look like traditional Chinese landscape paintings, to contemporary assemblages of advertising art. MadMen's Sal Romano, beware.
When I first looked at the works, I didn't notice that they were collages. They looked like paintings. But upon closer inspection, I could see the detail of the collage. Roger told me that he loves sci-fi and many of his works reflect this futuristic influence.
I conversed with other visitors to the gallery. Some came from Manhattan, others from Brooklyn, and of course many were from Queens. One of them, Greg Stowell, is an artistic photographer. Greg started in black and white film decades ago, and recently began working color onto his palette.
Greg began exhibiting in Queens many years ago, including an early exhibit at Topaz Arts. Most recently, Greg did his first exhibit in the Fashion District in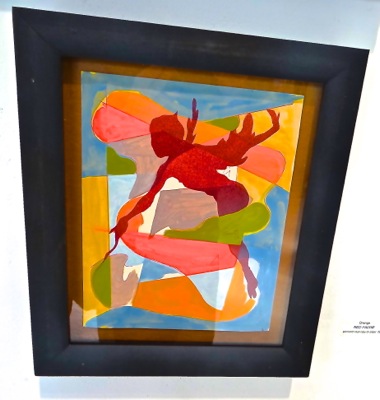 Midtown. It appears the Fashion District influenced Greg's sense of personal style, as he was sporting a newly grown goatee and new eyeglasses [see video].
Orange & Junko Yamada - Artworks at Topaz Arts
I didn't have an opportunity to meet with Orange or Junko Yamada, but I took several photos of their works for you to enjoy, which you can see in the video. I particularly enjoyed a fanciful piece entitled Red Faerie by Orange which was created with paint and inkjet on paper [in photo at right].
Junko Yamada is also a master of paper collage and had a number of works, that have the appearance of paintings, but which are in fact collage. They are still lifes, with clean lines and a panoply of vibrant, modulated color themes.
Case Studies at Topaz Arts Gallery Woodside Queens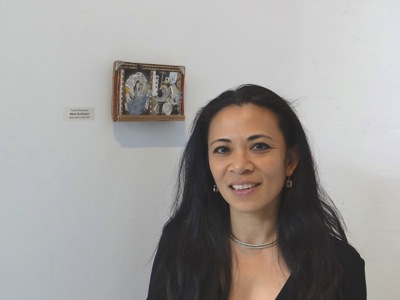 The exhibit – Case Studies – is currently on exhibit at Topaz Arts at 55-03 39th Avenue in Woodside through May 7th, 2016. You have to email the gallery to set up an appointment to view the works.
Todd Richmond, one of Topaz Arts co-Founders, is also an artist. A while ago, he was an apprentice for Richard Artschwager, one of the more highly regarded sculptors living in NYC. In some measure he went on hiatus from his artwork while he and Paz were founding Topaz Arts, but in recent years has become artistically active again.
In the photo at right, Paz standing alongside a small work made by Todd Richmond in 1988 that is featured in the exhibit.
The video below captures a bit of the ambiance of the exhibit opening. Enjoy.
---
Topaz Arts - Art Galleries Woodside Queens NYC from QueensBuzz on Vimeo.
---
Queens Buzz Subscriptions
We work very hard to help keep you informed by providing you with independent news coverage, as well as information about events in the arts, culture and business in the borough.

You can help us continue to provide you with independent, first-person, fact-based, contextural reporting by purchasing an annual voluntary subscription, which we've priced to accommodate all budgets.
Thanks for your encouragement and support.
---
$element(adman,groupad,NhoodSSWS)$
Sunnyside Neighborhood Links
Click on these advertisements for promotions, discounts and coupons by retailers and restaurateurs in Astoria and nearby Queens.
Click this link to go to the:
Sunnyside & Woodside Neighborhood
Sunnyside Business Directory or Woodside Business Directory
Sunnyside & Woodside Real Estate or Events & Things To Do In Sunnyside & Woodside
Restaurants In Sunnyside & Woodside or Sunnyside & Woodside Shops & Shopping
---
LIC Neighborhood - Long Island City Links
$element(adman,groupad,Catgry Foodwine)$
Click on these advertisements for promotions, discounts and coupons by retailers and restaurateurs in Long Island City LIC and nearby Queens. Click here for a related story about the hotels & restaurants in Dutch Kills section of Queens.
Click this link to go to the:
Long Island City Neighborhood or LIC Business Directory
Long Island City Real Estate or Events & Things To Do In LIC
Restaurants In Long Island City or LIC Shops & Shopping
---
$element(adman,groupad,NhoodLIC)$
Site Search Tips. 1) For best results, when typing in more than one word, use quotation marks - eg "Astoria Park". 2) Also try either singular or plural words when searching for a specific item such as "gym" or "gyms".
$element(bwcore,insert_search,N)$
Click this link to search for something in our Queens Business Directory. Also check out Taste of Sunnyside.
---
Click the log in link below to create an ID and post an opinion.
Or send this story to a friend by filling in the appropriate box below.
$element(adman,groupads,Sectional2 Ad)$
---