The Turkish Grill Restaurant
Ottoman Style Cuisine - Restaurants In Sunnyside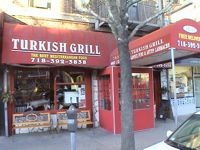 Sunnyside Neighborhood
/
Sunnyside Restaurants
/
Queens Restaurants
. It was a warm Friday night as two friends and I set out to sample the Turkish delights I'd heard about from acquaintances in the neighborhood. I had made reservations through Aziz who is one of the four partners who own and run the popular restaurant found at 42nd Street and Queens Blvd in Sunnyside. Yasemin, Aziz's wife and sister of the chef, Ferhat, seated us at a table in the corner where we could enjoy the restaurant's ambiance and converse with her about the food without disrupting the rest of the restaurant.
Appetizers - Hummus & Tabbouleh
On Friday night the Turkish Grill offers some specials so we decided to go with the house suggestions. We started with a mixed appetizer plate that featured four different delectables. In the photo you can see the hummus, which is a dip made of chickpeas mashed with oil, garlic, lemon juice, and tahini. Next to it was the tabbouleh, which is a salad of ground bulgur (dried wheat), parsley, tomatoes, scallions, green peppers, olive oil and lemon juice. This provided a nice complement to the creamy yogurt included on the plate. The next two offerings were both eggplant dishes, one smoked with garlic pepper and ground into a soft, very fine creamy grainy paste that we ate like a dip with the pita bread. And the other offering was fried eggplant which was cut into small soft chunks garnished with tomato and red pepper that melted in our mouths as we savored them. These last two appetizers were my favorites. And, as you can see in the photo, soft white beans rounded out the plate.
The mixed appetizers were followed by the chef salad, which was made of fresh tomatoes, cucumbers, onions and olives. The salad was properly dressed in a mixture of vinegar, olive oil, dill, parsley and Turkish bell pepper. Yasemin told us that they generally shop for their vegetables in New Jersey in order to get fresh-from-the-farm-produce, which frequently comes from Pennsylvania. They buy halal meat, which like kosher meat, requires it to be processed in accordance with well defined standards and guidelines that have a long history and tradition.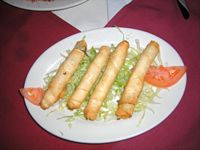 Sigara borek was served along with the chef salad. These are thin rolled doughy crepes filled with creamy feta cheese, dill and herbs; which is then pan fried. The taste of the soft feta cheese complemented the doughy exterior. We also tried the fried liver cubes, which had a nice breaded covering, and as we bit into them, had an almost cheddar cheese-like consistency. And for those who love liver, well, they had a very 'liverly' taste. The liver was complemented by onions, tomatoes, lemon and sprinkled with Turkish bell pepper.
Turkish Grill - Culture, History And Background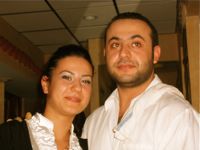 The Turkish Grill is run by two married couples, both of whom come from restaurant families back in Ankara, which is the capitol of Turkey. The Turkish Grill prepares and serves their food 'Ottoman style', which is cuisine that dates back to the traditions developed during the Ottoman Empire. In the photo to the right is Yasemin and her brother and chef, Ferhat.
The Ottoman Empire arose back in the 1300's and fell following World War I. During the heyday of the empire, which was in the 16th and 17th centuries, Ottoman style cuisine evolved. Ottoman style cuisine involved a strict regimen of food preparation with respect to both cleanliness and nutrition in order to feed the empire's legions of warriors, but the cuisine was also important to the ruling class.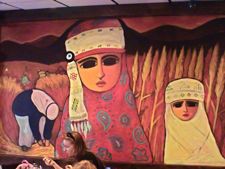 The capital of the empire was Constantinople, which is current day Istanbul. At the time it was one of the centers of the civilized world, in much the same manner as New York city is today. Hence all kinds of spices and foreign influences from all around the then known world, arrived in Constantinople and became incorporated into Ottoman style cuisine. So when you eat at the Turkish Grill you are sampling some of the time-tested culinary delights developed by one of the world's great civilizations. And as mentioned above, both families come from restaurant families in Turkey, where the culinary traditions first evolved.
Much of the food is very healthy, light and vegan-friendly. The appetizers alone would have satisfied the taste buds and filled the stomach of most vegans I know. In conversing with Yasemin, her knowledge about the food was evident, particularly as it related to the Mediterranean region. She informed us that hummus is actually Egyptian, but over time this dish became associated with Turkey, perhaps because the Turks had mastered the fine art of preparing it.
Middle Eastern Restaurant - Ambiance And Decor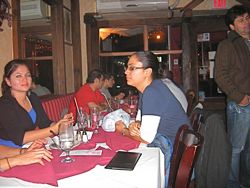 The restaurant was busy as usual, with an ethnically diverse crowd with a youthful bias, but in which the ages ranged from the mid twenties on up. The crowd is mostly from the neighborhood and surrounding areas, but some guests come from as far away as Brooklyn and Manhattan as the Turkish Grill is conveniently located just off the #7 subway line at 40th street stop in Sunnyside.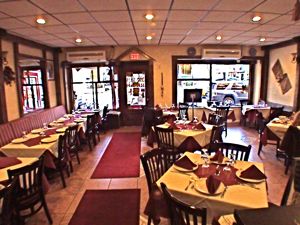 The Turkish Grill has about 15 tables that seat between two and four people. They recently installed a new floor and new furnishings. Red and white striped upholstery adorns the seats along one wall, while opposite hanging from the other wall, there's a beautiful tapestry. Some customers interpreted the tapestry as religiously significant, instead of seeing it as a beautiful work of art from another culture.
The restaurant has a number of large windows with views of Queens Blvd. These windows keep the restaurant well lit during the day and provide a feeling of airiness at night. In the background we heard middle-eastern music playing softly with beautiful vocals and an ethnically modern rhythm.
Main Entrees - Cop Shish, Lamb Chops, Chicken & Lamb Adana
The main course, like the appetizers, had several portions to it. It was the special of the night and is called the 'Cop Shish'. It consisted of shish kebobs, lamb chops, chicken and lamb adana and lavash bread and vegetables. A photo of the full dish is posted earlier in the story.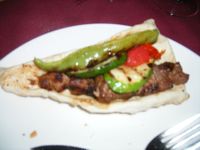 We started into it by flattening the lavash bread. The lavash bread is a thin leavened flatbread, which comes in a cylindrical shape filled with hot air. After flattening it, we pulled the tiny lamb kebobs off the skewer stick and then sprinkled the cooked zucchini and tomatoes on it. See the photo to your left of the kebobs and vegetables on the lavash bread just before it disappeared into my salivating mouth. This was truly a culinary delight. The soft pink lamb, spiced with a bit of oregano, on the fresh doughy lavash bread, complemented by the al dente vegetables with light seasoning and a juicy succulent flavor, all made me feel like some old Ottoman emperor who had died and gone to heaven.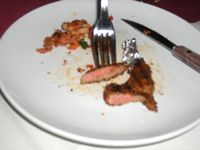 But that was not all. Then there were the lamb chops, cooked with the fat on them so that they come out very moist. They had a bit of white pepper on them and were pink in the middle as you can see in the photo to the right.
Next was the chicken and lamb adana. Adana means 'hand ground'. They don't use a machine to grind the meat so that the meat retains some of its natural texture, nutrients and flavor. Then they add ingredients to the meat to further enhance the flavor. The chicken adana is competitive with some of the best chicken I've ever tasted. It included onions, which gave the meat a light, almost fluffy texture, and it was very juicy and flavorful [when is the last time you heard anyone refer to chicken as juicy?]. And Turkish bell pepper was also included. The lamb adana was also very good. It was layered with herbs and spices and the char grilling gave it its unique flavor.
Desserts In Sunnyside - Baklavas & Kanafeh
We were served three desserts, all of which were traditional Turkish offerings. The first was a traditional baklava which is a crisp pastry dough mixed with crushed walnuts and covered with a light honey syrup. The second was also a pistachio baklava which was made with ground nuts and heavily soaked with honey. This had a denser consistency and a much sweeter honey flavor. And then the grand finale, which was a kanafeh, which is a shredded wheat pie filled with light feta cheese and covered with honey. Unsalted and really, really, really good.
Turkish Grill Restaurant - Wine And Coffee
With our meal we had a red wine from Argentina, which was a Calafate Malbec 2007. We topped off the meal with Turkish coffee which had a thick, mud-like consistency which is served in a small demi-tasse. They also serve American coffee for those who wish to go to sleep that night. Beer is also available.
The Grill is open seven days a week and opens around 11 am and closes around 10 pm. Appetizers range in price from $4.50 for the Tabouleh to $19.00 for the large mixed appetizer plate discussed at the beginning of this story. The main dishes run from $11 for the Chicken Adana [one portion of the Cop Shish main entree] to $18.95 for the mixed grill which is similar [but not the same as] the Cop Shish entree. And they do accept credit cards with a $15 minimum. So great food at reasonable prices in a comfortable ambiance, and a little bit of Ottoman culture thrown in for good measure!
You may email this story to a friend by using the link box below.
Turkish Grill - Sunnyside Restaurants
Click this link to view a map of the Turkish Grill - one of the restaurants in Sunnyside. Click this link to obtain the contact info and website url for the Turkish Grill Restaurant in Sunnyside Queens. Click this link to view reviews of other Sunnyside & Woodside Restaurants.
---
Sunnyside Neighborhood / Woodside Neighborhood Links
$element(adman,groupad,NHoodSSWS)$
Click on these advertisements for promotions, discounts and coupons by retailers and restaurateurs in Woodside, Sunnyside and nearby Queens.
Click this link to go to the:
Sunnyside & Woodside Neighborhood
Sunnyside Business Directory or Woodside Business Directory
Sunnyside & Woodside Real Estate or Events & Things To Do In Sunnyside & Woodside
Restaurants In Sunnyside & Woodside or Sunnyside & Woodside Shops & Shopping
---
$element(adman,groupad,Catgry Foodwine)$
Site Search Tips. 1) For best results, when typing in more than one word, use quotation marks - eg "Astoria Park". 2) Also try either singular or plural words when searching for a specific item such as "gym" or "gyms".
$element(bwcore,insert_search,N)$
Click this link to search for something in our Queens Business Directory. Also check out Taste of Sunnyside.
---
Click the log in link below to create an ID and post an opinion.
Or send this story to a friend by filling in the appropriate box below.
$element(adman,groupads,Sectional2 Ad)$
---