Thai Restaurants In Jackson Heights Queens

Arunee Thai Restaurant
Jackson Heights Neighborhood / Jackson Heights Restaurants / Queens Buzz. Tonight I ventured out to a Thai restaurant in Jackson Heights that I had discovered on pure happenstance. I arrived at the restaurant around 7.30 pm on an cool overcast Saturday evening. More than half of the sixty seats had already been filled and it seemed the waiting staff had fallen a bit behind. As I sat there waiting, I began to doubt my choice.
As I surveyed the restaurant I noted that many of the customers were Thai, which I took to be a good sign, as I was looking for real Thai food, not some Americanized version of it. Within the next five to ten minutes, things completely turned. The waiting staff turned up the energy and within minutes it seemed that everyone who had been waiting now had a drink or appetizer sitting in front of them … myself included. Click here to read the full review of Arunee Thai restaurant including photos.
---
Thai Restaurants In Jackson Heights NYC

Chicken Satay At Arunee Thai Restaurant
Continued / Jackson Heights Neighborhood / Jackson Heights Restaurants / Queens Buzz. I started with the chicken satay, which came with a sweet peanut sauce. As I bit into the kebob I found a moist, lightly flavored tender meat on the inside, surrounded by a perfectly sautéed outside. As the chicken entered my mouth, it readily began to break apart and eventually slid down into my now happy, but still hungry stomach.
The chicken was so good, that I decided to hold off on the peanut sauce until the second one. But I love the sweet Thai peanut sauce and Arunee Thai didn't disappoint, as their peanut sauce compares with any I've tasted. It was sweet and oily and deliciously peanutty; and it made a nice complement to the savory chicken.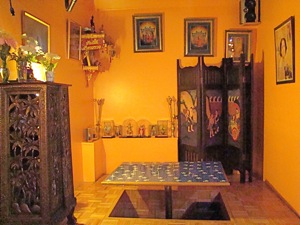 As you can imagine, this put me in the kind of good mood for which I had been longing. I began to relax back into my seat to enjoy the comfortable, unusual, Thai ambiance that had found its home in omni-cultural Jackson Heights.
In the photo to your left you can see an alcove at Arunee Thai restaurant that contains Thai cabinets, figurines and photos of Buddhist monks. This alcove was occupied by a group of well-behaved kids when I arrived.
Thai Restaurants In Queens - Arunee Thai History
I'd visited Thailand about two decades ago and enjoyed the islands so much that I ended up staying beyond what my visa had allowed. The restaurant ambiance brought me back to the islands, with the Thai knickknacks, photos and pictures providing a sort of all embracing atmosphere that was authentically Thai. I'm pretty sure Arunee Thai's charm and essence is what drew me to the place many weeks ago as I was making my rounds along Roosevelt Avenue.
Mr. Thee is the owner. He goes by the name of Mr. Thee because his Thai name is much longer and difficult to enunciate. Anyhow, he's kind of a fun host. He immigrated into the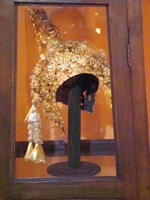 U.S. back in the mid 1980's. His wife soon joined him and it wasn't long before they had a daughter on the way.
Mrs. Thee studied at a culinary school in Thailand before coming to the U.S. Mr. Thee spent the first ten years in this country working in NYC restaurants for other restaurateurs. Over time he and his wife saved their money and eventually opened up their own restaurant, right here in Jackson Heights: Arunee Thai.
Thai Food In Jackson Heights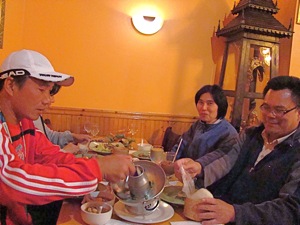 As it happens, on this night, sitting across from me there were two couples from New Jersey with whom I eventually struck up a conversation. They had ordered a number of interesting dishes and seemed to be greatly enjoying themselves. As it happens they had been coming to Arunee Thai for some 15 years, essentially ever since the restaurant opened. They were Laotian and Thai and informed me that based on their own personal survey, this was the best Thai restaurant in the tri-state area. Given the mix of Asian clientele, it seems they weren't alone in their assessment.
Tom Yum Goong Soup - Hot Thai Soup In Queens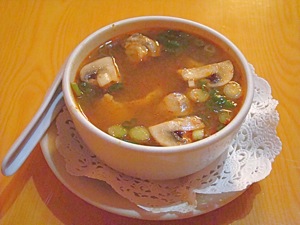 I sampled the Tom Yum Goong soup with chicken. The broth had a spicy mix of lemon grass, lime and hot chili flavor. Up top were some al dente mushrooms, and beneath strands of dry, thoroughly cooked chicken, soft onions, peppers and ginger. After consuming the meat and vegetable ingredients, I was left with a clear heavenly broth that I savored until it was gone.
Thailand is separated from India by Bengal and Burma, and from China by Burma and Laos. But the culinary influences of both cultures are present in Thai cuisine and Arunee Thai is well aware of these influences and plays into them. Although I didn't sample any strictly vegetarian dishes [except the salad], Arunee also offers a selection of vegetarian dishes.
Chicken Massaman - Avocado, Peanut Sauce, Chicken & Rice
The next dish was one of my favorite Thai dishes: chicken massaman. Back in the early 1990's after returning from Thailand, I eventually found a Thai restaurant on the upper east side of Manhattan that made chicken massaman the way I had been introduced to it in Thailand. Arunee Thai served it with a generous portion of soft tender avocado, mixed with the moist chicken I'd sampled earlier, held together by a generous saturation of slightly sweet thinned out peanut sauce, all atop a bed of white rice. For me this was a little bit of heaven, as I slowly relished the mix of avocado, peanut sauce, rice and chicken.
Som Tum Salad - Thai Restaurants In Queens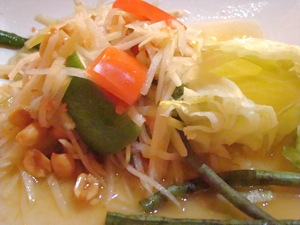 And lastly, came the Som Tum salad. The main ingredient of this salad is papaya. The salad is as popular in Thailand as a Caesar salad or a table salad is here. Arunee makes it with fresh tomatoes and green beans, as well as hot pepper, lemon, lime and another subtle Asian flavor.
Thai Desserts In Jackson Heights
And so, alas, it was nearly time to depart, but first a bit of Thai ice cream which is flavorful and contains fruit and nuts and [in a good way] isn't nearly as sweet as its American counterparts. I also enjoyed a Thai ice tea, which appears to be made with fresh Asian tea with a dollop of cream and is non-alcoholic. I recommend it and was told by the couples sitting across from me that Arunee Thai's ice coffee is even better.
Authentic Thai Cuisine In Jackson Heights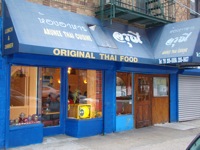 Arunee Thai's ambiance is simple, comfortable, not noisy [they don't play music] and authentically Thai. The prices are very reasonable as nearly everything on the menu generally runs between $5 and $10. They serve beer and wine and only accept cash not credit cards [there are a number of ATM's along 82nd Street between Roosevelt and 37th Avenue]. They also serve lunch specials for $6.50 which include a five-part meal and they provide take out.Sat Nam.
---
Jackson Heights Neighborhood / Elmhurst Neighborhood Links
$element(adman,groupad,NHoodJHTS)$
Click on these advertisements for promotions, discounts and coupons by retailers and restaurateurs in Jackson Heights, Elmhurst and nearby Queens.
Click this link to go to the:
Jackson Heights Neighborhood or Jackson Heights Business Directory
Jackson Heights Real Estate or Events & Things To Do In Jackson Heights
Restaurants In Jackson Heights or Jackson Heights Shops & Shopping
Jackson Heights & Elmhurst Maps
---
$element(adman,groupad,Catgry Foodwine)$
Site Search Tips. 1) For best results, when typing in more than one word, use quotation marks - eg "Astoria Park". 2) Also try either singular or plural words when searching for a specific item such as "gym" or "gyms".
$element(bwcore,insert_search,N)$
Click this link to search for something in our Queens Business Directory.
---
Click the log in link below to create an ID and post an opinion.
Or send this story to a friend by filling in the appropriate box below.
$element(adman,groupad,Sectional2 Ad)$
---