---
$element(bwcore,article_picker,1172,Y,N,page_title_home,N)$
Parades In Queens
Parades in Astoria, Sunnyside, Jackson Heights, Corona & Flushing
This section shows many of the parades in Queens, including the neighborhoods of Astoria, LIC, Sunnyside, Woodside, Jackson Heights, Corona, Flushing and Jamaica. Click here for newsbriefs about the holidays in Queens and here to view our section on religious & ethnic culture in Queens.
---
Columbus Day Parade, Music Party & Oktoberfest
Astoria Celebrates America 525 Years after Columbus's Discovery, John Lennon is Celebrated in Jackson Heights & Oktoberfest is celebrated in Sunnyside Gardens Park
October 10, 2017 / Astoria Neighborhood / Jackson Heights Neighborhood / Sunnyside & Woodside Neighborhoods / Queens Buzz NYC.
Columbus Day Parade in Astoria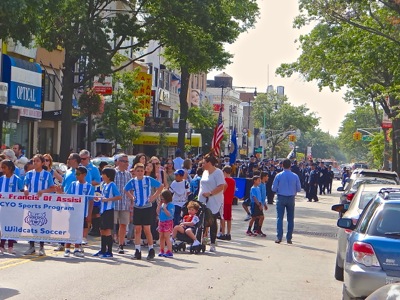 The Columbus Day weekend was a busy one. On Saturday I headed out to cover some of the happenings around the borough starting with the Columbus Day Parade in Astoria. Every year the Federation of Italian Americans or FIAO, organizes the largest annual parade in Astoria which marches from Kaufman Astoria Studios to the statue of Columbus on Astoria Blvd.
I've covered the Astoria Columbus Day Parade for the past decade, and it seemed like more folks were watching it along the streets than in prior years. Steinway Street has been in a constant state of gradual change for the past decade or so, with beautification projects enhancing the general aesthetics and appeal of the street.
Many locally-owned, family-run businesses have been operating on Steinway Street for decades and continue to do so. But over the years there have also been a number of family-run stores which have quietly closed their doors due to intense competition from the chain stores and online merchants. And generally they have been replaced by newcomers, most of which are outlets representing larger chains.
The marchers in the parade represented various groups within the Astoria community. There were government officials, kids from soccer clubs and local schools, marchers associated with the armed services with marching bands, and groups clustered into vintage autos. The sounds and visual feast of the parade stopped us all in our tracks and the cell cameras were busy capturing the event for posterity.
I headed up to the area surrounding 30th Avenue in Astoria. The avenue has evolved into a dining and personal care center, which is home a wide number of new and established restaurants, hair salons, healthy foods, service agencies and places to work out or practice yoga. Many of the restaurants have outdoor seating, which on this Saturday - shortly after noon - were filled. From the top of the hill near Steinway Street you could see the parade marching down toward the Manhattan skyline.
Eventually I headed up to Columbus Statue on Astoria Blvd where I greeted the parade as it came to its end. There were a number of people selected to speak at the end of the parade to commemorate the accomplishment of Italian Christopher Columbus and his crew 525 years ago. I'll try to post some video sometime later this week.
Jackson Heights John Lennon Educational Tour Bus Block Party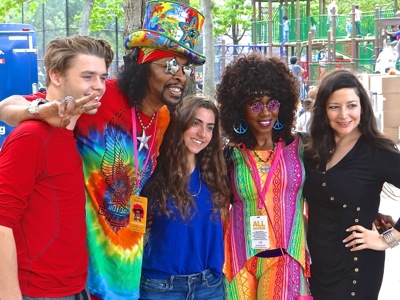 I headed up to Jackson Heights to see what the John Lennon Educational Tour Block Party was all about. The party was scheduled from 12 noon to 5 pm along 78th Playstreet off 34th Avenue in Jackson Heights. Live music, free food and giveaways were part of the appeal, and a good crowd had turned out.
There was a large bus equipped with a portable production studio where visitors were being taught how to create music for a demo tape. As I understand it, the intent of the John Lennon Bus Block Parties is to show kids and adults how they can make music for those who might be interested in making a career in music as well as for those interested in making music for their recreational pleasure.
There was a large stage at the end of the street, where music was playing and where later in the afternoon Bootsy Collins would perform. I briefly met Bootsy and his wife and took a few photos. They were dressed like they'd just stepped out of the Yellow Submarine and were headed down Abbey Road.
I found a perch atop one of the large stones in Playstreet and shot a video to the tunes coming from the soundsystem. I will try to post it in the near future. The music is good and the crowd was interesting, which is what the video was about. I bumped into Michael Mallon from City Councilmember Danny Dromm's office and we talked about the event. He told me that this was the second year it was hosted at 78th Playstreet in Jackson Heights, but that the John Lennon Educational Tour Bus had been hosting block parties for about two decades.
There was some literature and interactive workshops available in the booths where I could see kids and their parents enjoying the possibility of becoming media mavens. On my way out I sampled a couple of small donuts from the Doughnuttery, which has outlets in Manhattan, but not Queens ... least not yet.
All in all it looked like an enjoyable way to spend the afternoon. Bootsie was to play around 3 pm, while the workshops and bus would stay open until about 5 pm.
Oktoberfest at Sunnyside Gardens Park
I arrived at Sunnyside Gardens Park at mid afternoon. The park was bustling with parents and children coming and going and everything in between. Just inside the park on my left there were swing sets and monkey bars where kids and their parents were playing, while off to the right there was food and beverages and picnic tables most of which were filled with groups of people. At the end of the park along 50th Street there were the hearty cooks grilling the meats which everyone was eating.
One of the school age kids read aloud the sign informing folks that beer was being served. He followed up his reading remarking, "Dad, you like that."
His dad said, "Yes, I do. Do you see where it's being served?"
Along the north eastern section of the park, in the ballfield, there were tons of kids scampering to and for on the inflatable fun houses, while inside home plate there were bales of hay and a pumpkin patch, where toddlers and their parents were hanging out.
And on the basketball court and the paved play area there was plenty of activity, including people selling jewelry, clothing and gift items. It was a warm beautiful day for all to play at the Sunnyside Gardens hosted Oktoberfest.
I'll try to post a photo slide show sometime this week.
---
$element(bwcore,article_picker,1142-1165,Y,N,page_title_home,N)$
Columbus Day Parade in Astoria
Beautiful Day to Enjoy a Parade Along Steinway & 30th Streets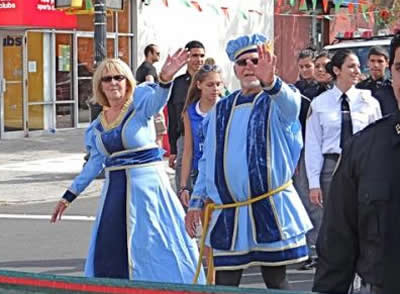 October 12, 2016 / Astoria Neighborhood / Holidays in Queens / Queens Buzz.
The 39th Annual Columbus Day Parade returned to Astoria last weekend. People lined the streets of Astoria to watch the parade which included a number of local Italian organizations including soccer groups, Italian clubs, school groups and floats.
A number of local government representatives also marched in the parade including NYC Councilman Constantinides, Assemblywoman Simotas and Senator Gianaris.
The weather cooperated, as it was in the 60's and sunny and dry. The parade commemorates Italian Christopher Columbus' discovery of America in 1492. And the parade was organized by the Astoria Chapter of the Federation of Italian Americans.
The photo above was taken in a prior year.
---
$element(bwcore,article_picker,1121,Y,N,page_title_home,N)$
Colombian Festival of Flowers Parade
Celebration of Colonial Past & Current Colombian Floral Industry
July 13, 2015 / Jackson Heights Neighborhood / Queens Parades / Queens Buzz.
I attended the Colombian Festival of Flowers Parade on Sunday in Jackson Heights. The parade started at 12 noon at 69th Street on Northern Blvd and marched up to 86th Street. It was a three hour parade with a full coterie of floats, dancers, musicians and marchers - many of which were dressed in classical couture or costume.
The Festival of Flowers originated in the city Medellin in Colombia nearly 60 years ago.
Based on what I could gather [but not confirm] the parade has been morphing and evolving over the years. When it originated, the festival was focused on flowers and was celebrated in May in with some association with a feast celebrating the Christian Jesus' Mother Mary.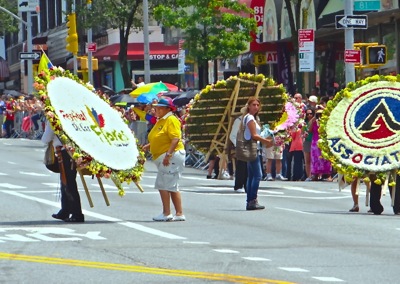 In recent years it has been celebrated in August [in Colombia] and associated with the independence of the Colombian state in which Medellin is located. Somewhere along the way classic autos became a part of the parade in Colombia, and we also saw a number of classical autos in the parade in Jackson Heights.
Another feature of the parade is the depiction of the silleros. The silleros were the human pack bearers of the Spanish during colonial times. Oftentimes carrying loads of 50 to 100 lbs across treacherous jungle or mountain terrain. These peasant people are celebrated in the parade by people who bear large floral arrangements which show a crest [and today large corporate brands] in an emblematic arrangement.
It's worth noting that in late July the Colombian Independence Parade marches along the same route in Jackson Heights next week.
---
Through Rain, Snow, Sleet Or Hail ...
The St Pat's For All Parade Is Like The Mail
March Comes In Like A Lion In Sunnyside Queens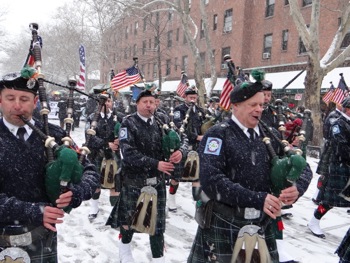 March 2, 2015 / Sunnyside / Ethnic Culture In Queens / Queens Buzz. A bit of snow was falling, and temperatures were just below freezing, as I made my way down to the 16th annual St. Patrick's Day Parade in Sunnyside. To add to the challenges on this day, the #7 subway line was out between Times Square in Manhattan and 74th Street / Broadway in Jackson Heights.
It was no surprise that the streets were fairly empty, and there was only a small gathering down near the podium at 46th Street on Skillman Avenue. The event was to begin at 1 pm, but that didn't happen today. Folks were milling about, so I started mingling.
The first Miss Queens [2015] of the Miss America pageant had arrived and posed wearing her tiara along the snowy walks along Sunnyside Gardens. Her name is Catherine Manett who is originally from Patchogue on Long Island and more recently of Whitestone in Queens. She will be competing in the Miss America New York pageant on Staten Island on June 6th - and if successful there - will go on to the Miss America finals in Atlantic City in September.
Given the cold temperatures and snow, it didn't seem to be a great day for a run. But that didn't stop several members of the intrepid WoodsideSunnysideRunners.com club. I found Paz Tanjuaquio, one of the Founders of Topaz Arts in Woodside, dressed in her running suit conversing with Woodside Sunnyside Runners club Founder Jay Radner and a third runner. They were resting after a short run up and down an empty Skillman Avenue and decided to enjoy the fine weather by staying to hear the speeches and view the parade. Jay told me that there are about 1,000 runners on his email list and that they do a run nearly every day. You can learn more about the club on their website www.woodsidesunnysiderunners.com.
Slan. Click here for Irish pubs / bars in Manhattan on St. Patricks Day 2015.
---
Jackson Heights Halloween Parade Photos
Parade More Like A Community Costume Party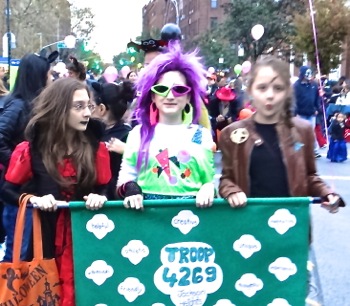 November 3, 2014 / Jackson Heights Neighborhood / Queens Parades / Queens Buzz. I attended the annual Jackson Heights Beautification Group's Kids Halloween Parade on Friday evening. I arrived shortly after it began and started photographing all of the parents and children in costume.
Unlike other parades, given this one was dedicated to the kids, there didn't seem to be the boundaries between parade marchers and the parade audience that one normally encounters. Those in the parade interacted with the audience, many of whom were family, friends and neighbors. And the parade more meandered than marched, with the kids in charge. It kind of felt like one big mega block party / Halloween costume ball.
We took many photos like the one you see to your right. It seems the Girl Scouts dress a bit differently than they did when I was that age. We'll post a photo slide show later today. And I have to give kudos to many of the parents, who seemed to embrace the holiday as much - or more than - their children.
---
Bolivian Parade In Jackson Heights NYC
Parade Showcases Bolivian Culture In Queens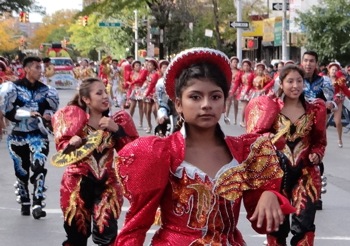 October 20, 2014 / Jackson Heights Neighborhood / Ethnic Culture In Queens / Queens Buzz. Jackson Heights is the home away from home for many cultures around the world. On numerous occasions throughout the year the community is provided an opportunity to celebrate and enjoy the pageantry showcasing many different cultures from Latin America, Asia and a bit of modern day Americana.
On Sunday, the Bolivians showcased their culture by providing a panoply of dancers and musicians in costumes of eras gone by. It was a cool day and the performers used that to their advantage by performing a number of synchronized dance steps to the great amusement of the parade audience standing on the sidewalks along 37th Avenue.
---
$element(adman,groupad,Catgry Wedding)$
$element(adman,groupad,Catgry Queens)$
---
Ecuador Independence Parade Photos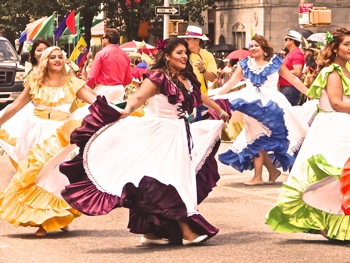 August 2014 / Jackson Heights / Queens Parades / Queens Buzz. I attended the Ecuador Independence Parade a couple of Sundays ago in Jackson Heights & Corona. Ecuador achieved its independence from Spain in 1822 during a time when many of its Latin American neighbors were also fighting for, and winning their independence. These wars for independence took place in the second and early part of the third decades of the 1800's, which was not long after the United States won its war for independence against Great Britain in the late 1700's.
Simon Bolivar was instrumential in leading these rebellions against those in power [Spanish royalty]. Bolivar enlisted English support in these wars for independence from Spain, just as Ben Franklin had enlisted French support in the American War for Independence. In both cases they got it, as France wanted to undermine the English in the late 1700's just as the English wanted to undermine the Spanish in the early 1800's.
In Ecuador the Spanish and the native South American Indians mixed racially, so that today about two thirds of the 12.5 - 14.5 million population is of mixed Spanish and Indian blood. The remainder of the population is a mix of Indian, AfroEcuadorian and Caucasian [primarily Spanish]. Spanish is the official language, but it's estimated that about 15% of the population can speak or understand Quichua, which is the native Indian language of the South American Incas. Ecuador uses American currency as its official currency.
---
Greek Orthodox Easter Tradition In Astoria
St. Demetrios Cathedral Holy Friday Procession With Epitaphios In Astoria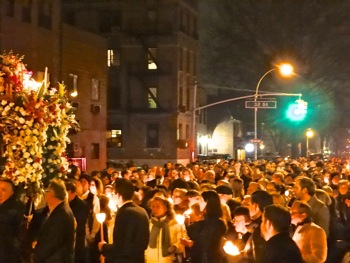 April 21, 2014 / Astoria Neighborhood / Ethnic Culture In Queens / Queens Buzz. Friday night I made my way into Astoria to watch the St Demetrios Cathedral Holy Friday procession with the epitaphios. I arrived a bit after 9 pm, and they had just left the cathedral. The service began at 7 pm and it's followed by the public procession into the Astorian streets to commemorate the death of Jesus Christ, some 2014 years ago.
A contingent leads the parade, including a man carrying a crucifix, symbolizing the cross that Jesus was nailed to, when he was executed as a threat to the Roman Empire. Following behind the first contingent is another group of men who carry the epitaphios. The epitaphios is a floral covered structure that looks a bit like a carriage and coffin. And following the epitaphios are the parishoners, which in the case of the St. Demetrios Cathedral procession likely numbered in the low single digit thousand(s).
In the photo to your right you can see the epitaphios at left and the St. Demetrios parishoners on Holy Friday night in Astoria.
---
$element(adman,groupad,Catgry Wedding)$
$element(adman,groupad,Catgry Queens)$
---
$element(bwcore,article_picker,1046,Y,N,page_title_home,N)$
Chinese New Year Parade In Queens
The Year of the Horse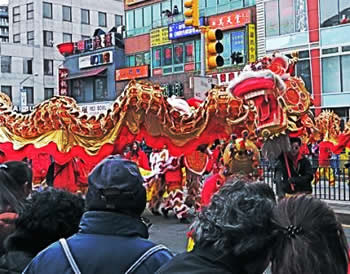 February 10, 2014 / Flushing Neighborhood / Ethnic Culture in Queens/ Queens Buzz. On Saturday February 8th at 11 am Flushing Queens celebrated the year of the horse with a traditional Chinese New Year Parade. The parade encompassed a cast of over a thousand and lasted nearly two hours.
The year of the horse in Chinese culture symbolizes kindness, strength and gregariousness. It's also a symbol in the Chinese zodiac and falls into the wood category which signifies strength and flexibility.
In the photo to your right is a dragon in the Flushing Queens Chinese New Year Parade taken in 2013.
---
Moon Parade & The Asian Harvest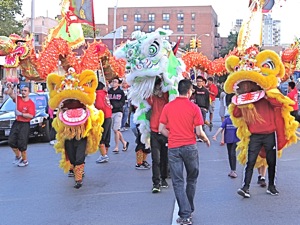 September 17, 2013 / Flushing Neighborhood / Queens Culture / Queens Buzz. I attended the Moon Parade and celebration in the Flushing neighborhood of Queens. The parade at 5 pm on Saturday at 40th Road and Main Street and was provided a police escort [Main Street is quite busy, even on Saturdays] down to the Queens Botanical Gardens where it ended at the Kissena Park Corridor.
The parade included the moving dragon and other traditional Chinese parade costumes, as well as banner bearers, a marching band and a number of Ninja and Halloween-costumed characters. I met with a couple of the parade participants to find out more about the significance of the Moon Parade.
Essentially it's a Fall Harvest Celebration - Asian style. The moon parade and celebration includes feasting on chicken and pigs and eating traditional Moon Cakes. I found some of these in one of the stores nearby, where the tins, made in Hong Kong, have elaborate artistic renditions of a woman eating a cake with the moon shining brightly outside. The moon cakes are made of lotus paste. Happy Lunar / Moon Harvest.
---
I. Astoria Parades & Photos
---
$element(bwcore,article_picker,830-822-777,Y,N,page_title_home,N)$
Greek Independence Parade NYC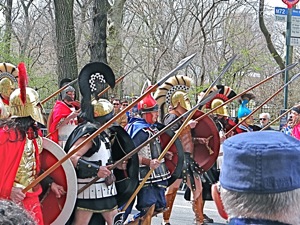 April 7, 2013 / Astoria Neighborhood / Ethnic Culture in Queens / Queens Buzz. It was a beautiful Spring Day as I ventured into Manhattan Sunday to watch the Greek Independence Day Parade march along Fifth Avenue from 64th Street to 79th Street.
A number of Queens government officials marched in the Parade including NY State Senator Gianaris, NY Assemblywoman Simotas and City Councilmember Vallone. A couple of prospective City Councilmember candidates also marched in the parade. We'll have more on the parade, including a photo slide show later today.
In the photo at left are the Greek Independence Day Parade marchers representing the Spartan warriors.
---
St Markella Holy Friday in Astoria

April 14, 2012 / Ethnic & Religious Culture / Astoria Neighborhood / Queens Buzz. I visited the parish of St. Markella to observe the Greek Orthodox Holy Friday evening procession through the streets of Astoria. It was a beautiful, clear night, with temperatures in the 50's and the stars were shining brightly in the sky above.
The local parishoners had gathered to commemorate the crucifixtion of Jesus Christ over 2,000 years ago. The tradition dates back centuries, whereby the parish gathers on this night and walks through the community with an epitaphios which is symbolic of the shroud of Jesus.
Look for future coverage of Holy Friday at St Markella in Astoria.
---
Columbus Day Parade Astoria - FIAO - October 2011
Greek Orthodox Easter Astoria - April 2011
Greek Orthodox Holy Friday At St Demetrios In Astoria
Columbus Day Parade In Astoria Queens
Greek Orthodox Easter In Astoria
---
II. Flushing Parades & Photos
$element(bwcore,article_picker,991-975-728,Y,N,page_title_home,N)$
Chinese New Year Parade Flushing - February 2013 / 2014
Chinese New Years Parade in Flushing 2010
---
III. Jackson Heights Parades & Corona Parades & Photos
---
$element(bwcore,article_picker,1172-936-919-909-788,Y,N,page_title_home,N)$
Hispanic Day Parade Jackson Heights - September 2012
Colombian Parade Jackson Heights Queens - July 2012
LGBT Parade Jackson Heights Queens - June 2012
Lesbian, Gay, Bi-sexual, Transgender - LGBT Parade in Jackson Heights
---
IV. Long Island City LIC Parades & Photos
July 4th Fireworks Queens & Weekend
4th of July Fireworks Return To East River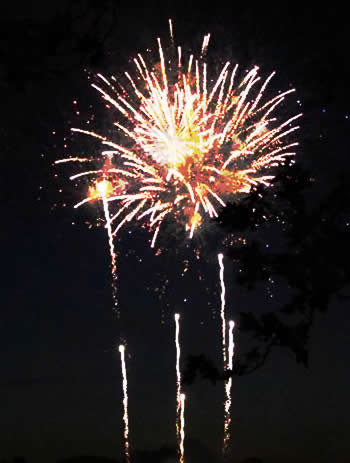 July 4th, 2014 / Things To Do Queens / Queens Buzz.
Weather. Not ideal for fireworks. Friday it will be in the high 70's with about 65% humidity all day. Rain will hit between 3 & 4 pm and thereafter - until about 10 pm - there's a 50% chance of it. So for the fireworks display it's a 50 / 50% chance you may get wet.
For the rest of the weekend, the highs will climb to the mid 80's and it will be sunny and dry Saturday, with humidity climbing back to 50 - 65% Sunday.
Macy's 4th of July fireworks in Manhattan NYC. The Macy's 4th of July fireworks will likely begin around 9.30 pm which is when it gets dark enough to support a good show. But that said, you should probably get to where you're going to watch them no later than 9 pm, because the cloudy skies may allow them to get off to an early start.
Best Locations to view Macy's 4th of July fireworks in Queens NYC. There will be three barges in the East River from where the fireworks will be launched - two just south of the Brooklyn Bridge and one just north of it. The best viewing locations would be in and around the bridge including the South Street Seaport. But spots along the East River should allow for a pretty fair view, including Gantry State Park and Hunters Point South.
We'll post weekend events later today and Saturday.
---
V. Sunnyside Parades & Photos
$element(bwcore,article_picker,987-906-883-740,Y,N,page_title_home,N)$
Memorial Day Parade Woodside Queens - May 2012
St Pats Parade Sunnyside Queens - March 2012
Flag Day Parade In Sunnyside
June 11, 2011 / Sunnyside / Ethnic & Religious Culture / Queens Buzz.
There was a Flag Day celebration in Sunnyside this weekend.
Flag Day commemorates the official adoption of the U.S. flag at the second Constitutional Congress on June 14, 1777.
There have been numerous other official designations for the day since then. Flag Day is not a national holiday or state holiday.
In the photo to your right is Flag Day in Sunnyside.
---
St Pat's Day Parade in Sunnyside, Woodside Queens
$element(adman,groupad,Catgry Wedding)$
$element(adman,groupad,Catgry Queens)$
---
V. Queens Parades & Photos / Manhattan Parades
$element(bwcore,article_picker,1110,Y,N,page_title_home,N)$
Click here to view Manhattan Parades NYC.

---
This calendar contains events submitted by community & commercial organizations.
FOR EASIER-TO-READ LIST VIEW - CLICK THE HEADING ABOVE & SCROLL DOWN - OR CLICK INTO ANY OF THE LOCAL NEIGHBORHOOD SECTIONS & SCROLL DOWN.
$element(calendar,calendar_select)$
$element(calendar,large_calendar,1)$
Click here to view an archive of things to do in Queens.
Click the drop down menu to submit events [ID required] into the Member Calendar. Free for arts groups / non-profits and community orgs, except fundraising events. Click here to obtain a Free Queens Buzz Membership.
---
Site Search Tips. 1) For best results, when typing in more than one word, use quotation marks - eg "Astoria Park". 2) Also try either singular or plural words when searching for a specific item such as "gym" or "gyms".
$element(bwcore,insert_search,N)$
Click this link to search for something in the Astoria Business Directory containing over 1,000 listings.
---
Click the log in link below to create an ID and post an opinion. Or send this story to a friend by filling in the appropriate box below.
---