Restaurants In Jackson Heights
Jackson Diner - Indian Restaurant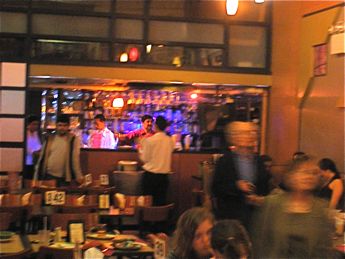 Jackson Heights Neighborhood / Jackson Heights Restaurants / Queens Buzz. We arrived on a Sunday evening in the middle of an Indian street fair. The street was buzzing with sounds, smells and sights to behold. As we made our way through the crowd, we considered aborting our mission in favor of trying the food being sold on the streets as the aromas in the air tempted us. We were so engaged in conversation that we walked right by the diner. This wasn't the first time this had happened.
Jackson Diner - Indian Food For The American Palate
The Jackson Diner serves traditional Indian food modified to suit American tastes. This means it's not as spicy, and hence well suited for those who are new to Indian food or for those whose palates are sensitive to spicy food. For those who enjoy a good blast of curry and other Indian spices, other restaurants in the area may be more suitable.
Once inside, the Diner gave an airy feel. It has theatre high ceilings and a completely open dining area. The kitchen and bar are at the back of the restaurant and we were greeted shortly after walking through the door by our host. The crowd was about a third of European descent and about two thirds Indian or Asian. Shortly after being seated we were served water and wafer like bread that has a spicy zing to it. My dining companion was an old friend from the midwest, who had little experience with Indian food.
Indian Food In Jackson Heights
The restaurant's menu provides a nice selection of different Indian foods. Indian shares a bit of similarity with Chinese in that many of the same ingredients are used in different dishes, although I suppose this really could be said of most cuisines. We decided to order a couple of breads to get started and split a large 22 oz bottle of an Indian beer called the Taj Mahal. We also ordered a couple of samosas and I ordered a cup of mulugatawany soup.
$element(flashss,slideshow,7,Nasc)$
The bread arrived first, and was followed shortly by the soup and samosas. The breads we ordered included poori which is a golden fried unleavened bread which comes in a teeming hot hollowed ball, and nan, which is a soft unleavened doughy bread. I find the poori is a lighter bread and goes well with the beer and the soup, while the nan is heavier and works well in lapping up some of the sauces from the entrees. These breads are both staples which the Diner does very well.
Masala, Mulugatawany Soup, Samosas In Jackson Heights & Queens
The samosas, which are pastry wraps over peas and potatoes, were also good, compared with other Indian food I have eaten they were rather bland. This suited my friend well, as she was a bit hesitant in trying Indian cuisine. The Mulugtawany soup [lentil based] was also good, and quite flavorful, but again lacked some of the punch I have come to expect from traditional Indian food. In keeping with the theme, my dining companion and I took up the conversation of Queens great ethnic variety in both food and culture. It is my understanding that Queens is one of the most, if not the most, highly integrated community in the world. Now that's something of which to be proud.
The Jackson diner menu offers a broad selection of Indian dishes including various chicken dishes, lamb and goat, seafood and vegetarian. We decided to share vegetarian and lamb entrees. The vegetarian dish chosen was the Shag Paneer, which the Diner does a fantastic job on. It's spinach and potatoes, and they seem to get the mix just right. We also ordered the Bhindi Masala which was also quite good. This dish okra, tomatoes and onions. Both dishes were cooked into a mouth friendly texture, the Paneer was nearly creamy, while the Masala vegetables held their form, but gave way the minute they hit your mouth.
Lamb Korma, Nan - Eating Out In Jackson Heights
And then there was the lamb. We ordered the Lamb Korma. This is lamb cut into cubes and cooked in a cream sauce. It was ok, but I would have gladly traded it for the Lamb Roganjosh being consumed across the way from us by another couple. The Lamb Roganjosh was cooked in a traditional masala sauce and beat ours handily [we boldly asked the couple if we could taste a samples of their lamb, noting that this was purely in the interest of our readers. Yum.].
As we had consumed the nan along the way, by the time dessert rolled around we were too full. The Diner is a clean, friendly, well managed restaurant, serving traditional Indian meals modified for the American palate. And the prices are very reasonable [$5 - $10 for an appetizer and $10 - $23 for a main entree]. Alas, the meal was over as we made our way out of the restaurant and back out onto the streets.
Jackson Diner - Indian Restaurant In Jackson Heights
Click here to view a map showing the location of the Jackson Diner Indian restaurant in Jackson Heights.
---
Jackson Heights Neighborhood / Elmhurst Neighborhood Links
$element(adman,groupad,NHoodJHTS)$
Click on these advertisements for promotions, discounts and coupons by retailers and restaurateurs in Jackson Heights, Elmhurst and nearby Queens.
Click this link to go to the:
Jackson Heights Neighborhood or Jackson Heights Business Directory
Jackson Heights Real Estate or Events & Things To Do In Jackson Heights
Restaurants In Jackson Heights or Jackson Heights Shops & Shopping
Jackson Heights & Elmhurst Maps
---
$element(adman,groupad,Catgry Foodwine)$
Site Search Tips. 1) For best results, when typing in more than one word, use quotation marks - eg "Astoria Park". 2) Also try either singular or plural words when searching for a specific item such as "gym" or "gyms".
$element(bwcore,insert_search,N)$
Click this link to search for something in our Queens Business Directory.
---
Click the log in link below to create an ID and post an opinion.
Or send this story to a friend by filling in the appropriate box below.
$element(adman,groupad,Sectional2 Ad)$
---