News Briefs about education, healthcare, development & open space, governance and social issues in LIC, Sunnyside, Astoria, Jackson Heights, Flushing, Jamaica, Corona Queens
---
CB Votes Split On USTA Expansion Plan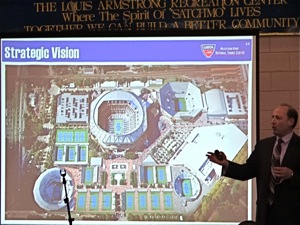 March 14, 2013 / Flushing Corona / Issues Facing Queens / Queens Buzz. The USTA has asked the city of New York to give it .68 of an acre of Flushing Meadows Corona Park so that it can proceed with an expansion plan. The expansion plan is estimated to increase the sports complex capacity for the U.S. Open by about a third, while increasing the USTA footprint in the park by .68 of an acre. The USTA informed the audience attending the Community Board 3 meeting that this will result in more jobs in Queens. They also talked about the positive estimated annual $784 million economic impact that the USTA has had on NYC - according to a study done by a private consulting firm named AKRF, Inc.
The detractors informed the audience that this is the first step in a much larger effort toward a massive privatization of Flushing Meadows Corona Park by several large, well-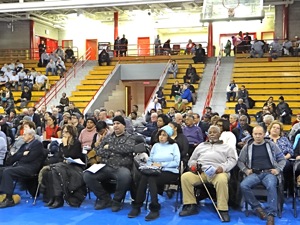 funded corporate interests. The opponents talked about three other proposals which were not a part of the USTA plan. These other proposals to develop private interests on public parkland include the development of a shopping mall by a private investment group in tandem with the owners of CitiField; 2) a condominium / hotel complex done by another group of private investors; and 3) a 13 acre soccer stadium by Major League Soccer, which is also a privately held corporation.
Community Board Tally & Boro Prez Candidates Positions
In the end Community Board 3 voted against the expansion plan, citing among other things, promises not kept when the USTA asked to expand its footpint in 1993. All six Community Boards have now voted on the USTA Expansion proposal, with three voting for it and three voting against it. We'll post a far more complete report on this Community Board Meeting at a later date.
While I was attending the Community Board 3 Meeting in Corona, all six Queens Borough Presidential candidates were attending a forum about the issues facing Queens at the Greater Astoria Historical Society in Astoria. The issue of turning over public parkland to private interests came up during the forum. To date only City Councilmember Tony Avella has come out against giving up public parkland to private interests. NY Senator Jose Peralta is the only other candidate to take a stance on the issue, but only on one of the proposed developments, namely the erection of the MLS Soccer Stadium on 13 acres of FMC Parkland [which he conditionally supports if MLS fulfills all of their promises]. All four other candidates have taken a wait-and-see stance on the issue.
Click here to read our past reports related to the proposed development plans for Flushing Meadows Corona Park. The first report provides an early history of Flushing Meadows Corona Park I and the second report provided an intermediate history of Flushing Meadows Corona Park II which included a number of relevant historic lessons related to sports complex developments in FMCP as well as NYC.
---
Legislative Agendas For Western Queens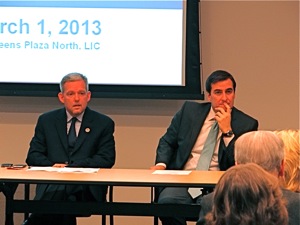 March 9, 2013 / Long Island City / Queens Business / Queens Buzz. I attended a Legislative breakfast hosted by the Long Island City Partnership on Friday. NYS Senator Michael Gianaris and NYC Councilmember Jimmy Van Bramer were on hand to talk about what is going on legislatively in Albany and downtown at city hall.
EDUCATION & QUEENS SCHOOLS. Education and school closings were discussed with both government officials opposing the approach being taken by the Mayor to close Queens high schools. It was noted that Senator Gianaris graduated from LIC H.S. and then went onto graduate from Harvard, that Assemblywoman Nolan graduated from Ridgewood H.S. and went onto graduate from NYU and that NYC Councilmember Van Bramer graduated from Bryant H.S. and went onto graduate from St. John's College. All three of these high schools were on the chopping block in Spring of 2012 [click here for our Spring 2012 report on Queens high school closings].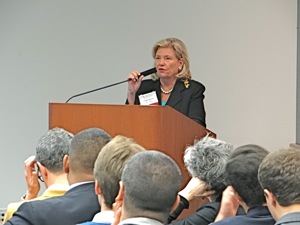 School construction was also discussed. Currently the facilities at many Queens schools are at, near or even over capacity. Hence school construction is something these government officials believe is important going forward, given the growth of the borough.
HIGH TECH JOBS / TAX BREAKS. They talked about the pending development of a high tech college campus on Roosevelt Island in the coming decade. They saw this as a potential source of good jobs in the area, given Queens proximity to the campus and talked about the possibility of using tax breaks to incent start ups to stay in NYC. They cited the TV Film Industry Tax breaks given several years ago as being good for the TV film industry in Queens.
POWER INDUSTRY IN QUEENS. They also talked about the power industry in Queens. Queens is the source of 60% of all of NYC's power generation. The old Poletti Power Plant is in the process of being de-constructed, and the newer power plants have been able to continue to provide power without disruption.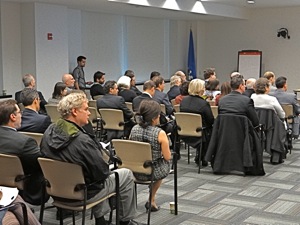 PARKING IN LIC. Lastly, but not least, Michele Beaudoin of BRG Realty in LIC inquired about future plans for managing the parking situation in LIC. Unbeknownst to most folks, LIC remain the only neighborhood that does not have alternative side parking regulations, which are used to eliminate 'car storage' on city streets, while simultaneously enabling street cleaning. LIC is also the only neighborhood in NYC that does not receive street cleaning services.
We were told that the Department of Transporation is not interested in building any new city parking lots. And that the LIC community is deeply divided on this issue, but that something must be done, as the parking congestion in LIC continues to grow.
Click here to read other brief reports containing LIC News.
---
Astoria Park Performance Space
Draft Plans Shown – Public Comment Sought
Februrary 21, 2013 / Astoria News / Astoria Neighborhood / Queens Buzz. I attended the Community Board 1 meeting on Wednesday night where the Parks Department unveiled their draft plans for the new performance space in Astoria Park. The presentation included a brief history of the Astoria Pool Diving area where the new performance space will be installed, as well as draft details of what is planned.
City Councilmember Peter Vallone was credited with securing $4.5 million in NYC funds for the project, which he described as a beginning. There were a number of Astoria and Queens arts groups present at the meeting and they made comments following the presentation. We'll post more about the Astoria Park Performance space later.
Click here to go to the Astoria Neighborhood section of this site, or on the photo above for other Astoria News briefs.
---
Click any of these links to scroll down to view the Issues briefs.
---
---
$element(adman,groupads,Sectional Ad)$
---

---
Community Boards in Queens
Boards Chosen By Councilmember & Boro Prez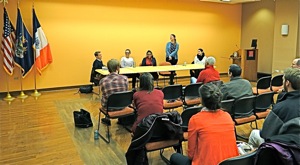 January 24, 2013 / LIC & Sunnyside / Queens Business / Queens Buzz. Transportation Alternatives - a non-profit advocacy group for pedestrians, cyclists and public transit passengers - hosted a seminar about how to apply for a position on a neighborhood community board back on November 15, 2012. The annual application deadline is in early January [just passed] of each year.
Community Board members are selected in part [50%] by the local City Councilmember and in part [50%] by the Borough President. Community Board members play an important role in influencing outcomes in the government affairs of their neighborhoods. And sometimes they weild influence in borough-wide government affairs.
Given that 2013 is a city-wide election year, voting citizens will want to be sure they elect or re-elect City Councilmembers and a new Borough President [Helen Marshall has reached the term limit of her office] who, in tandem with the Community Board members they appoint, will be strong advocates for their local concerns.
Click here later this week to read our report about who to qualify and apply for a Community Board position.
---
Queens Chamber Building Awards 2013
Chamber of Commerce Recognizes Queens Builders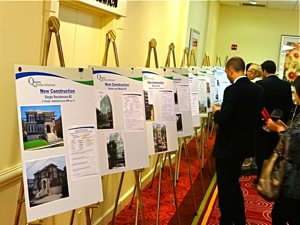 January 23, 2013 / Jackson Heights / Queens Business / Queens Buzz. On Thursday January 17th, the Queens Chamber of Commerce presented awards in twenty separate categories honoring builders in the borough of Queens. The Queens Chamber Building Awards Reception began in 2007.
The awards were broken into three major categories: 1) Rehabs, 2) Interiors and 3) New Construction. And, except for Interiors, each of these categories included a number of subcategories. In the photo to your right you can see QC Building Awards attendees looking over some of the awards given at the event.
We'll post more at a later date, including photos of the Queens Chamber Building Awards Reception held at the Marriott LaGuardia in East Elmhurst, just north of Jackson Heights.
---
Newtown Plaza Nixed: 25 - 7
Passions Flared On Both Sides During Audience Speeches
September 11, 2012 / Astoria / Astoria Real Estate / Queens Buzz. Late Tuesday night 25 of 32 members of Community Board One in attendance; voted for installing curbside extensions in lieu of installing a Pedestrian Plaza along Newtown Avenue in Astoria. These two proposals were offered as a solution by the Queens DOT to help mitigate the safety issues associated with traffic accidents at the intersection of 30th and Newtown Avenues in Astoria. Click here to view earlier report on proposed Newtown Avenue Plaza in Astoria.
---
Jet Blue Hits The LIC Ground Running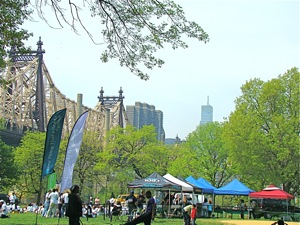 April 23, 2012 / LIC News Briefs / Queens Buzz. I visited the Queeens Bridge neighborhood on the Saturday of Earth Day Weekend to participate in some of the green events sponsored by Jet Blue in collaboration with NYRP [New York Restoration Project]. I first came upon some of the one hundred plus Jet Blue employees participating in the event in and around the QueensBridge complex in Long Island City.
They were busy planting some of the one hundred trees scheduled for planting that day, as well as raking, picking up debris and working some of the tree and planting beds in the neighborhood and park.
Click here to read our report, including photos, about Jet Blue in LIC.
---
Remembering Queens Past
Forgotten-NY & GAHS Historic Tours Attract Growing Audience
Summer 2011 / Long Island City Neighborhood / Queens Buzz. I joined a tour given by Kevin Walsh, Founder of Forgotten-NY, and Richard Melnick, Vice President of the Greater Astoria Historical Society [GAHS]. It was a Saturday morning in the middle of August with the temperatures in the mid 80's and with some humidity. To my surprise and delight there were between 40 and 50 people gathered to take the historic tour of Long Island City.
The walking tour covered about two miles and was scheduled to last about three hours, but went on for four. During the tour we saw about twenty sites and the tour cost $25 for non-members. The tour guides did a great job of taking us back centuries ago, from when Long Island City became Dutch farm land, to its commercial heydays [1850's to 1940's], to today.
Click here later this week to read more about Remembering The Past With Forgotten-NY and the GAHS.
---
Jackson Heights Pedestrian Mall
37th Road Traffic Flow & Pedestrian Mall Enhancements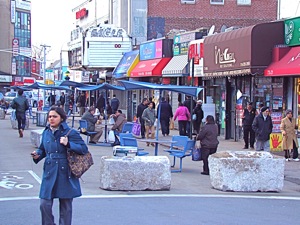 March 3, 2012 / Jackson Heights / Queens Buzz. The Queens Department of Transportation reconfigured some of the roadway, public transit and pedestrian traffic flows in the second half of 2011.
Most of the transitions went well, but a group of shopkeepers along 37th Road off 74th Street, weren't happy with the changes as it reduced the street traffic in front of their stores and hence affected their businesses. Click here to read our report on the Jackson Heights traffic changes by the Queens Department of Transportation in 2011.
A pedestrian mall replaced a motorist roadway and the bus stop was moved several blocks further east in order to reduce continual congestion at the 73rd Street / Broadway / Roosevelt Avenue intersection. Following the changes, it was suggested that the 37th Road traffic be re-routed toward the mall, instead of away from it. A decision on this request is expected soon on the traffic flow on 37th Road near 74th Street in Jackson Heights.
Once the changes are finalized, residents and merchants of Jackson Heights can look to see some enhancements made to the pedestrian mall which should make it a more inviting habitat, which will also likely help those merchants by making the location a destination.
The information for this report was gathered via the Queens Department of Transportation [QDOT] and the office of City Councilmember Danny Dromm.
---
$element(adman,groupad,NhoodAstoria)$
$element(adman,groupad,NhoodSSWS)$
---
Queens Gold Coast - Vision Plan
Waterfront Vision Plan Unveiled For Public Recreation Along East River
June 20, 2011 / Astoria & Long Island City LIC / Eco-Friendly Queens / Queens Buzz. Last Thursday Green Shores NYC and the Trust For Public Land unveiled a sketch of what could one day be called Queens Gold Coast. The Waterfront Vision Plan was put together through a series of town hall meetings held last summer in the communities along the East River in Astoria and Long Island City in Queens. During these meetings volunteers gathered input from local residents regarding what issues they currently encounter in using the parks along the East River and what enhancements they would like to see.
Hundreds of people participated in the event and following a summer of gathering information, the Green Shores NYC volunteers and the Trust for Public Land spent the next nine months editing the work into a coherent framework with actionable recommendations to submit to city officials.
Later today you can click here to read more about the Waterfront Vision Plan for Queens Gold Coast.
---
Queens Blvd In Sunnyside Gets Facelift
Sunnyisde / July 28, 2009. The inbound lanes of Queens Blvd from 50th Street to the Queensboro Bridge were repaved between 6 pm yesterday to 6 am today. The outbound lanes are next, having been scraped and prepped for the new blacktop. As you can see from the photo it looks pretty good.
---
Residential & Commercial Real Estate In LIC
Enthusiasm Apparent This Year, That Was Lacking In 2010
Summer 2011 / Long Island City / LIC Real Estate / Queens Buzz. I attended the LIC Partnership [formerly LICBDC] Real Estate Breakfast last week. It was a full house and the panelists included Joanna Geraghty of Jet Blue Airways, a new tenant in the Met Life Building at Queens Plaza; Frank Monterisi of the Related Companies which is managing the Hunters Point South Project; and Jason Sheftell, Daily News real estate writer.
The general gist of the conference was to discuss the current state of residential and commercial real estate in Long Island City. Joanna discussed her perspective as Jet Blue is an incoming commercial tenant that is bringing approximately 800 new jobs into the LIC neighborhood, while Frank Monterisi talked about the new construction that has recently begun on the first two towers of the Hunters Point South Project, which is designed to lure new residents into brand new apartments that will soon overlook the East River. Jason Sheftell played the roving reporter, and commented on both.
---
Jackson Heights Film Festival Preview
Jackson Heights Film Festival Cancelled - See Report Above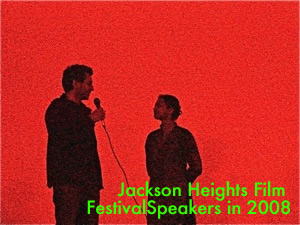 October 19, 2009. This weekend is the 2009 Jackson Heights Film and Food Festival. It's on Saturday at the 82nd Street Triplex theater which is a beautiful classic turn of the last century movie theater. There will be a reception starting at 6.30 pm with food from six different area restaurants. The program includes three films: two shorts and one longer one. And the event will be followed by an after party at nearby Limoncello which is a small charming Italian restaurant. You might want to purchase your tickets through the Jackson Heights Film and Food Festival website [jhfff.org - $20 / $15] as seating is limited. Our full report of this event was cancelled due to cancellation of the festival.
---
Battle: Park Vs Parking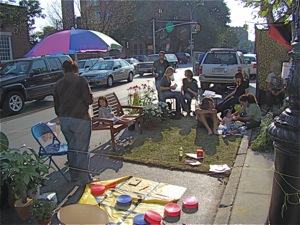 Jackson Heights / September 21, 2009. Summer is over and today is officially the first day of Autumn. Enjoy the week as the current forecast calls for dry and moderately cool.
Last Friday Transportation Alternatives and the Friends of Travers Park installed a temporary park along 37th Avenue near 78th Street [see photo to right]. The new park opened around 9.30 am. There were more visits to this park per square foot, than in nearly every other park in the city, and yet in spite of the large per capita square footage occupation rate, there wasn't any littering, rapes, murders or burglaries reported in the new park. But alas, all good things must come to an end and at 6 pm the city closed it and converted it into - of all things - a parking space!
All kidding aside, the event was intended to get people to think about how much space is devoted to automobile parking versus how much space is devoted to recreational space for people. Click here to view a photo album containing additional photos of the 'new park', as well as a few other photos of Jackson Heights this past weekend. In other events we covered this weekend, click here to learn a bit about the Jackson Heights Art Club.
---
My Parks Day In Jackson Heights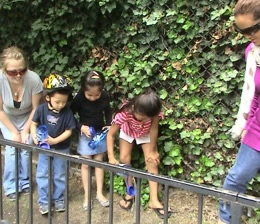 My Parks Day enjoyed a pretty good turnout, in spite of overcast skies and predictions of rain. Volunteers showed up at parks around the borough to help tidy them up and plant flowers and other plants. At Two Coves Garden they held workshops on canning, picklying, composting and container gardens. The Waterfront Parks Alliance worked with numerous Queens parks to clean up along the waterfront.
We visited Traverse Park in Jackson Heights where we found these young helpers and their mothers watering some new sunflowers they had just planted in the park. We'll have additional photos to view which we'll post later.
---
Latin Holiday in Corona
Corona CAN Brings Latin Flavor To Christmas Holiday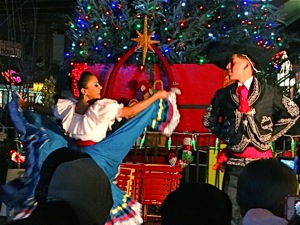 December 3, 2012 / Jackson Heights & Corona / Latin Culture in Queens / Queens Buzz. Corona installed a pedestrian mall at 103rd Street and Roosevelt Avenue earlier this year. This holiday season they put the pedestrian mall to good use during the fifth annual Corona Holiday Tree Lighting ceremony.
There were about 20 vendor tents that included gift items, clothing and food, all lined up along the southern end of the plaza - while along the northern end of the plaza there was a huge Christmas tree, a large inflated Santa, the Holy Family in the Manger and a large stage.
I stayed for a while to watch a number of enjoyable Latin song and dance performances. Many of them were performed by talented dancers and musicians from the neighborhood. It was like taking a Latin holiday, but without the hassle and airfare.
Perhaps one day you'll be able to click here for a slide show and report about the Christmas Tree Lighting in Corona Queens.
---
78th PlayStreet Video Gaining Popularity
Local Video Attracts Thousand(s)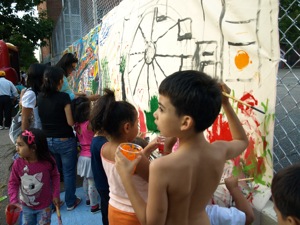 October 6, 2010 / Jackson Heights / Queens Buzz. This Spring Jackson Heights community activists sought and received approval to 'take back the streets'. The stretch of road along Travers Park on 78th Street between 34th Avenue and Northern Blvd was closed to local traffic all summer long to allow kids to safely play in it.
The inaugural event included appearances by City Council Speaker Christine Quinn [originally from Queens], as well as Daniel Dromm and Jose Peralta. The photos shown here were taken by Len Maniace, one of the community activists involved in getting the street closed for the summer. A similar action was taken in Astoria the past couple of years, when the Astoria Park Alliance received permission to close Shore Blvd one day each weekend for three weekends in August.
Len points to the fact that Jackson Heights has garden apartments which have beautiful, spacious private grounds, but the neighborhood has little in the way of public park land. He notes that this is a way to create public recreational space. Len is a member of the Jackson Heights Beautification Group and The Friends of Travers Park committee. The following link will take you to the video created about 78 PlayStreet in Jackson Heights. Or click here to view three more of Len Maniace's photos of 78 Playstreet in Jackson Heights. Special thanks to Len and Helen Ho for some of the information contained in this report.
---
---
---
$element(adman,groupad,NhoodAstoria)$
$element(adman,groupad,Catgry Medical)$
---

---
Eating Right in Queens in the New Year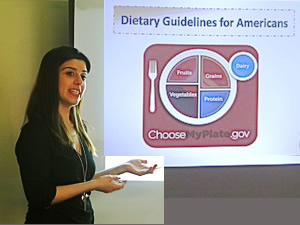 December 14, 2012 / Astoria & LIC / Food in Queens / Queens Buzz. I attended a lecture on nutrition sponsored by Mount Sinai Hospital of Astoria at the LIC YMCA. The presentation was given by Effie Nerantzis, Registered Dietician, who is shown in the photo to your left.
She provided a lot of information that one can use to begin to make smart, healthy choices in their diet, while continuing to lead an on-the-go modern lifestyle. Some of the lecture including how to read nutrition labels on the backs of packages, how to interpret the claims on the front of food packages, she touched on how organic foods factor into the mix, and how to shop and prepare foods in short order.
---
---
$element(adman,groupad,NhoodLIC)$
$element(adman,groupad,Catgry Foodwine)$
---
---
School Bus Strike Ends 2/15
February 15, 2013 / Queens News Briefs / Queens Buzz. The primary union involved in the school bus driver strike announced Friday that the strike is ending and that they will resume work on Wednesday, February 20, 2013. The strike affected more than 100,000 students [see posting below] and according to the New York Times, 5,000 of the 7,700 school bus routes.
Apparently the striking workers weren't able to endure the ongoing financial and healthcare losses. And union officials said they would continue fighting for worker job protections, with Mayor Bloomberg nearing the end of his term.
---
School Bus Strike Wednesday 1/16
Yellow School Bus Drivers Strike
January 16, 2013 / Queens Neighborhoods / Queens Issues / Queens Buzz. It appears that failure by NYC and the Union of the Yellow School bus drivers to reach a contract agreement resulted in a strike that began Wednesday morning, January 16, 2013 at 6 am. About 111,000 public school children and 41,000 parochial school children that rely on this bus service are affected. There are about 1.1 million public school children and about 0.1 million parochial school children in NYC.
Children should request a Metro Card from the general office of their school. Parents or guardians of children in grades K - 2 are also eligible for the MetroCards. Those requiring IEP or door-to-door transportation may submit receipts for taxis or gas mileage [55 cents / mile] to the Transportation Reimbursement Unit / 44-36 Vernon Boulevard / Long Island City, NY 11101.
Stay tuned for labor negotiation updates on radio, TV or the internet. The last NYC school bus drivers strike was in 1979. Use this link to see if your children's NYC school bus route will be affected.
---
---
---
$element(adman,groupad,NhoodFlush)$
$element(adman,groupad,Catgry Wedding)$
---
---
Queens Thanksgiving Celebrations
Sharing Meals & Meaning In Astoria & Sunnyside
November 26, 2012 / Astoria & Sunnyside / Queens Neighborhoods / Queens Buzz. I attended a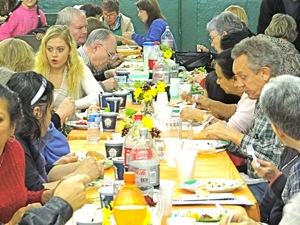 traditional Thanksgiving dinner on Saturday evening at the Sunnyside Reformed Church. It was an old fashioned community social, reminiscent of many years ago, when neighbors would get together in communal celebrations near the end of the year.
In Astoria, I attended the Greek Homeowners Thanksgiving dinner on Thanksgiving Day 2011 in Astoria. The Greek Homeowners Association will be hosting their annual Thanksgiving Dinner 2012 this Thursday, the details of which we will include in the Social section of the events calendar [see Things To Do button on tool bar above]. Both Thanksgiving Dinners are free and open to the public.
Sometime later I'll take you into these two celebrations, showing you both the food and the people, and trying to capture the spirit behind them. The photo above was taken at the Sunnyside Reformed Church on the Saturday before Thanksgiving.
---
Van Bramer Weds Hendrick
2nd Gay NYC City Council Official To Marry This Year
July 30, 2012 / Sunnyside / Queens Buzz. City Councilmember Jimmy Van Bramer [left] wed Daniel Hendrick [right] on Saturday July 25th [Jesse Winter photo]. Daniel Hendrick is the Communications Director of the League of Conservation Voters.
On July 29, 2011 New York State legalized gay unions and since then, according to the Daily News, 7,100 gay couples have applied for marriage licenses. City Council Speaker, Christine Quinn, married her partner, Kim Catullo on May 19th of this year. Thus this is the second high profile city official to marry this year.
The newlyweds sent out a press release expressing their joy, but made no mention of where they plan to honeymoon.
---
Friend Or Foe? Hector Canoge ...
Commemorates World Migrants' Day In Queens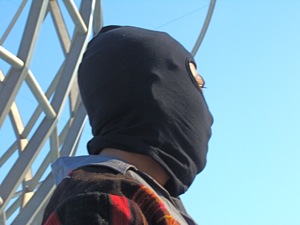 December 18, 2011 / Flushing News Briefs / Queens Buzz. I went to watch Hector Canoge's art performance on Sunday at the Unisphere where he commemorated the occasion of World Migrants' Day in Queens.
About half of the 2.2 million people living in Queens are immigrants. Hence, one might think that this day might mean something to them, but alas this appeared not to be the case.
While admittedly the weather was a chilly 29 degrees, I had attended a Flushing Historic Walk that had greater attendance.
Nonetheless, the art performance by Hector was rather interesting to watch. As was the intensity he brought to the occasion. Hector Canoge's art performance was entitled Clandestino.
---
Costa Rican Exporters Visit Queens
Queens Chamber Of Commerce Sponsors Event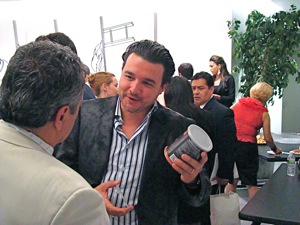 July 7, 2011 / Jackson Heights Neighborhood / Queens Business / Queens Buzz. I attended a reception for a number of Costa Rican exporters given by the Queens Chamber of Commerce at the Bulova Corporate Center in Jackson Heights. I met with a number of them to find out what goods and services they were seeking to export to America and in the process learned a bit more than I expected about our prosperous Latin American neighbor which has become a mix of old and new over the past last half century.
Costa Rica is located in Central America and the nation has access to both the Pacific Ocean and the Gulf of Mexico. Historically Costa Rica had been an agrarian based economy, growing coffee and tobacco for export. In the last few decades, Costa Rica has become a tech center for companies like Intel and some biotech companies.
Click here to read other newsbriefs for Jackson Heights Queens.
---
---
---
$element(adman,groupad,NhoodJHTS)$
$element(adman,groupad,Catgry Realestate)$
---

---
Obama Wins Re-election
Democrats Pick Up Seats In Senate & House
Queens County Voting Results Shown Below
November 7, 2012 / Queens Buzz Election Headquarters. The results are in with Obama
winning re-election. The numbers were close in the popular vote count, but there was a wide margin in the electoral college count, where Obama won all but one of the swing states. In the Senate the Democrats strengthened their majority by picking up two seats, and it appears the Democrats picked up some seats in the House too, but the Republicans are still in control of it, albeit with a smaller majority.
In New York federal races, Kirsten Gillebrand handily beat her opponent for the U.S. Senate with well over 60% of the vote. Incumbents Joseph Crowley, Nydia Velazquez and Carolyn Maloney, and newcomers Grace Meng and Hakeem Jeffries - all Democrats - won their races for the U.S. House of Representatives.
In the NY State Senate election Tony Avella (11), Michael Gianaris (12), Jose Peralta (13), Malcolm Smith (14), Joseph Addabbo (15), and Toby Ann Stavitsky (16) - all Democrats - won their races generally by wide margins.
In the NY State Assembly election David Weprin (24), Margaret Markey (30), Michael DenDekker (34), Aubry Jeffrion (35), Aravella Simotas (36), Catherine Nolan (37), and Assembly Speaker Sheldon Silver (65) - all Democrats - won their races generally by wide margins.
Click here for prior coverage of the 2012 election and voting in Queens.
---
Attempted Bank Robbery In Sunnyside
February 14, 2012 / Sunnyside / Queens Buzz. According to police sources there was an attempted bank robbery at 3 pm at the Chase bank on Queens Blvd near 47th Street in Sunnyside.
Preliminary reports stated that the robber passed a note to the teller. What ensued was not reported, but the report said that the robber left the bank empty-handed and headed west along Queens Blvd. As of 4.40 pm the bank was still under police custody and surveillance and we understand that nobody was injured.
---
Primary Elections Held Tuesday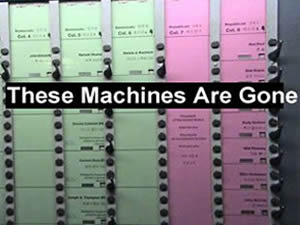 September 14, 2010 / Queens Buzz. The primary elections are being held Tuesday September 14th. The polls will be open from 6 am to 9 pm.
New York State has disposed of the old hand lever voting machines that we've been voting on since the beginning of time [see photo to right]. In their place are paper ballots which you fill out and are then scanned. It's good opportunity to vote using the new procedure before the general election which is scheduled later this fall on November 2nd.
It's also worth noting that some of the polling stations in Queens have changed. And again, by voting in the primary, you'll be sure to know where to go for the general election. Click here to visit the New York state poll locator. And in both parties, may the best people win.
---
Four Alarm Fire Burns Jackson Heights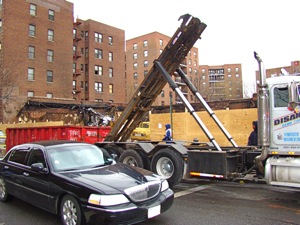 Jackson Heights / February 17, 2010. Yesterday as we were walking along 37th Avenue near 82nd Street in Jackson Heights, we were surprised to find that the site of the four alarm fire in Jackson Heights had already been mostly cleared away.
FDNY Responds & Extinguishes Fire
A four alarm fire on 37th Avenue between 82nd and 83rd Streets was responded to on the morning of Saturday February 13th around 9.30 AM. The fire was detected by an employee of one of the many local shops located in the building. The fire raged until after 3 PM the same day and the property losses appeared to be total. The good news is that apparently nobody was injured. We also understand that the fire department returned to the site on Sunday.
Fire houses from nearby neighborhoods such as Woodside were also called upon the help extinguish the fire. We spoke to Steve Ritea of the FDNY who informed us that early this week the fire department sent out an email informing the established media that the cause of the fire was accidental and that it was caused by a defective boiler.
Wenzhou NY Realty Owner
Wenzhou NY Realty is the owner of the location. As you can see by the photos shown here, they have wasted no time in clearing the location in preparation of the next edifice. We understand that the neighborhood city council man and community groups have made efforts to reach out to the location owner in hopes of working with them to erect a building that will be compatible with the neighborhood's interests.
Click here to view other Jackson Heights News Briefs / Elmhurst News Briefs.
---
1st Non-Caucasian Becomes President of U.S.
Obama Inauguration Day
In Jamaica Queens
Jamaica Queens / January 20, 2009. Today was an historic day with the first African American president being sworn in as the 44th president of the United States Of America. Barack Hussein Obama took the oath in front of a record crowd in attendance, estimated to number between one and two million. Worldwide television and web coverage also translated into hundreds of millions of people from around the planet witnessing this event.
African Americans In Jamaica Queens
I went down to the Jamaica section of Queens to witness the interest, pride and charm of our fellow African Americans in the community. My first stop was the Queens Central Library, which had made a public invitation to all to come watch the inauguration in its screening room in the library basement. The room seats about 300 – 500 and I would guesstimate that it was half to two thirds full. I was not allowed to take photos except from the back of the room, so after taking a couple of photos I soon departed. Click this link for Obama Inauguration In The Jamaica Section Of Queens NY including more photos.
---
---
$element(adman,groupad,NhoodLIC)$
$element(adman,groupad,Catgry Finance)$
---
---
Noreaster Weather Arrives In Queens
High Winds, Rain & Sleet To Hit Queens, Abating By Friday
November 7, 2012 / Queens Neighborhoods / Queens Buzz. A Noreaster has arrived with drizzly rain / sleet and strong winds. Winds will likely be around 25 - 35 miles per hour through Thursday, with gusts hitting up to 60 miles per hour. In places there may be somewhere between 3 - 6 inches of snow, but given the temperatures in Queens are expected to stay in the mid to high 30's - not as likely here.
Click here to see the National Weather Service or click the button on the right side bar for additional Queens Weather info.
Click here to read more Queens News Briefs.
---
Queens Gets Back To Basics
All East River Bridges Are Open / HOV's Only
Updated 7 pm / October 31, 2012 / Queens Neighborhoods / Queens Buzz. All East River Bridges are open, but they are only allowing HOV [High Occupancy Vehicles - 3 or more people per car] to pass through. As of 2 pm, traffic along Queens Blvd, particularly on the inbound lane, is moving at a crawl [see photo to your right].
There are police stationed along the Blvd to expedite traffic movement, but given the subway service has not yet been restored, people have taken to their cars.
Subways, Schools & Libraries in Queens
Subways. Three of the seven flooded East River subway tunnels have been drained and they will conduct electrical testing in hopes that limited subway service on the F line in Queens will be restored Thursday morning. The #7 and E trains will NOT be back up Thursday morning.
Most Queens libraries will open Thursday, except in the Rockaways area. Queens Schools will remain closed until Monday November 5. Click here for prior Hurricane Sandy in Queens coverage. Thanks to City Councilmembers Daniel Dromm & Jimmy Van Bramer, QEDC & NY Senator Peralta for keeping us informed.
Business Relief Services From Government Agencies
The government has a number of programs designed to help small businesses that have been impacted by Hurricane Sandy. They include: 1) getting up to $10K of small business emergency interruption loans, 2) Small Business Disaster Recovery Loans and 3) help from the NY Tech Meetup Group which you can contact jessica @ nytm.org.
Halloween Trick Or Treating in Jackson Heights
The Jackson Heights Halloween Parade has been cancelled due to manpower constraints on the NY Police Department in the wake of Hurricane Sandy. Nonetheless the Jackson Heights Green Alliance is holding a Trick or Treat on the Street beginning at 5 pm tonight at 78th Playstreet [at 34th Avenue]. They are asking residents to show up with kids in costume and some candy to share which will be distributed at tables.
---
Mayor Declared Weather Emergency
Queens Dug Out From Over A Foot Of Snow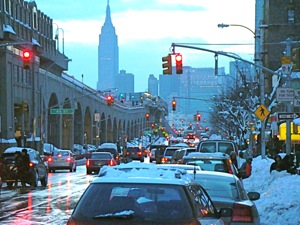 Queens Buzz Weather / January 27, 2011. It was a snowy Thursday, as intrepid Queens residents and workers dug themselves out of over a foot of snow.
By 5 am over a foot [we measured 13 inches of snow accumulation in Queens] had fallen. By this time most side roads had become impassable and the main roads, while operable, weren't pretty. The Mayor declared a weather emergency and all schools were closed as were the Queens Libraries.
By 5 pm the main roads were functioning fine [see Queens Blvd in photo] and based on an unscientific survey, many of the side roads had been cleared as well. But there's still more work to do, as every bus stop we encountered remained blocked, and nearly every parked car was still snowed in.
The rest of the weekend weather forecast indicates a low likelihood of snowy weather [20% - 30% chance] with the temperatures in the 30's during the day and the 20's during the night. Click here to go to the Queens Weather section of this site for an update [link located along left side bar].
---
Mayor Mike Mulch Fetes Media
Supports Environmentalists' & Parks Dept Effort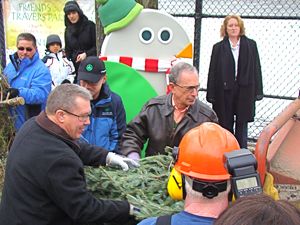 January 8, 2011 / Jackson Heights / Queens Buzz. This past weekend the Parks Department hosted its 7th annual Mulchfest. The event was city-wide, including at nine parks in the borough of Queens. Last year this event helped save nearly 24,000 trees from filling landfills, as the mulch was used by the Parks Department to help irrigate local parks.
Mayor Michael Bloomberg appeared at the Jackson Heights Mulchfest on Saturday afternoon, to display his skills as a Metro Mulcher, while querying the crowd as to the purpose of this event and why it's important. The Jackson Heights crowd was well informed, answering his mulching questions in a heart beat. Then, in front of a Mediafest of cameras, the Mayor and City Councilman Danny Dromm proceeded to don protective glasses and begin mulching away.
---
Snowstorm Blankets Queens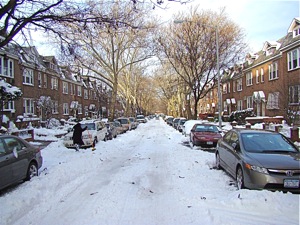 Queens NY / December 20, 2009. About a foot of snow blanketed Queens. The snow started as a drizzle Saturday afternoon, growing to a full puffy snowfall into the evening, and finally stopping in the wee hours of Sunday morning. According to various sources, between 10 and 12 inches of snow fell in Queens county. Most of the main streets were cleared before noon, but the side streets were still difficult to navigate throughout the day.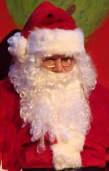 The kids seemed to enjoy the fluffy white wintry magic and at least one adult indicated he was happy with the snowy weather. We placed a call to the north pole where Santa took a couple of minutes to speak with us. He said things were moving along nicely during his last week of production of toys, clothing, gift certificates, eyeglasses, food, furniture, wedding items and wine. He added that the snow would help him expedite deliveries on Christmas Day. He made mention that in Queens people could also find all of these items in their local shopping districts, such as in Astoria, LIC, Sunnyside and Jackson Heights. He couldn't talk long, because he still had a lot of details to tend to prior to Christmas Eve, but he noted that this year he expects to make a record number of deliveries as the planet is home to 6.7 billion human beings.
---
Record Rainfall Acts As Spoiler In June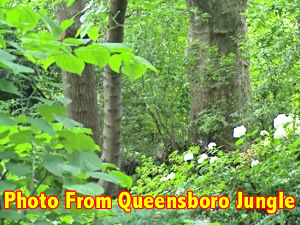 Queens NY / June 22, 2009. We've been the recipients of about eight inches of rainfall this month, which is about four times what we normally receive. So it's not your imagination that this has been an unusually wet month. Because of the cloud cover, we are also running at temperatures that are about four degrees cooler too. That's why Queens, home to the most trees of any NYC borough, seems as lush as a Wisconsin forest.
But there's some good news on the weather front. The rains on Tuesday aren't expected until nightfall, so we should see the sun. And then Thursday through Sunday will be good, relatively speaking that is, with clouds, and on Friday and Sunday only scattered T-storms. For complete weather updates click on the 'Weather / Nation' link along the left side bar.
---
Queens Green Drinks Wednesday At QMA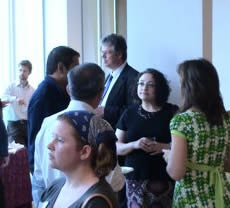 May 20, 2009 / Flushing News Briefs / Queens Buzz. Wednesday night Queens Green Drinks held its May Social at the Queens Museum Of Art in the Flushing Meadows Corona Park. The event started at 6 pm and was free with donation [$10]. Chicken, beef, pesto and other empanadas were served along with wine and soft drinks. The event was held on the second floor where bay windows look out onto the Unisphere.
The Queens Museum Of Art is the home to the miniature replica of metropolitan New York, which created for the 1964 World's Fair. The museum currently has two other exhibits showing including Tarjama / Translation. See the May Queens Events calendar for details on the exhibits as well as for a map showing the location of the Queens Museum. Click here to go to the Queens Green Drinks photo album for photos taken last night at the event.
---
---
Queens Related Info
$element(adman,groupad,Catgry Medical)$
Click these ads for promotions, discounts and coupons in Astoria, LIC, Jackson Heights, Woodside, Sunnyside, Flushing, Jamaica and Queens
Click this link to go to the Astoria Neighborhood / Long Island City LIC Neighborhood / Sunnyside Woodside Neighborhood News / Jackson Heights Elmhurst Neighborhood / Flushing Corona Neighborhood / Jamaica Neighborhood.
---
$element(adman,groupad,Catgry Entertain)$
Site Search Tips. 1) For best results, when typing in more than one word, use quotation marks - eg "Astoria Park". 2) Also try either singular or plural words when searching for a specific item such as "gym" or "gyms".
$element(bwcore,insert_search,N)$
Click this link to search for something in our Queens Business Directory.
---
$element(adman,groupads,Sectional2 Ad)$
---
Click the log in link below to create an ID and post an opinion.
Or send this story to a friend by filling in the appropriate box below.
---